It takes us all a bit of time to find our groove. As live streamers and content creators, it's important for us all to keep organized, efficient, and have a workflow that works for us. After all, there are lots of balls in the air. The last thing we want to do is drop them.
One of the most popular tools for live streaming with Ecamm Live is the Elgato Stream Deck. But have you heard of the Loupedeck Live?
I opted for the Loupedeck Live instead of a Stream Deck because I find it more useful outside of streaming.
Live streaming and hosting webinars is only one part of my job. I'm also a photographer and spend a lot of time editing videos. So I chose the Loupedeck Live over the Stream Deck to effectively use it for Photoshop, Lightroom, Final Cut Pro, and other photo and video editing software.
It's pretty awesome. Let me show you why.
When I first wrote this article and recorded my video, there was no official integration between Loupedeck and Ecamm Live.

But as of October 27, 2021, there is an official Ecamm Live plugin for Loupedeck. This means you no longer need to rely solely on keyboard shortcuts in the Loupedeck settings to control Ecamm Live. You can read the full details of the Ecamm Live and Loupedeck update here.
In this post, we will
Cover the purpose of the Loupedeck Live
Discuss what makes it so useful
Talk about its speed and comfort
Show how to get started using it with Ecamm Live
How to customize it to be your own
What is the Loupedeck Live?
If you are reading this, then at this point, you likely already know what a Stream Deck is. But if not, let's break it down. A Stream Deck is a piece of gear that you can connect to your computer. It's a physical box with push buttons that have tiny screens so you can visually see what you need to push to trigger an action in whatever software you have open and active. Make sense?
The Loupedeck Live looks similar. In fact, at first glance, you might think it's just another Stream Deck. However, there are a lot of differences between the two. The LD Live has physical knobs and buttons in addition to the digital screen buttons. Like the Stream Deck, these buttons are programmable, but they're also tactile, making them easier to find and control when you're not looking down. Win right?
On the Loupedeck, there is a row of buttons ranging from one to seven that control which digital screen is visible on the device—this aids in fast switching between tasks, saving you time.
The Three Loupdeck Versions
Before we keep going, it's worth mentioning that Loupedeck offers three versions of their hardware at the time of writing this.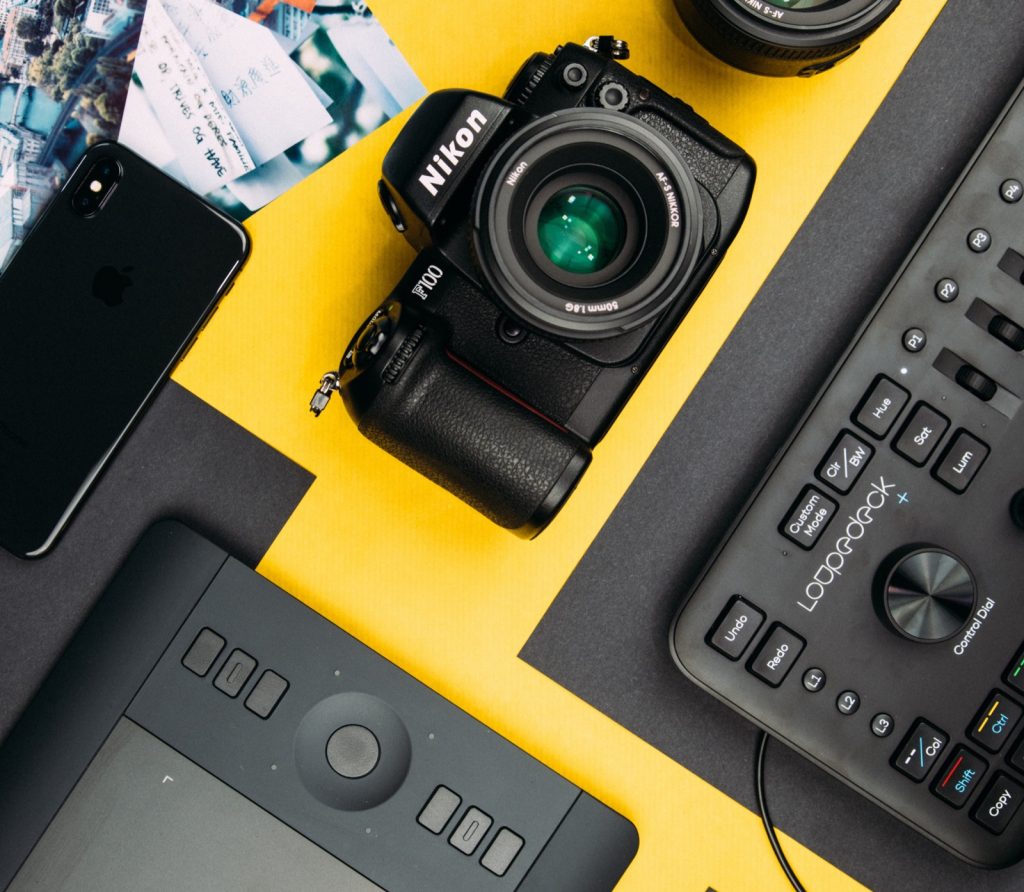 Loupedeck + is their original product, which is more for photo and video editing and consists mainly of dials, sliders, and tactile buttons. It is roughly the size of a keyboard and sells for around $249.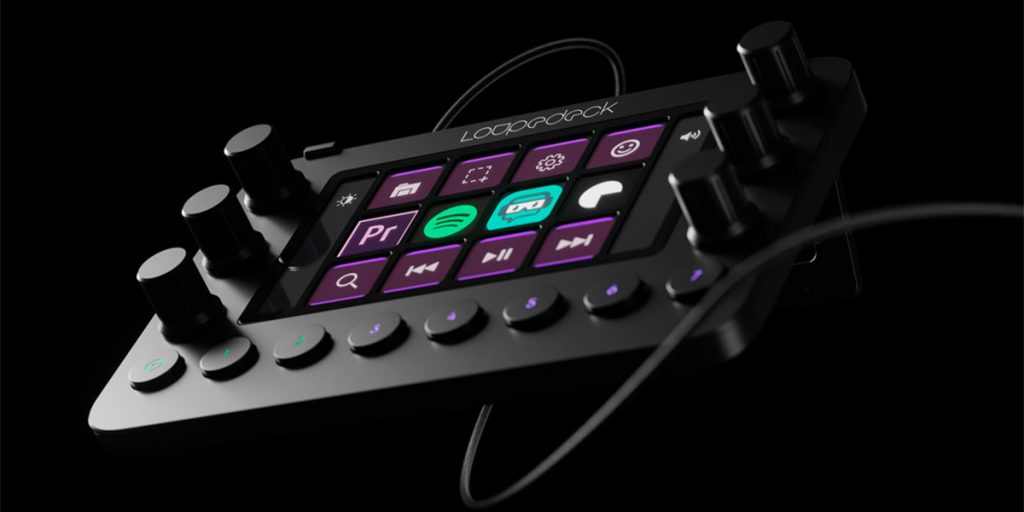 Loupdeck Live is what we are talking about in this article. It is slightly larger than a touchpad and sells for around $269.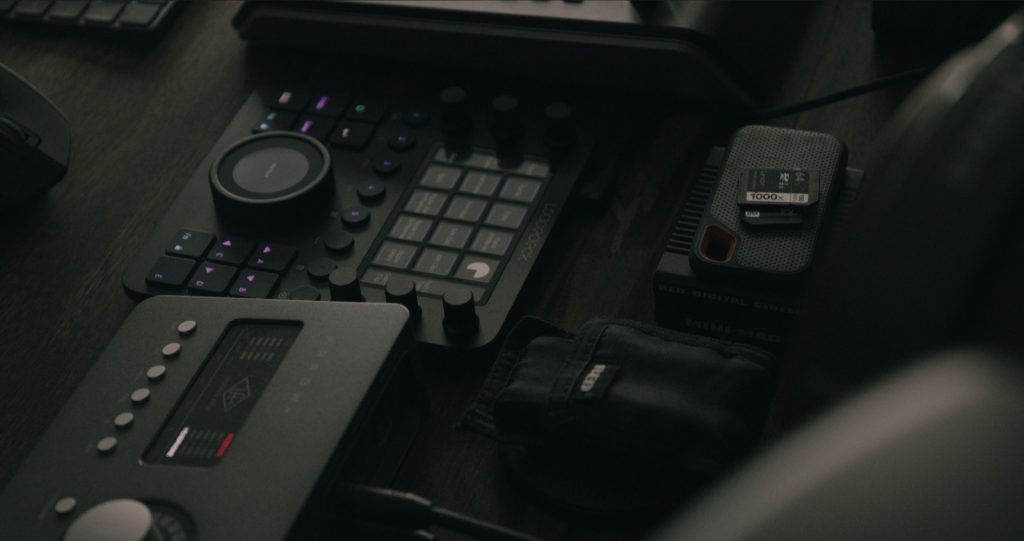 Loupedeck CT is the most expensive (at $549) and is a combination of the two. It's larger than the LD Live, but smaller than the LD+. The top of the device resembles the LD Live, and the bottom resembles the LD+.
Both the Live and CT versions can handle live streaming customization of their digital buttons. I went with the Live model due to the price, but if I had the budget, I would have opted for the CT version because of the extra photo editing capabilities that I'd achieve with physical knobs and whatnot.
You can view my initial review of the Loupedeck Live here:
Why the Loupedeck Live is useful with Ecamm Live
Ecamm and Loupedeck are a match made in heaven. Because the Louepdeck Live combines screen buttons, physical buttons, and knobs (with buttons), I can truly customize every aspect of every screen to do anything I need in Ecamm Live.
Because it's really compact, it stays out of place when I don't need it and perfectly visible when I do.
Just as Elgato does for Stream Deck, Loupedeck has created custom application profiles that can be downloaded and installed for any customer.
That is how I got my base for my Ecamm Live integration. I used their Ecamm Live custom profile and then customized it from there.
Loupedeck Live build their custom profile to be optimized for its use case, so I'm not going to deviate from that too much.

But personalizing is essential, which we will get to in a bit.
In addition to the size and flexibility the LD Live offers, you can also control its backlight. So when you have your streaming lights on, if you find the LD Live's screen too distracting, you can dim it or brighten it as needed.
It also connects via USB-C and comes with a converted to a USB-A style plug. But being that it is USB-C based, you get the speed and data transmission you would expect from the port. Click a button on the device, and you get instant action inside of Ecamm Live.
The device comes with a stand to tilt it towards you if you prefer that angle. Finally, it's thin, which makes it easy to travel with – if you require that for your shows.
Oh, I almost forgot to mention that LoupeDeck also vibrates whenever a digital screen button is touched. That way, it even feels like a real button.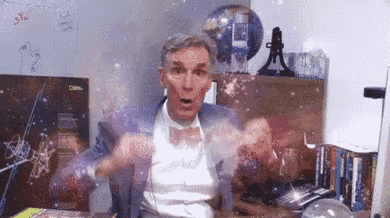 Let's get started
The first step is to grab yourself a Louepdeck Live. I got mine from Amazon, but many retailers sell it.
Once you have the product, install the software, which can be downloaded from the Loupedeck site. Easy.
Follow the setup instructions and then restart your computer. When your device is plugged in, you'll notice default profiles already active like macOS and Safari as examples. There is even a Chrome profile, which is neat for those of us who are fans of Chrome.
Now download the custom profile for Ecamm Live and install it from the settings panel.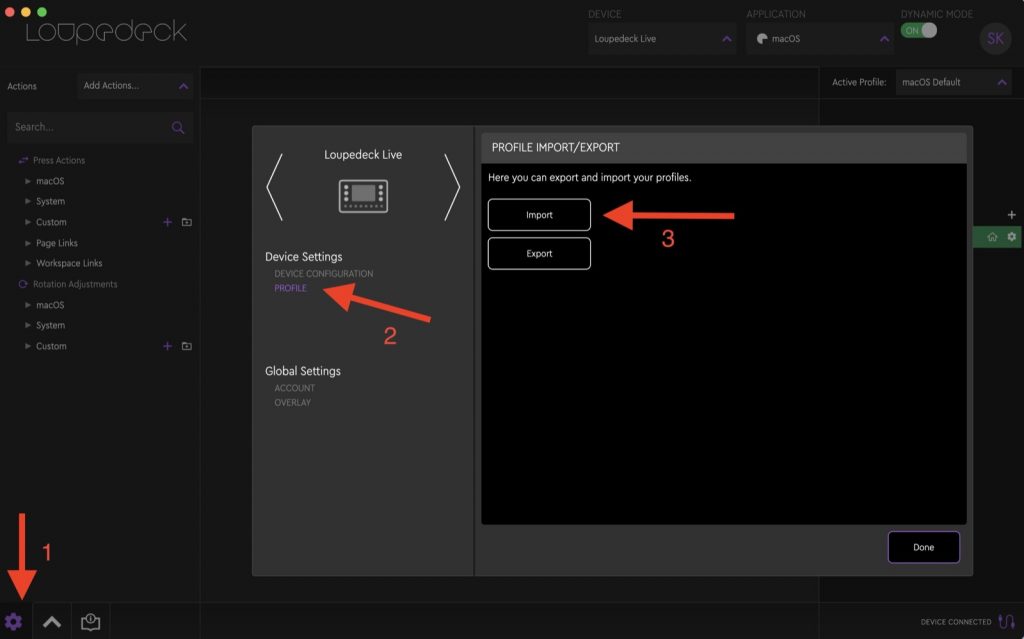 Once that's imported, you'll notice a new Ecamm Live application showing up ready to use.
You should also see a switch called "Dynamic Mode". This is where the Loupedeck software monitors what application is in the foreground being actively used.
If you are in Ecamm Live, it will switch its profile. If you are in Chrome, then the button choices will change its profile. It's pretty awesome.
You can force the LD Live to keep Ecamm Live's profile active by merely turning off Dynamic Mode and selecting the Ecamm Live profile. BUT if you push a button for Ecamm Live while you're in another application, Ecamm Live will not respond. It would be cool if it did. Maybe they'll make that update.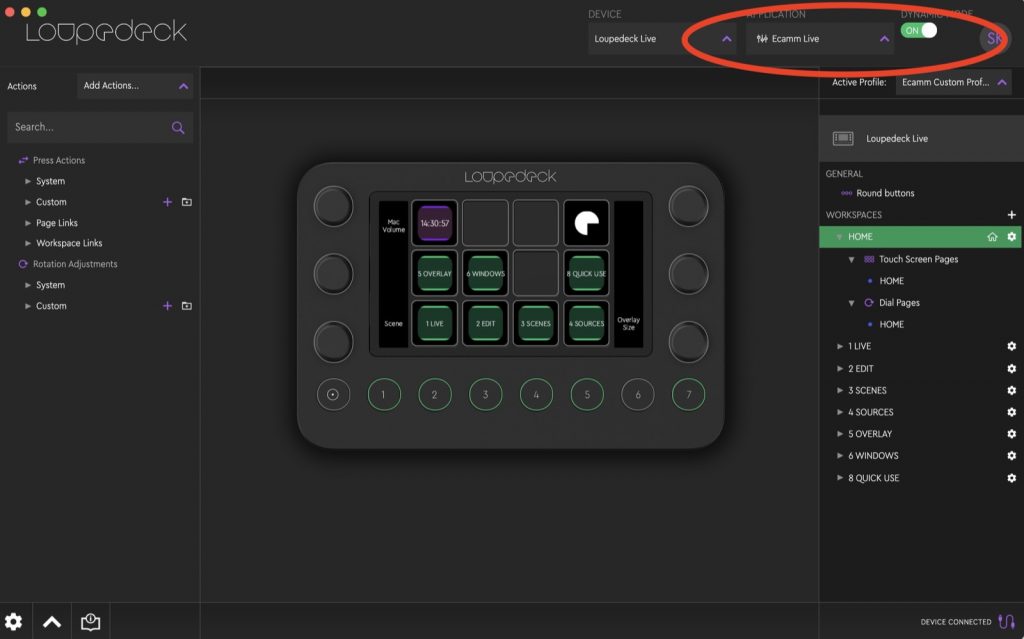 Make it your own
Now that you have the device set up and the profile for Ecamm Live ready to rock, it is time to customize things.
As I said earlier, you can change any of the knobs and buttons to do practically anything.
I changed the screen for scene changing to contain everything I need for the shows I do regularly.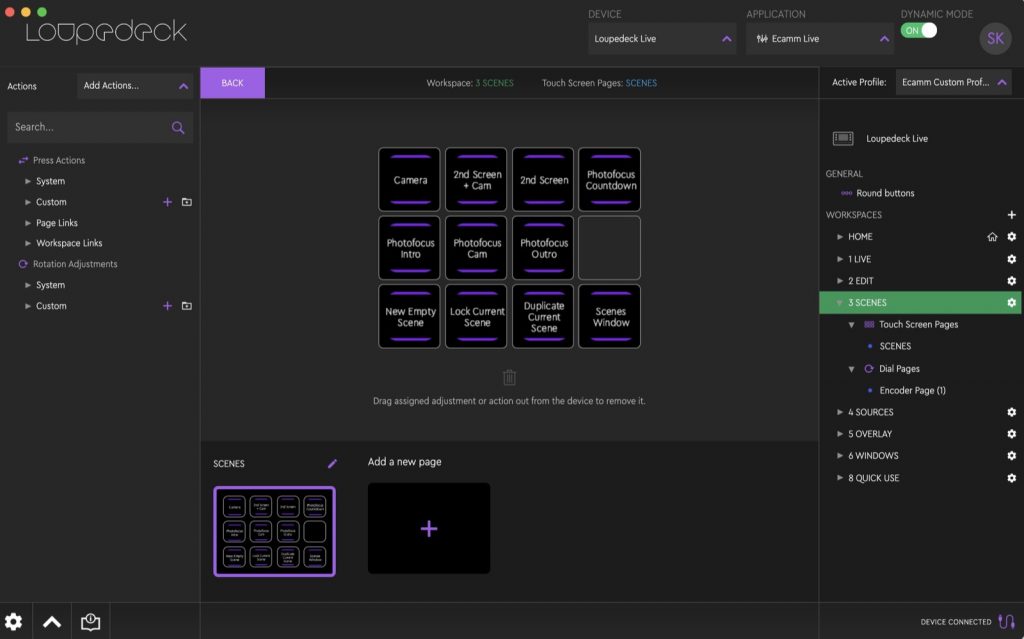 My first three buttons on this screen control the day-to-day scenes I might need for anything in general.
Camera (which is my Nikon Z6 through a CamLink 4K)
Second screen with camera (my camera is a small circle using PIP at the top right)
Second screen without a camera
After those scenes are buttons for client webinars.
Countdown scene – includes a video overlay, music, and a timer that automatically goes to scene 5 when the time runs out. My mic is also automatically muted for this scene.
Intro scene – plays a short video introduction to the live show/webinar and is set to go to scene 6 when done automatically. My mic stays muted for this scene.
Camera scene – basically is a replica of scene 1 and also finally unmutes my mic.
Outro scene – is similar to scene 5 but is a short outro video, which just stops when done.
Then there are the dials, which I customized beyond what the imported profile offers.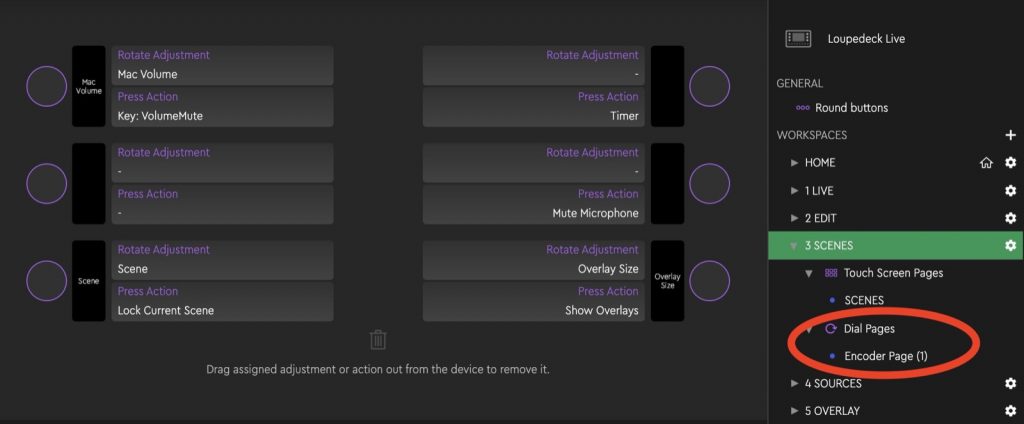 Here I made one of the dials a "mic muting" button, which is super useful because sometimes my Blue Yeti mute button clicks when pressed. This way, I can silently mute in the same place I'm controlling the stream anyway. If you want to, you could use the same dial to control the mic volume: two birds, one button.
Once I got that all set up, I added a Timer hide/show setting to another dial's button. This way, I can hide the timer anytime or bring it back. Super helpful for countdowns when you're visible in the background and need to say something.
Take my word and go for it!
There are so many things that you can do with the Loupedeck Live, inside AND outside of Ecamm Live.
Sure, you can do many of these things with a Stream Deck. But the feel of tactile buttons and dials along with the digital screen buttons offer more control and, in many ways, a more natural sense of control at times.
Plus, you get to use the device in other applications and the LD makes it so easy.
If you are in the market for a streaming workflow device like this and have been eyeing the Stream Deck, give the Loupedeck Live a try. It's an excellent comparable product that won't let you down. And if you are like me, you might even prefer it.
Between live streaming and hosting webinars for Imagely, Photofocus, and others, this device combined with Ecamm Live hasn't let me down.
This article was written & contributed by Scott Wyden Kivowitz.
Scott Wyden Kivowitz is a Storyteller with a Camera. In addition to photographing his clients, Scott educates photographers through his website, YouTube channel.