Ecamm Live is a powerful live streaming and video production studio for your Mac. Whether you're live streaming, presenting, producing, or podcasting, Ecamm helps empower you be better on video. It also works seamlessly alongside a ton of apps, including video editing tools, presentation software, camera apps, audio apps, and more.
We recently asked Ecamm Live members what their favorite apps are to use with Ecamm Live and below are their favorite companion apps for Ecamm Live.
What's your favorite app to use with Ecamm? Leave us a comment below and let us know.
#1 – Remote NumPad & KeyPad [Pro]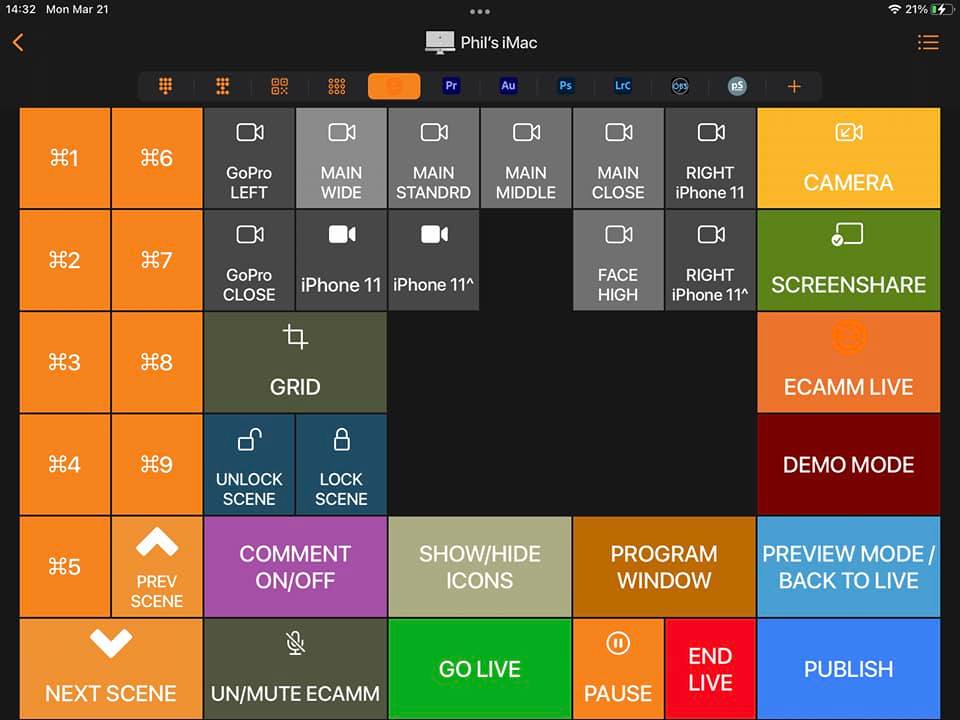 With Remote Numpad & KeyPad Pro, you can create a custom Ecamm Live keypad so that you can trigger actions like mute & unmute, go live, pause, demo mode, and more. Fully control the show with the push of a button.
Learn more and try Remote Numpad & KeyPad Pro today.
#2 – Keynote
Ecamm Live members love using Keynote not only to create professional-quality presentations, but even graphics and animations for their live shows and videos. Bonus: Keynote is a free app that you likely already have on your Mac computer.
Bradley Teaches has built a ton of incredible overlay packs and animations in Keynote that you can customize in seconds.
#3 – Restream
With Restream, you can multistream your live show to over 30 unique platforms, including YouTube, Facebook, LinkedIn, Twitch, and more. Ecamm has a full integration with Restream, making it easier than ever to amplify your reach every time you hit the "go live" button.
Learn more about Restream and start multistreaming today!
PERK ALERT! Ecamm members get 30% off any Restream plan
#4 – Audio Hijack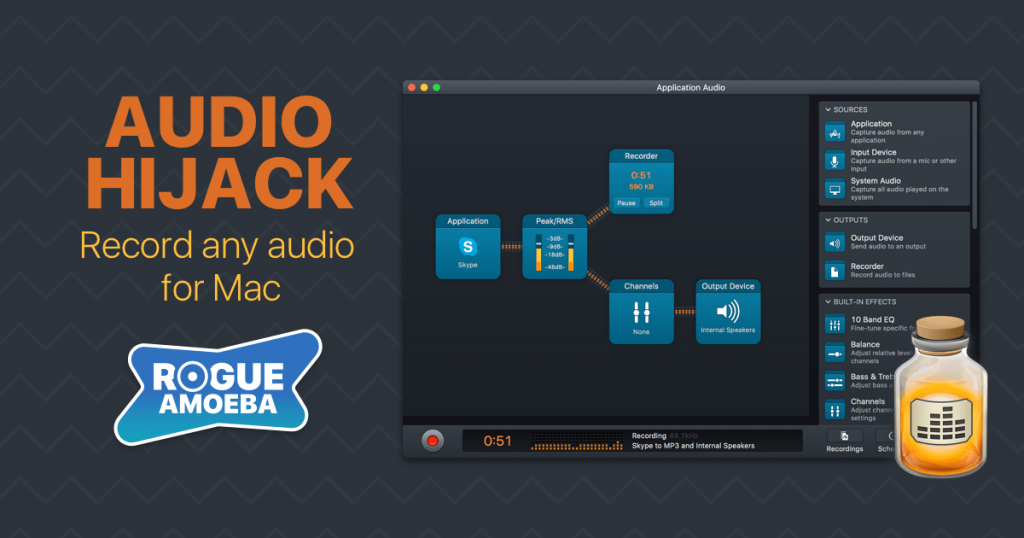 Ecamm Live's isolated audio feature gives you separate audio tracks when you're done recording or live streaming that important interview, but if you're looking to grab even more audio, you may want to look into Audio Hijack.
Audio Hijack lets you record all the audio you could ever want or need, including audio from any application, hardware devices like microphones, and mixers, even the audio heard on your Mac.
Learn more about Audio Hijack.
PERK ALERT! Ecamm members get 30% off Audio Hijack
#5 – Loopback
Ecamm members love Loopback because it allows them to route their audio from Ecamm Live into apps like Zoom, Teams, and Meet. But that's not all it does. It also lets you bring that audio back into Ecamm Live, making that routing full circle.
Ecamm Live now also has a virtual mic option available for those who just want one-way audio routing from Ecamm Live into apps like Zoom.
Learn more about Loopback today!
PERK ALERT! Ecamm members get 30% off Loopback
#6 – Descript
If you want to repurpose the videos you create using Ecamm Live, then you'll want to take a look at Descript. This video editing tool makes the post-production process an absolute breeze, giving you a full transcript and letting you use the text in the transcript to make changes and edits to your videos. Delete out a section, change a word… you can even remote ums, likes, and huhs.
Learn more about Descript and try it today for yourself.
PERK ALERT! Ecamm members get one month free of Descript Pro
#7 – Speedify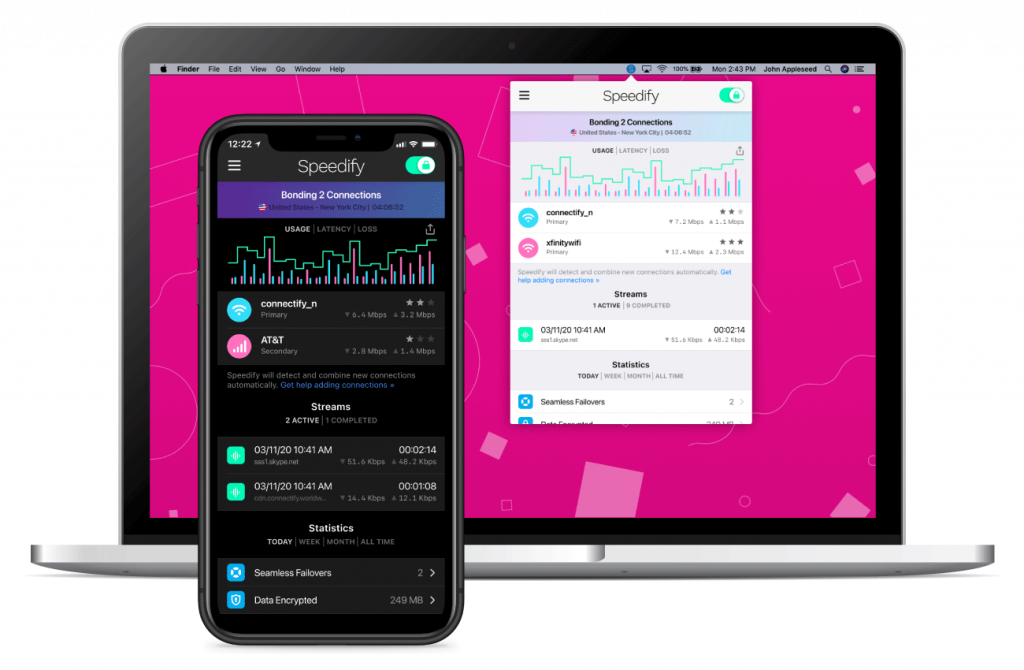 Want to create an even better internet connection? Speedify lets you use all of your internet connections at the same time to help you enjoy more stable and secure live streaming, video calling, gaming, and web browsing. Get the speed you need with Speedify.
Learn more about Speedify and discover what a difference it can make!
PERK ALERT! Ecamm members get 25% off annual plans of Speedify
#8 – Camo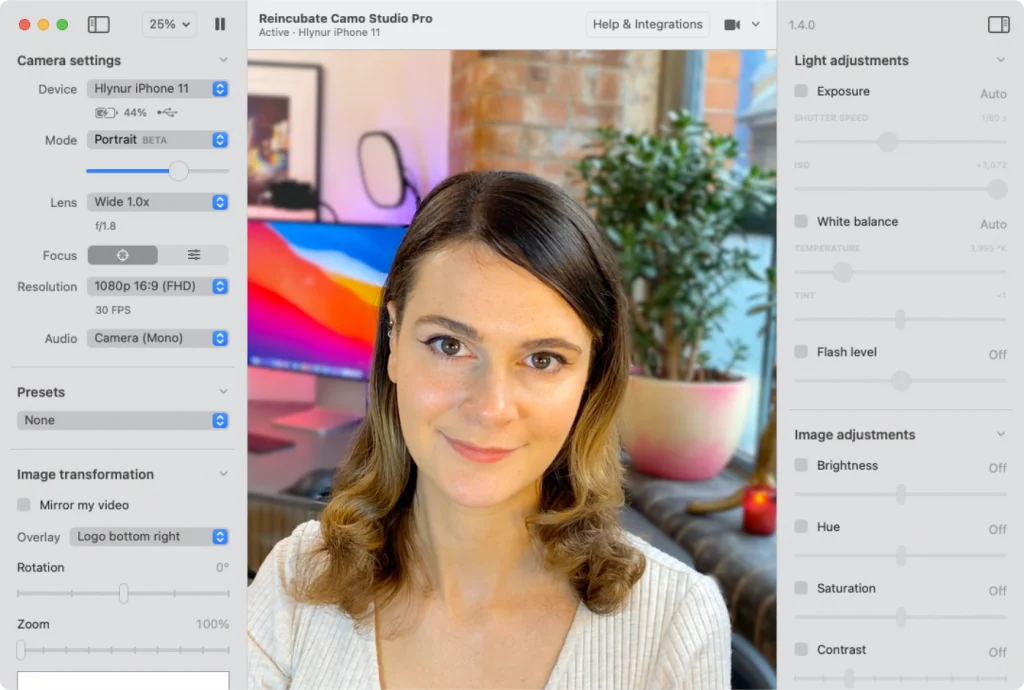 Did you know that one of the most powerful live streaming cameras out there is in your phone? It's true! Many of us forget how incredible our phone's camera is. With Camo, you can use your phone as a webcam. It's easy, affordable, and helps take your videos to the next level.
Learn more about Camo and start using your phone as a webcam!
PERK ALERT! Ecamm members get 15% off Camo's monthly or annual Pro plans
#9 – GoodNotes
Want to share handwritten notes while you're live streaming or reference show notes? GoodNotes is a fantastic way to jot down ideas, share handwritten notes with your community, and keep everything organized. This app is for your iPad.
Learn more about GoodNotes.
#10 – SnapCam
Created by the team behind Snapchat, SnapCam lets you add filters and lenses to your video feeds. Want a beauty filter? Hearts hovering around your head? Bunny ears? SnapCam has you covered. With hundreds of filters and lenses to choose from. And you can bring your SnapCam cameras into Ecamm Live to use for your live streams and videos.
Learn more about SnapCam and install for free.
#11 – Snipposé
This macOS tool helps you highlight a small portion of a screen, zooming and centering it until you choose to dismiss it. It's a great option for video presentations and trainings.
#12 – Canva
Need a YouTube thumbnail, promo graphics for your live show, or maybe a lower third, logo, or animation for your video? Canva can help you create all that and more. Filled with 1000s of templates, Canva makes graphic design easy, affordable, and accessible for everyone.
#13 – Epidemic Sound
Epidemic Sound provides you with royalty-free music and sound effects for your live stream videos. Choose music by mood, artist, or genre, download the track, and add into Ecamm in seconds. Never worry about being flagged or having your videos removed due to copyright violations.
Learn more about Epidemic Sound and try it out today
#14 – Shoot Pro Webcam
Turn your phone into a webcam and transform the quality of your virtual meetings, presentations, live streams, and videos using Shoot Pro Webcam. Connect to your computer over USB, HDMI or AirPlay and stream live from Ecamm using the incredible camera on your phone.
Learn more about Shoot Pro Webcam and give it a try for yourself.
#15 – BeatSheet
Created by the same team behind Shoot Pro Webcam, BeatSheet turns your iOS device into a teleprompter. Need to follow a script or review your notes while you're live streaming or recording a video? No problem. BeatSheet makes it easy to do with just your iOS device.
Learn more about BeatSheet today.
#16 – NDI
NDI® by Newtek is a protocol for sending A/V data over local area networks. Ecamm Live will automatically detect Newtek NDI® input sources, such as NDI compatible PTZ cameras, the NDICam iOS app, and titler software that outputs in NDI format. 
#17 – Propresenter
Religious organizations and churches love Propresenter because it helps to bring song lyrics and Bible verses up on screen easily during live streams and video presentations. In Ecamm Live, there are two ways to add ProPresenter slides to your broadcast: Syphon and NDI:
Use Syphon if Ecamm Live and ProPresenter are running on the same Mac.  
Use NDI if Ecamm Live and ProPresenter are on different computers on the same network.
Learn more about Propresenter.
#18 – Desygner
Desygner does what its name suggests – helps you to be a better graphic designer, easily. Whether you're looking to create YouTube thumbnails, show graphics, or anything in between, this app helps you keep on brand and designing graphics that will wow.
Drag and drop everything into Ecamm Live and you'll be ready to impress.
Learn more about Desygner and start designing today.
#19 – NewBlue Titler Pro
New Blue Titler Pro helps you add professional titles and lower thirds to your videos. Save production time by designing in NewBlue Titler and leveraging their templates and easy-to-use titling tool. Includes animations like rolling credits as well as static titles.
Learn more about NewBlue here.
Want Even More App Recommendations?
Check out our live Masterclass series where we host live demos and Q+As with our top software and hardware partners. Learn how to choose the best microphones with Shure, edit your videos with Descript, present professionally with Prezi, and more.
And see our full list of Ecamm recommended apps and services and recommended gear.