One of the most important aspects of live streaming is sound. People will put up with a bad video, but they're not going to stick around if they can't hear you. Makes sense, right?
So before you spend all of your funds on the best possible camera, make sure that you have a good microphone that is going to help you sound your best.
In this article, Marshall Fox is going to break down the three main things you need to know about microphones.
Sound
Set up
Cost
For the "how does this microphone sound" part, you'll want to click below to watch the video so you can hear the difference in each microphone.
Watch Marshall show you the differences between each microphone 👇
Here are the microphones that we'll cover today:
We're just going to cover the basics in this article, so if you're looking for more technical video about soundboards and polar patterns and frequencies, you can check out this video from Shure Product Manager, Laura Davidson.
The first microphone we'll cover is the built-in microphone on your computer. I have the 2020 iMac.
iMac Internal Mic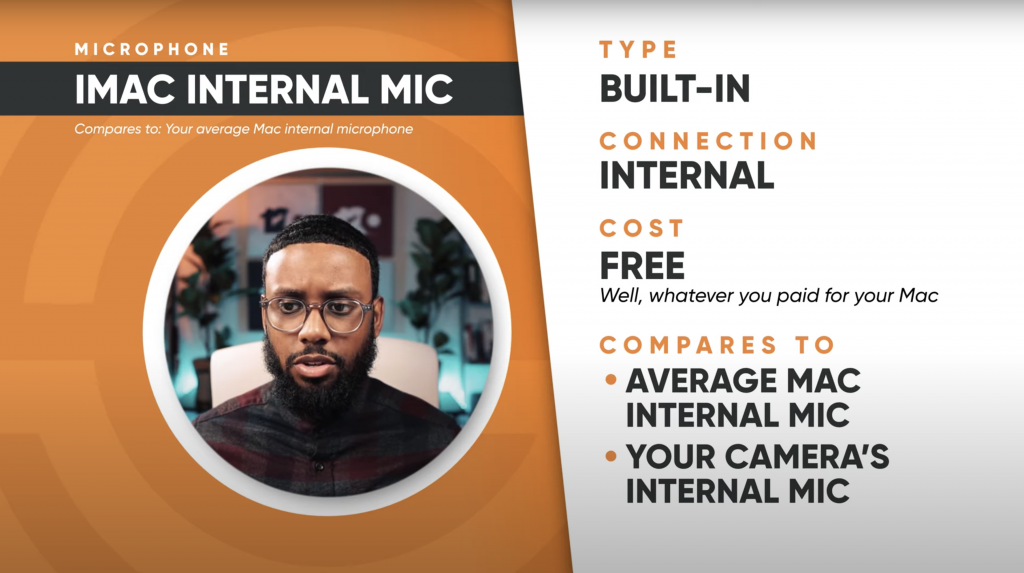 This is a good option if you're just getting started, but you're definitely going to pick up background sound so you'll want to be in a quiet space if you're going to rely on your built-in microphone for live streaming or video creation.
Blue Snowball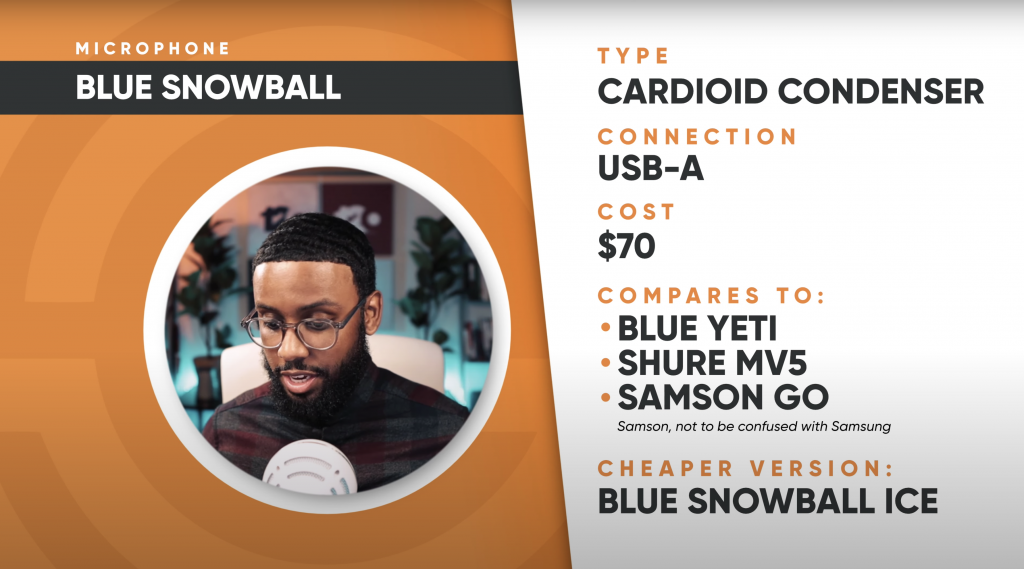 The Blue Snowball is the first mic I got and I think it sounds pretty good. It's a USB microphone, so it connects pretty quickly and easily to your Mac and shows up in Ecamm Live. If you have a newer Mac, you may need a hub to connect it.
This microphone is still going to pick up some background noise, but it'll do better than your built-in microphone.
Audio-Technica ATR2100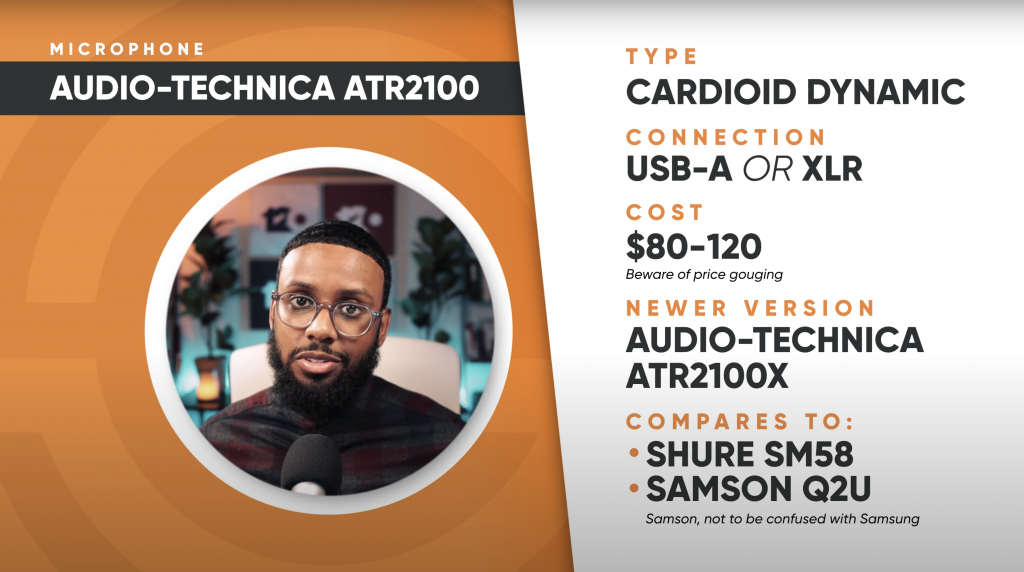 So this guy is the Audio Technica ATR 2100. I love this mic. This is the mic that I've probably used the longest. It's an XLR connection and a USB connection so it's versatile in that way. I have it connected via USB right now and when I was using it as my daily driver, that's how I had it connected.
I think it sounds pretty good and what I like most about this mic is that it does a great job at blocking out background noise. So when I hear my kids upstairs running around, and I was on on Zoom calls, it helped block out some of that sound.
This microphone also does a great job at picking up soft voices like mine. It gives my voice more of a presence and you can hear me pretty clearly with it. It's a great mic. They do have a newer version available called the ATR 2100 X. It's a black mic, but it's pretty much the same as this one. You can't get this specific microphone right now, so the 2100 X is a great option.
Rode Procaster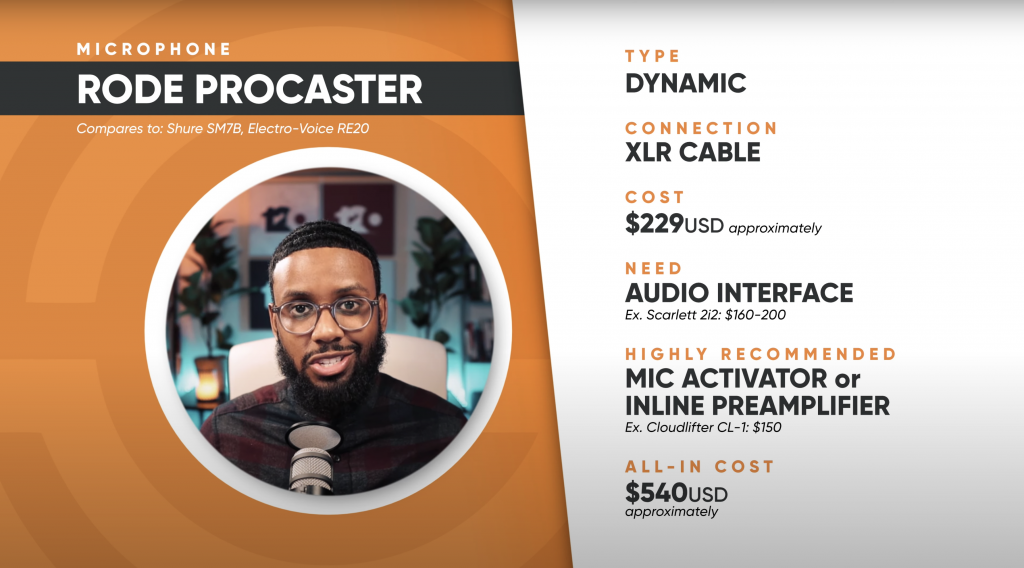 So this here is my baby. This is a Rode Procaster. It's the mic that I used at the beginning of the video. And it's also the mic that I use on a daily basis.
You will need an audio interface in order to use this microphone because it is an XLR microphone. To connect this mic, I'm using the Focusrite Scarlett 2i2 (second generation). It's an entry level audio interface. And also we use the Phantom Power in order to power the Cloud Lifter, which I highly recommend – either Cloud Lift or something like it. Without getting too technical, what they do is amplify the output of low sensitivity or dynamic microphones like this one.
I love this mic. It does have some heft to it. This thing is a monster. So if you get this mic, just be prepared for that. I did get a third party pop filter to go on top of it. I think it helps a little bit. It's not the best to be honest. You can still hear some pops, but it does.
Boya Bi-Mi Lavalier Mic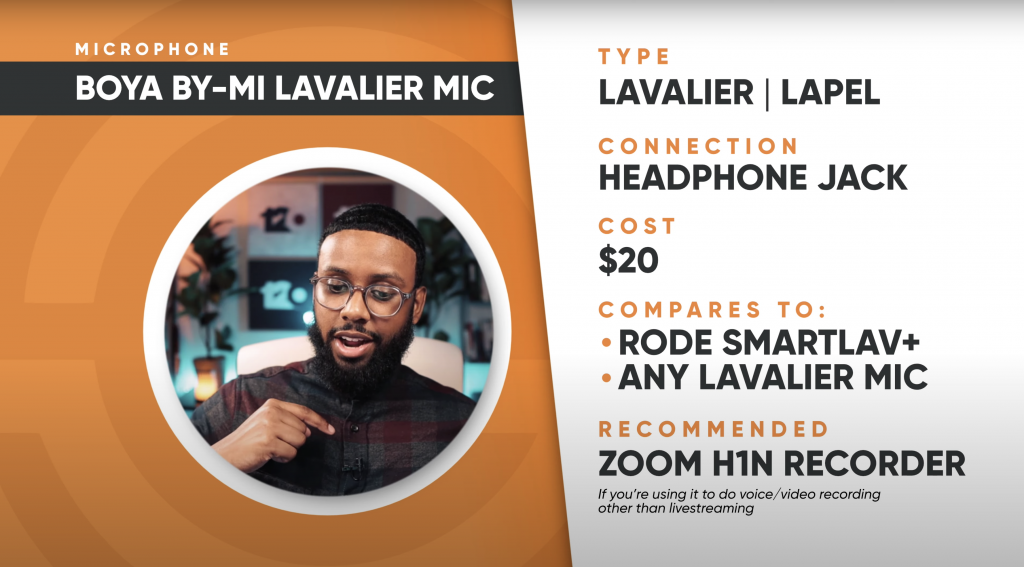 This is a lavalier or lapel microphone. In the video (see above), you'll see that I have it clipped right to my shirt and then it's plugged into the iMac via the headphone jack. I think it sounds pretty good. The only thing about this type of microphone is that it's extremely sensitive. That means it picks up every single sound. So as I'm typing, you can hear some clicking on the mouse, which may or may not be a big deal depending on what you're trying to do. It's all a trade off.
Rode NTG-2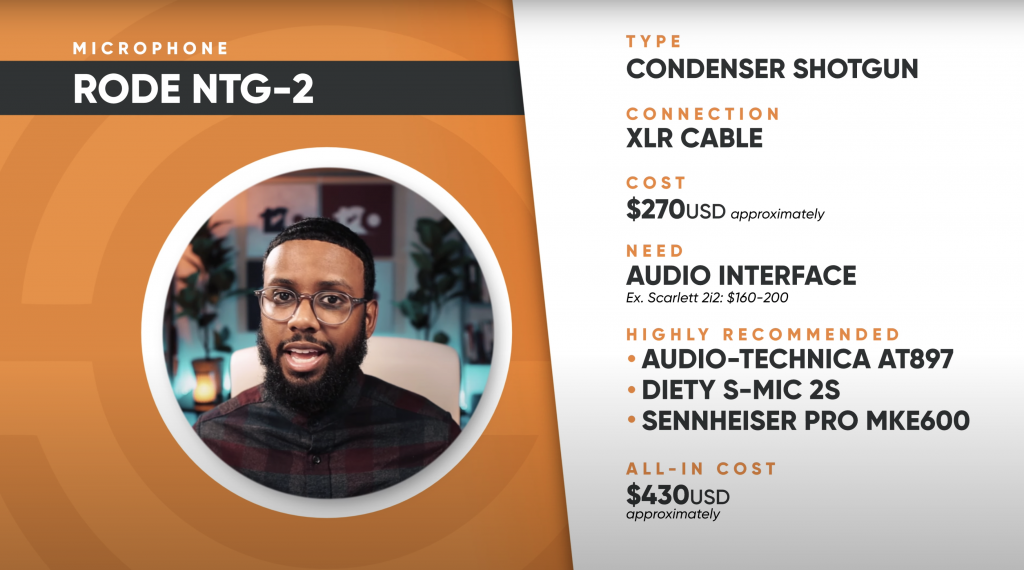 This guy is the Rode NTG 2 and it's a shotgun microphone. I have it connected right to the Scarlett 2i2 via XLR cable.
You can't just plug this one in via USB, it requires more of a sophisticated setup. So typically, people don't use these for live streams. They're usually used for talking head pieces, interviews, even run and gun stuff sometimes.
But if you don't want anything connected to you, or if you don't want any microphones in front of you, then you may want to pick up something like this. This microphone is positioned just out of frame.
That's it! Leave a comment below and let me know what microphone you're using for your videos. Do you love it?