Hi streamers, content creators, and video people! It's Marielou Mandl back again for another blog post all about gear. This time we're chatting about two different gear guides or gear lists that you should always have as a creator – your "must get" list and your "would be nice" list. Don't have these gear lists yet? No worries! We'll work on them together in this post. Are you ready? Let's dive in.
This post contains affiliate links. If you use these links to purchase, we may earn a commission. 
Gear Acquisition Syndrome (GAS) is easy to catch when you get into live streaming and content creation life. You see what other people are using and think "OMG I need all of the things, asap!" Let me tell you this, friend – there will always be new and improved gadgets and gizmos that you are going to want, so it is to your benefit to approach your studio build slowly and strategically!
Start with building two gear lists
Seriously, write out two gear lists and label them. Post them somewhere obvious to you. This could be in front of your computer or digitally in a space that you see often.
The reason you want these two specific lists is because you should always be working to acquire the things on your "must get" list AND always able to snag a great deal or amazing opportunity from your "would be nice" list.
If you know what's on your lists, who sells it, and what the full price typically is, you'll be prepared to make a quick decision when a sale pops up or a friend or colleague is selling their camera secondhand. You'll have already done all of the research beforehand so you can jump at the opportunity. And that's a win!
On your MUST GET list, consider these things
What is the bare minimum you need to get started? 
What are your biggest issues in your production?
What would improve your studio build by 1% ?
What would improve your workflow, thus improve your content output?
Is there anything that really really needs replacing? 
What is that thing that irks you every time you are about to go live? What would make that go away?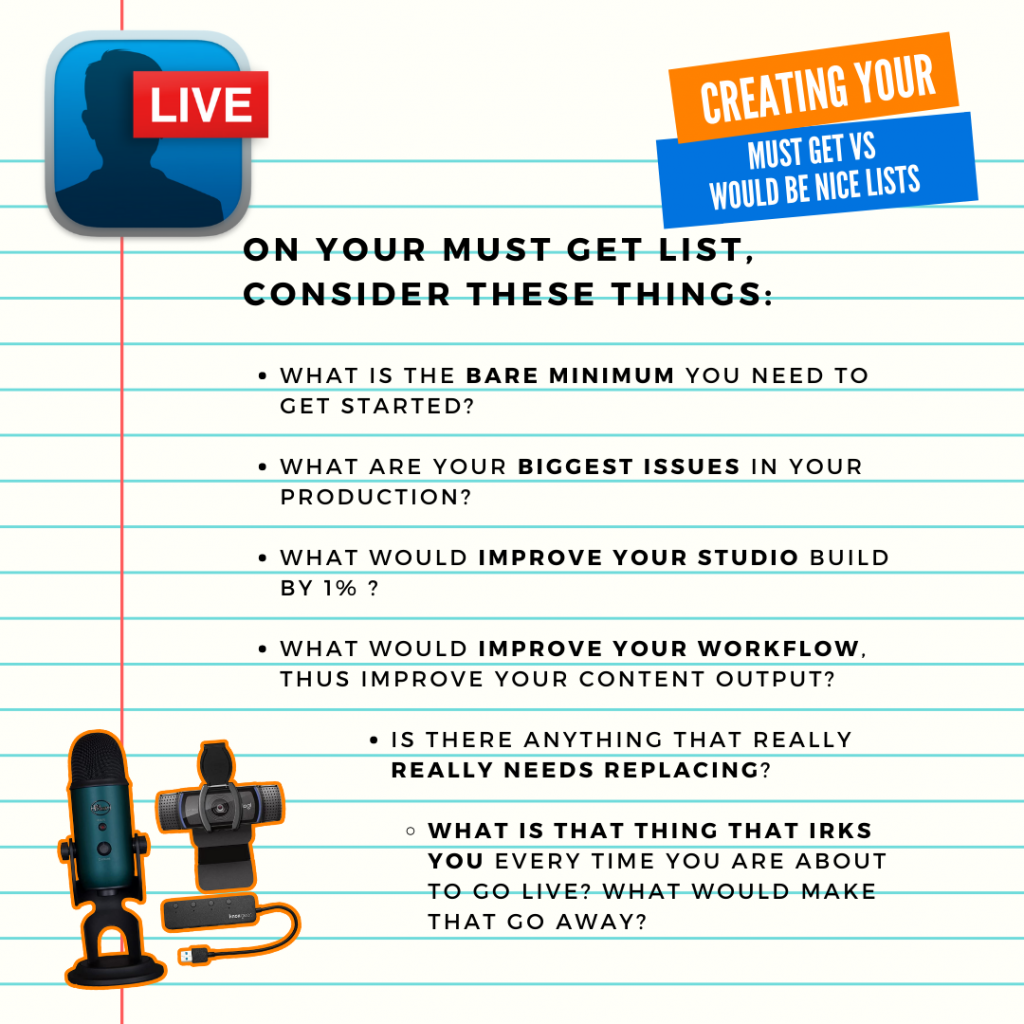 This might mean you need to prioritize improving your internet connection or getting a light. This might mean an upgraded computer or some wire management. It depends on where you are in your journey, but think about the problems you have and what could be the minimum viable solution.
Ecamm Live is a must get for me, because editing videos was messing up my whole flow. With Ecamm, I produce videos as if they are live and it has increased my uploads across all platforms. Must. Get.
Anything that doesn't specifically resolve an immediate issue can go on to your WOULD BE NICE list.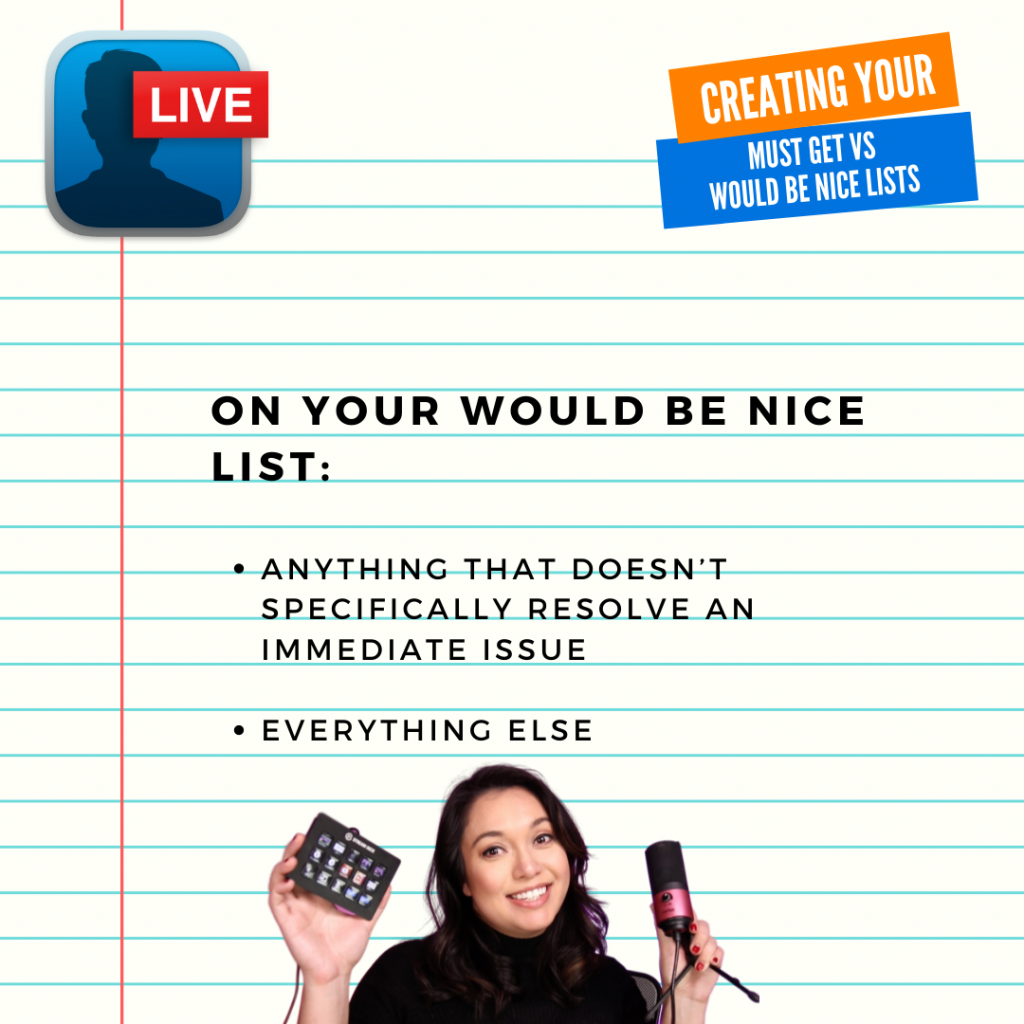 That new new camera would be nice, but do you need need it right now? Or would it be better to focus those resources on other improvements first? All of this depends on what level you are at. A must get list for beginners will be completely different from an advanced live streamer.
BEGINNERS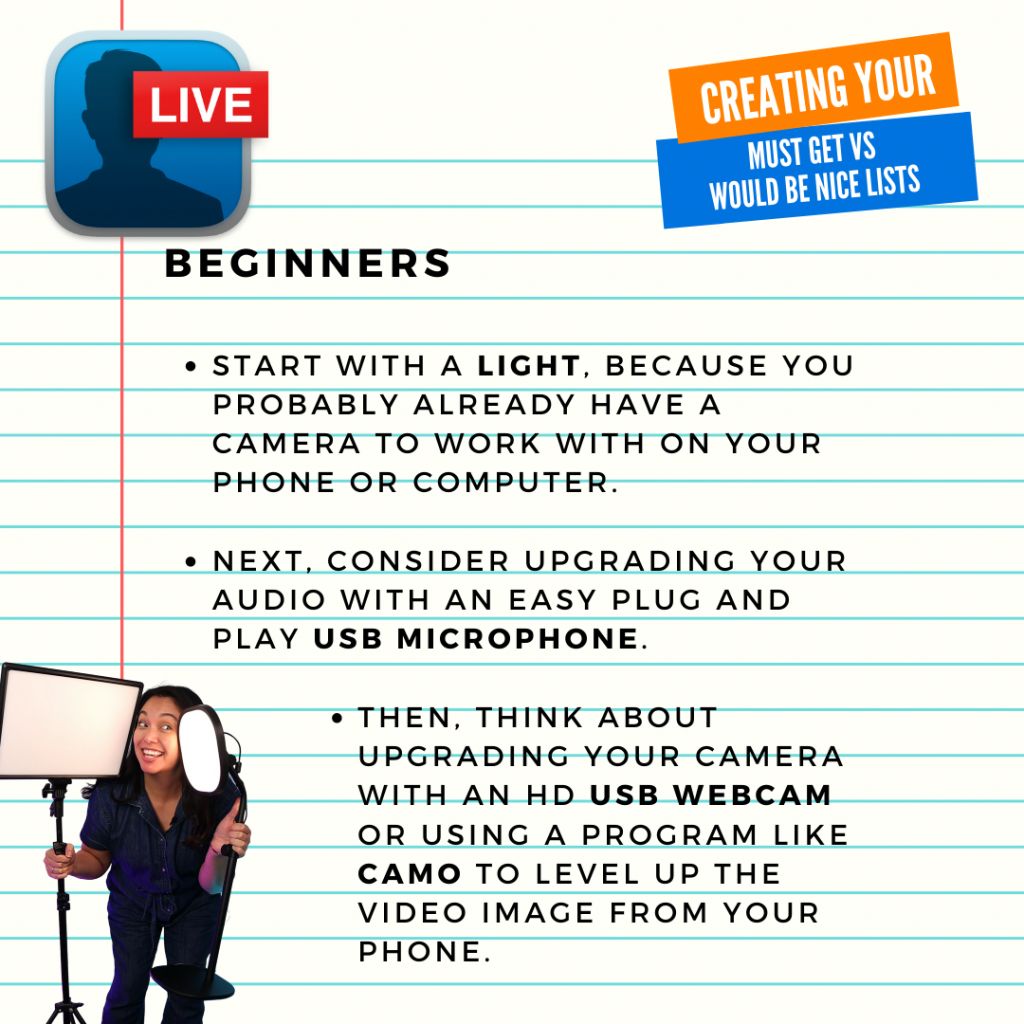 Start with a light, because you probably already have a camera to work with on your phone or computer.
Next, consider upgrading your audio with an easy plug and play USB microphone.
Then, think about upgrading your camera with an HD USB webcam or using a program like Camo to level up the video image from your phone.
INTERMEDIATE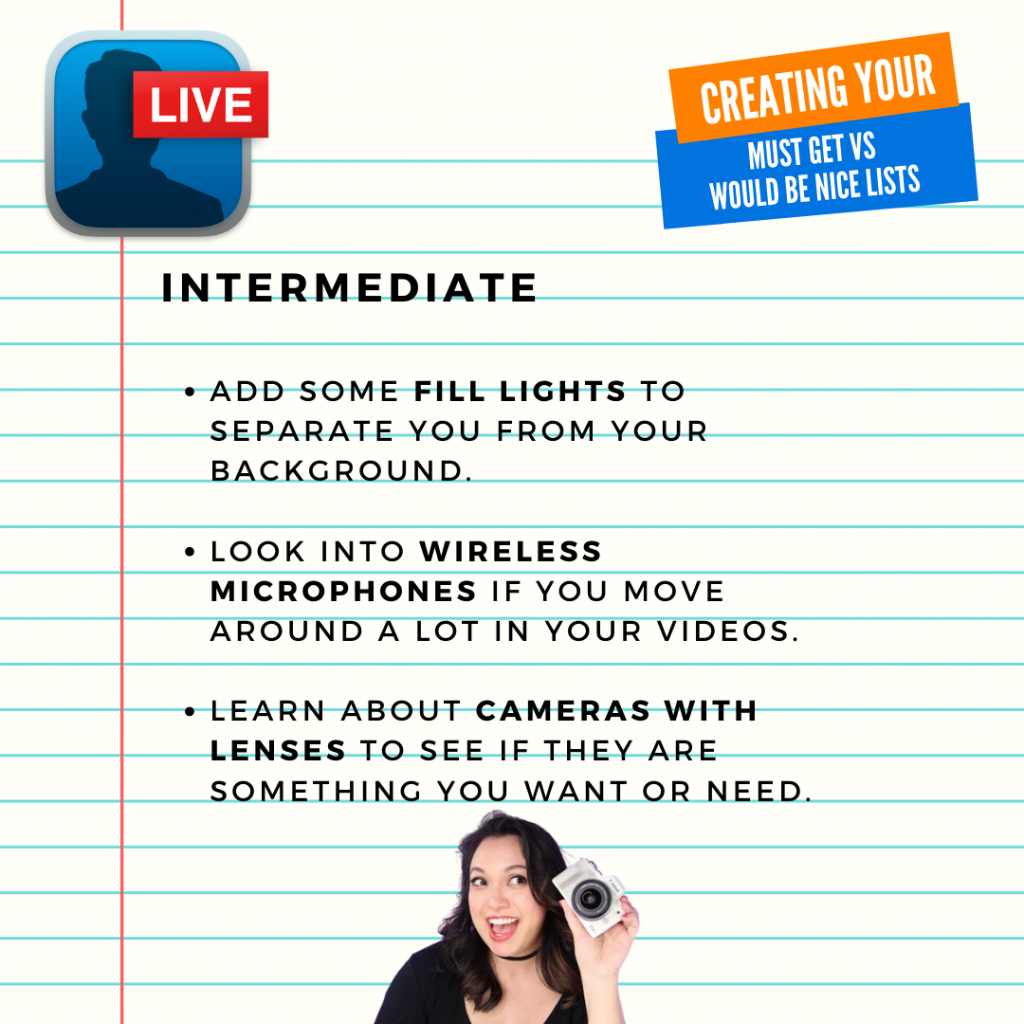 Add some fill lights to separate you from your background.
Look into wireless microphones if you move around a lot in your videos.
ADVANCED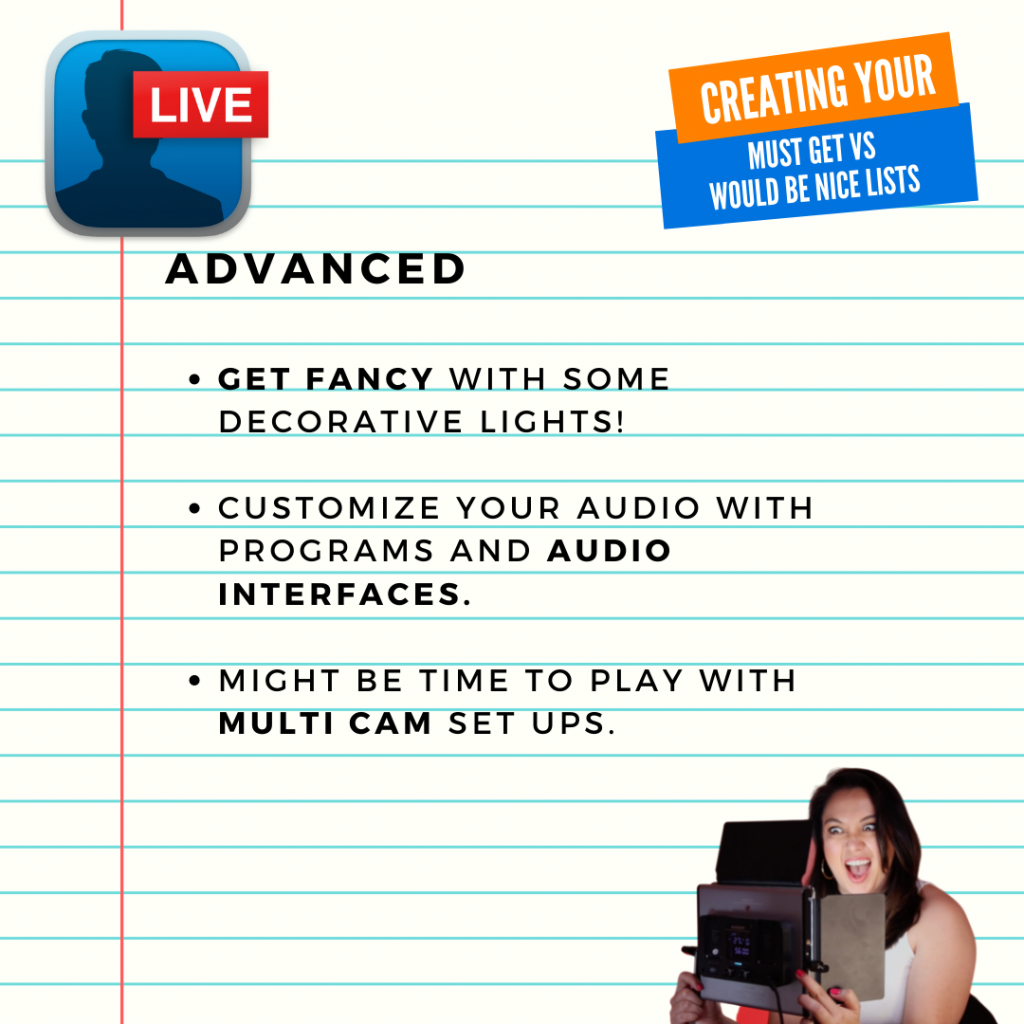 Get fancy with some decorative lights!
Customize your audio with programs and audio interfaces.
Might be time to play with multi cam set ups.
Only you can really know what is a need vs a want, but if you would like some inspiration, check out our live stream and content creation gear guide.