Marielou Mandl here (taking over again!) and I still cannot believe that Black Friday and Cyber Monday are around the corner. That means TONS of incredible deals for leveling up your live streaming set up and content creation gear. If you are not prepared, it can be overwhelming and easy to fall into traps of buying a lot of things you don't actually need. Here are some tips to get your mind right for this shopping season. 
According to Wikipedia:
Black Friday is a shopping day for a combination of reasons. As the first day after the last major holiday before Christmas, it marks the unofficial beginning of the Christmas shopping season. 
Back in the olden days (you know, before shopping online became the predominant form of commerce), the only way to get deals was to line up overnight at your favorite store to physically stake your claim on your dream items.  Remember shopping in person?! When online retail gained popularity, the shopping holiday expanded to include Cyber Monday. 
Again, according to Wikipedia:
Cyber Monday is a marketing term for e-commerce transactions on the Monday after Thanksgiving in the United States. It was created by retailers to encourage people to shop online.
As a content creator, it is to your advantage to prepare yourself for this shopping holiday weekend so you can score big and improve your setup while saving some serious cash… which you can use to get even more gear, obviously. Discounts are your friend. And they're coming out NOW.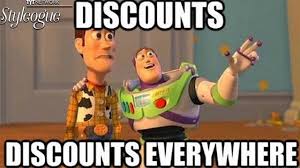 So to get ready for the biggest shopping weekend out there, here are 6 pro tips to help you get the best deals out there.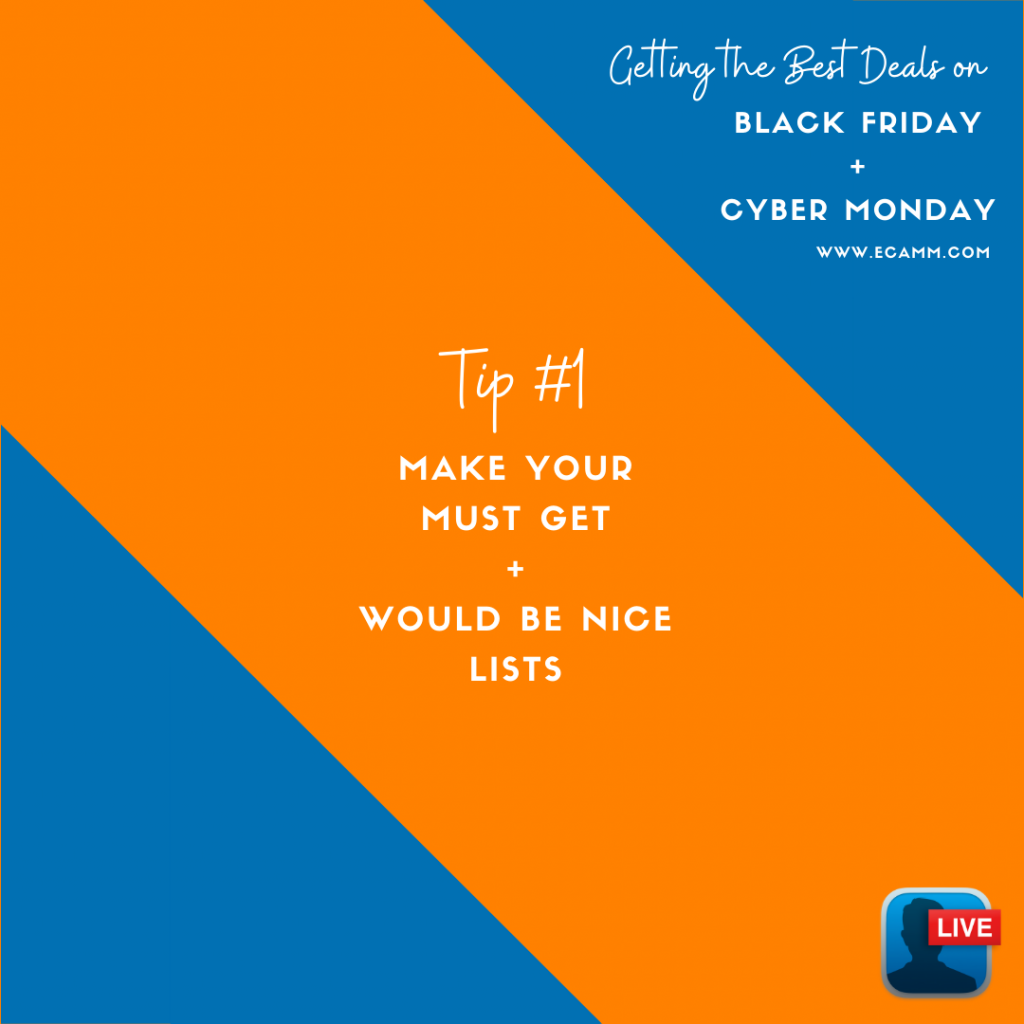 I know you want to get it all, but let's be strategic about it. Figure out exactly what it is you must get. You might not need a Streamdeck or an ATEM Mini, but these are perfect for your would be nice list. 
If you are a beginner content creator, you probably need a light or three. Focus your energy there. Got lights? Now you can focus on audio – microphones and headphones. Basic lighting and audio is covered? Now you can consider leveling up that camera. All of that handled? Perhaps you need to keep a lookout for a new tripod or wire management system. 
You do not need to get it all and you do not need to get it all right now. Focus on what you must get – what would really increase your workflow and output – but also make that wish list of things that would be nice to have if they happen to be on some great deal.
Tip #2: Know What You're Looking For And Where to Find It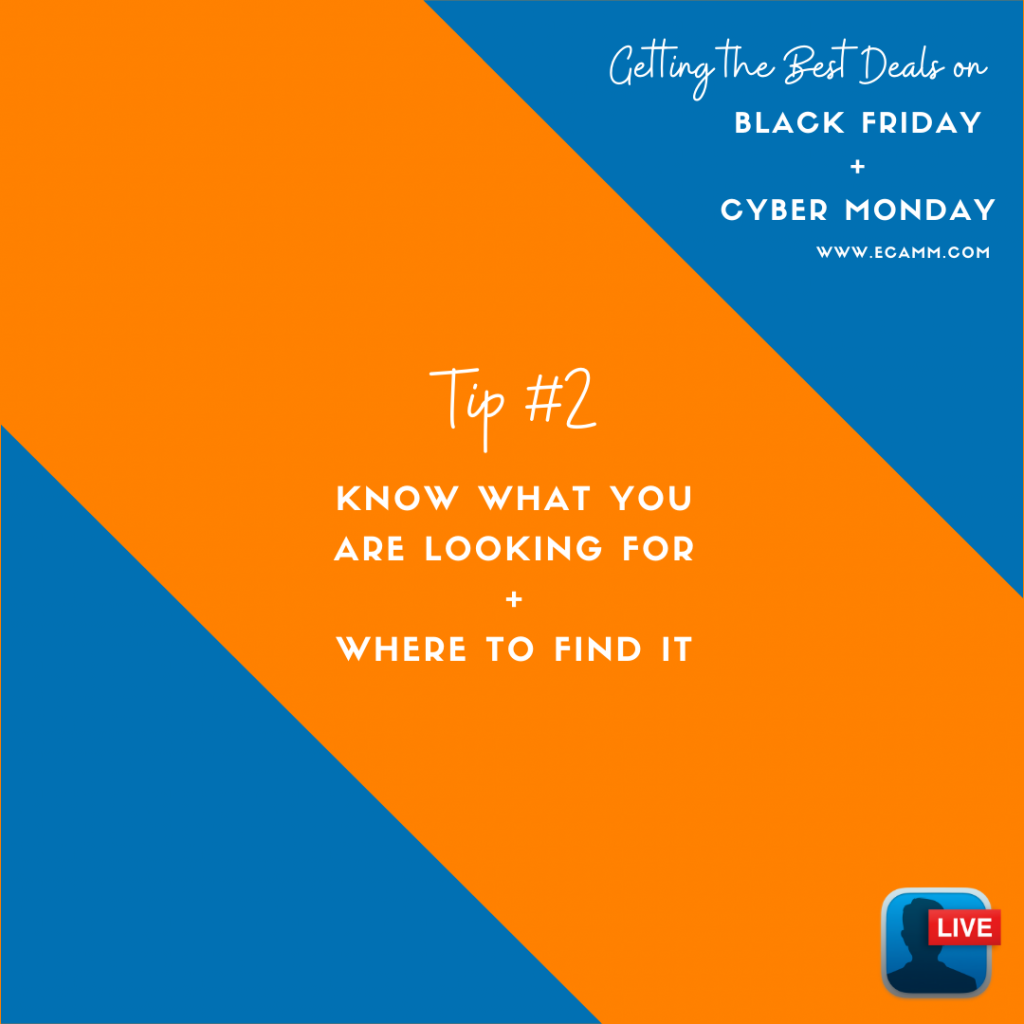 If you are going to hunt for deals IRL, know the layout of the stores you are going to and where your wishlist items are located. Bring a friend to divide and conquer with if you can! If you are shopping online, utilize those browser tabs and have what you are looking for loaded up to refresh through the weekend. Find other creators who you trust and get their recommendations so you're ready to grab what you need and what you want (at a discount!)
Tip #3: Check for Deals and Shop Early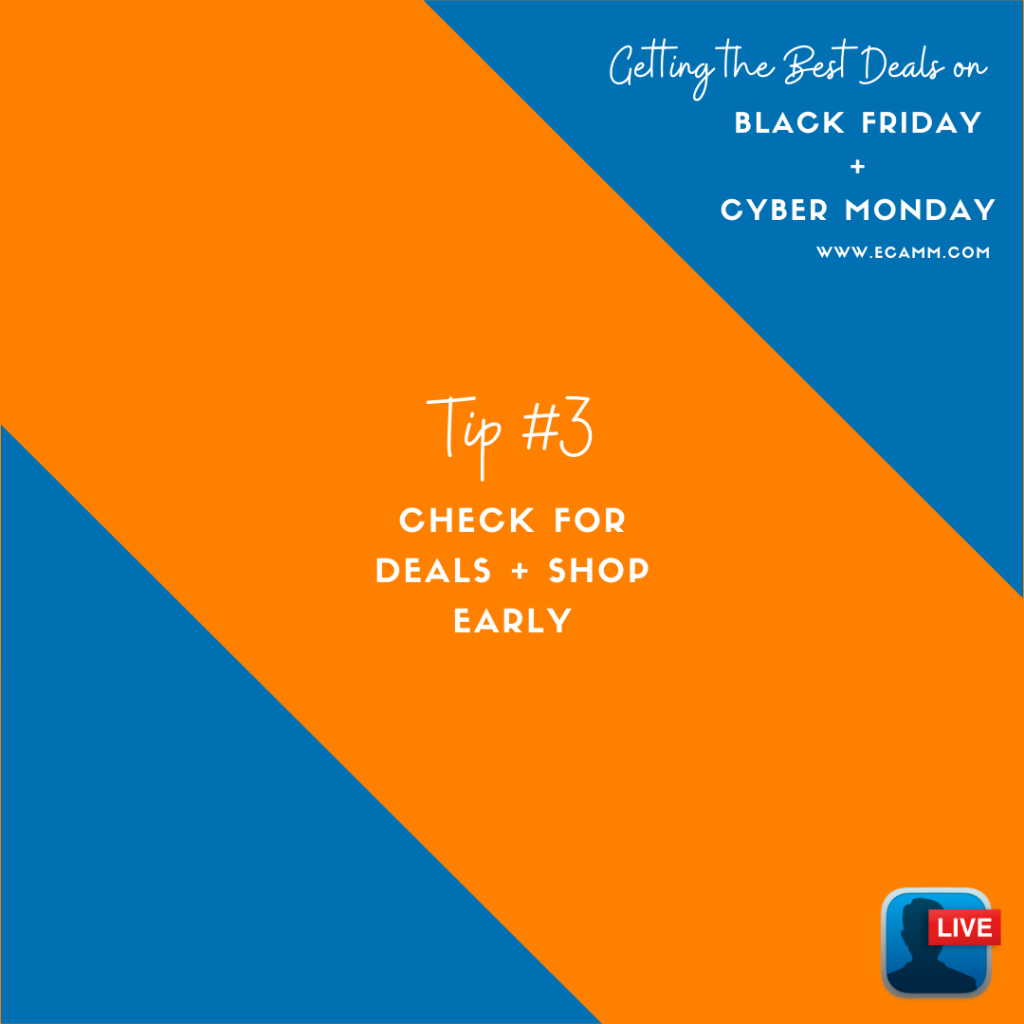 Sometimes, great deals are up before Black Friday weekend. If the price is good and it is something you really need – will it be worth it to wait to see if the price goes down another $10 but possibly sell out?  That is for you to decide. Keeping your must buy and nice to have lists handy throughout the year is a great way to make sure you don't miss a deal. Print your lists out and post them somewhere you see often. This not only helps you to remember, but is also a great motivator to do your best to hit that next goal.
Be Prepared with Alternatives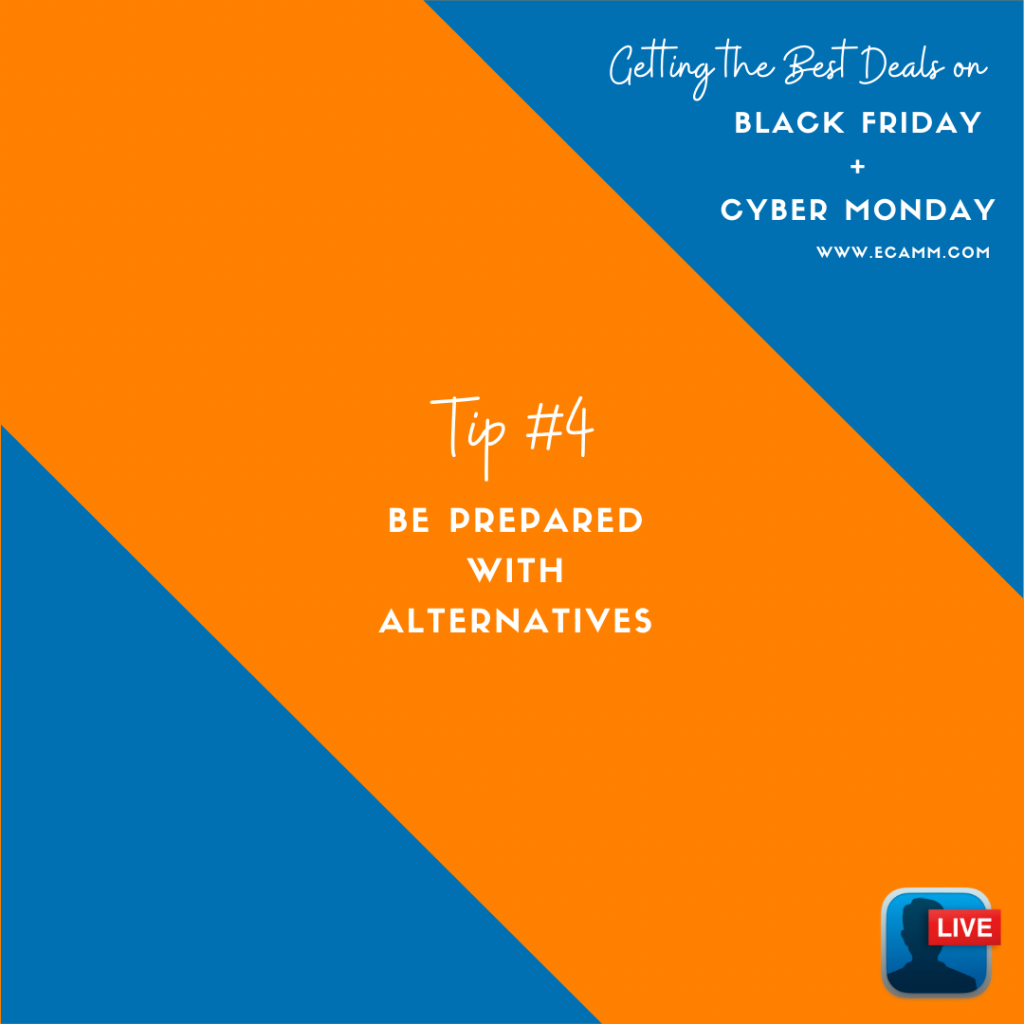 Things will sell out! It happens all the time. Have a list of what you really really want, but be ready with alternatives that are still awesome options.
Look at Last Year's Deals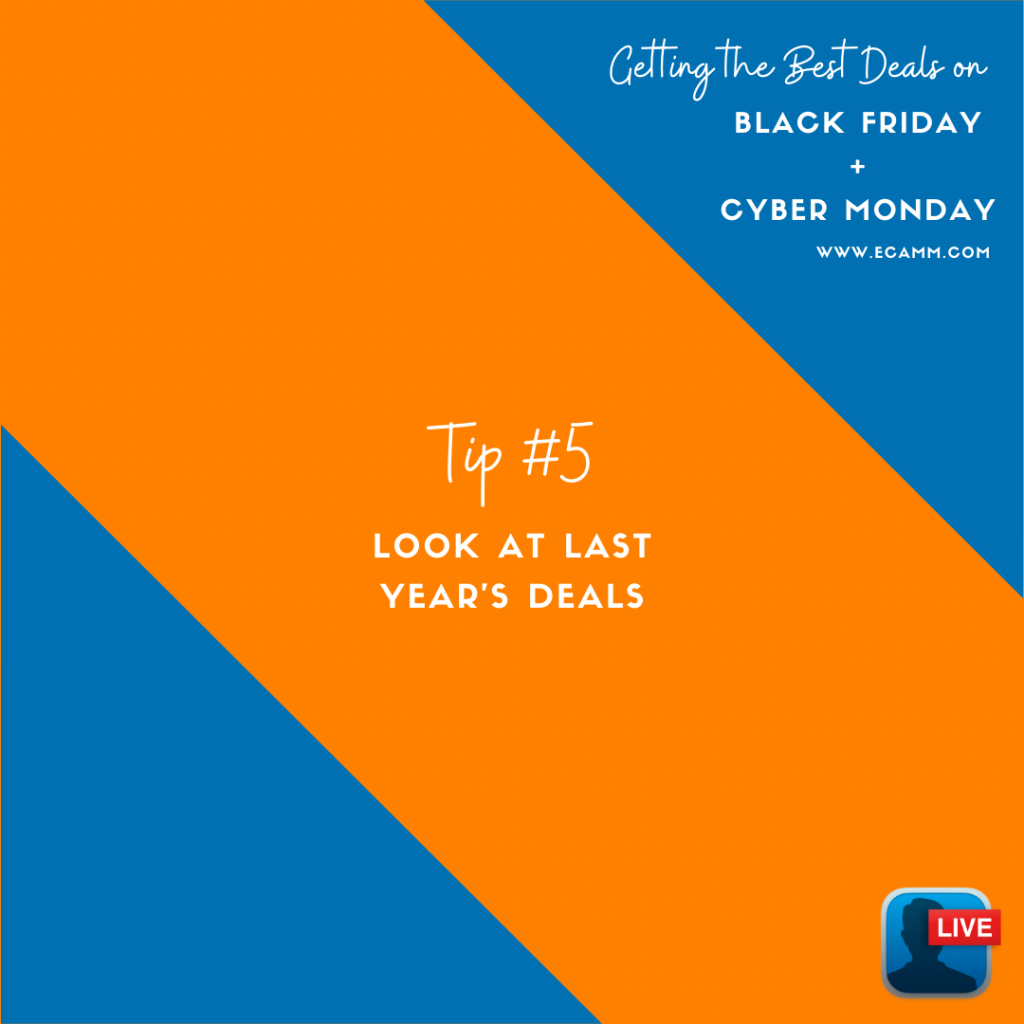 Paying attention to what historically does and does not go on sale (I'm looking at you, Apple) matters. This way you're not wasting time waiting for that new iPhone to never go on sale, but you are paying attention to the Neewer lights that always have a deal. 
Set Up Alerts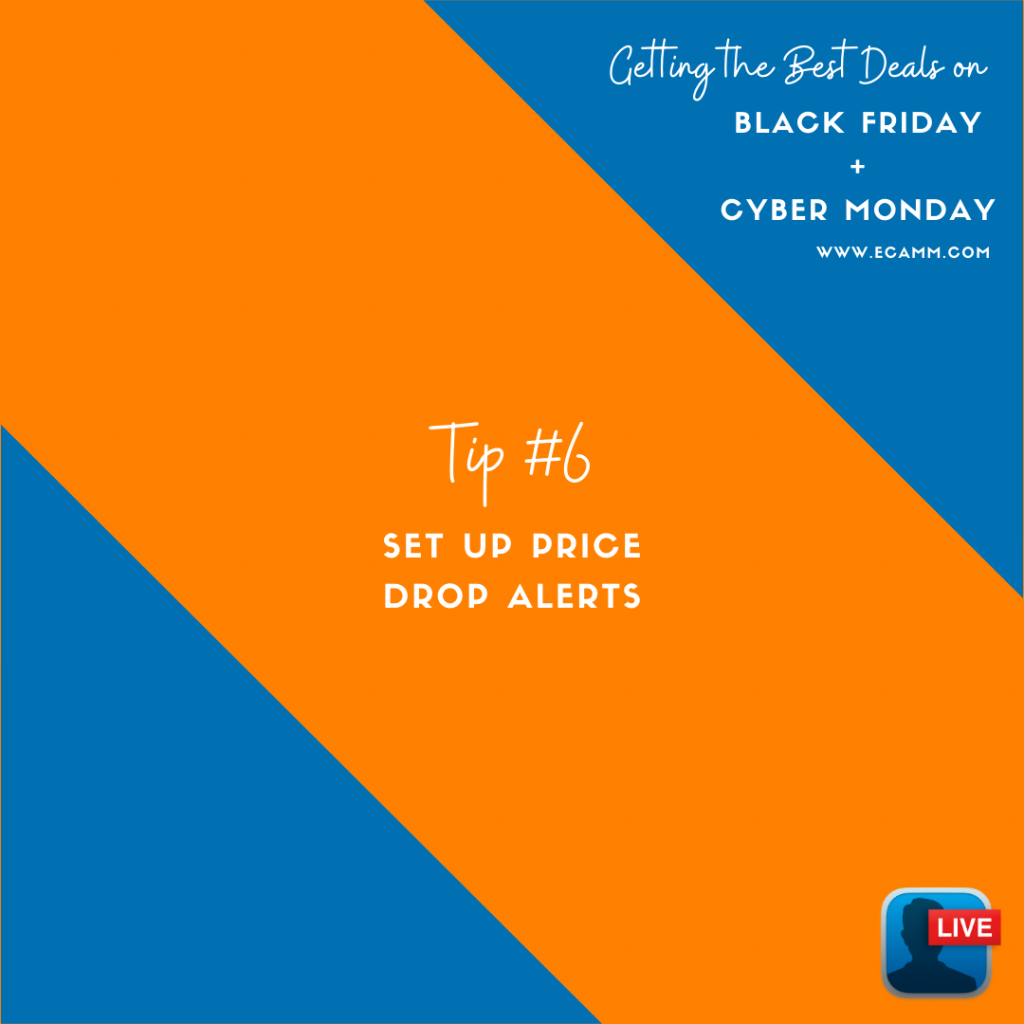 There are tons of tools that help you keep track of deals. I use Honey to make watch lists and get alerts when prices drop. You can also add your wishlist to your cart and keep an eye out for alerts there. 
BONUS TIP!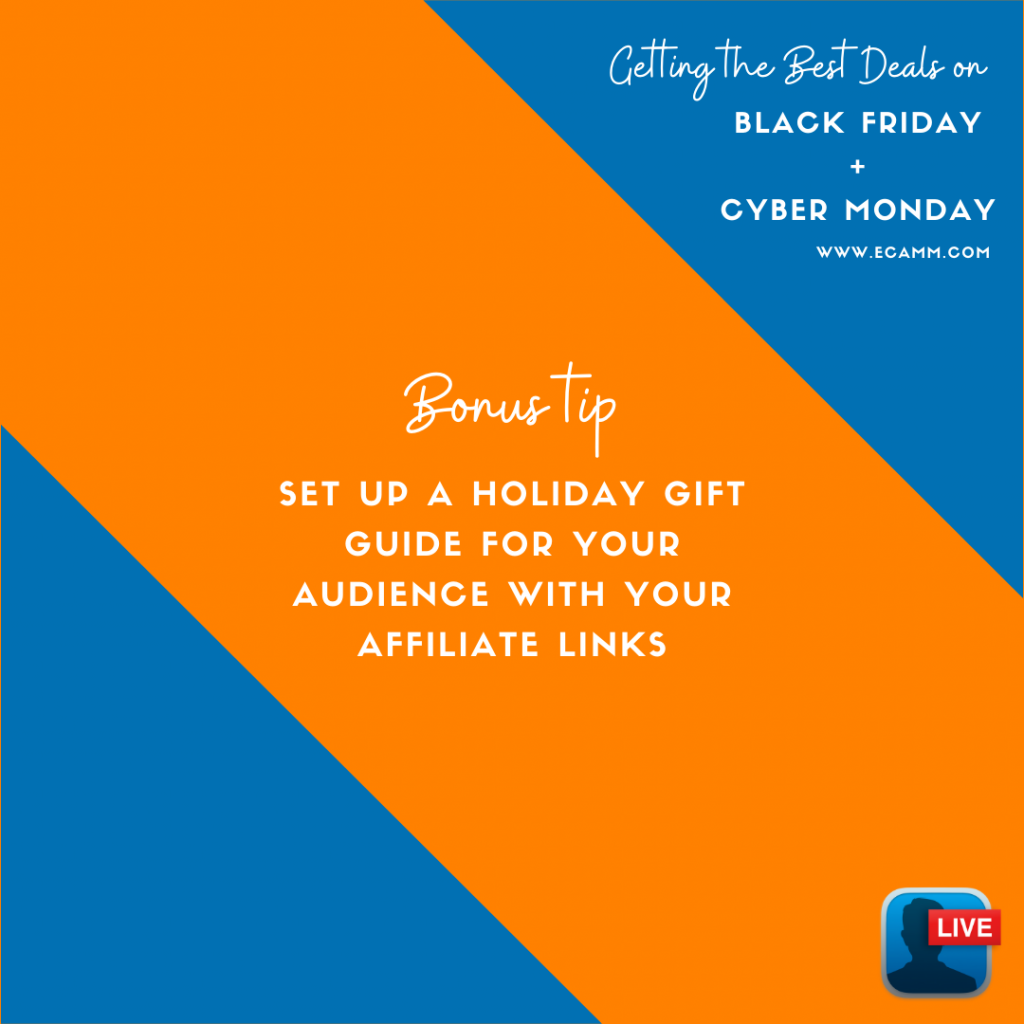 Are you an affiliate? Have affiliate links? Use this information and put together a holiday guide for your audience to use while they hunt for the products that you recommend! Ecamm Live has a great affiliate program you can sign up for today.
Follow @ecammnetwork on Instagram where we will be sharing deals found by the #ecammfam community all weekend long! Here's to grabbing some great deals.