As a live selling producer, you'll need to be organized and have your plan in hand throughout the process. In this article, Stephanie shares her producer's checklist. Get ready to can check everything off to make sure you don't miss a thing. Write down these live selling tips and you'll be sure to succeed!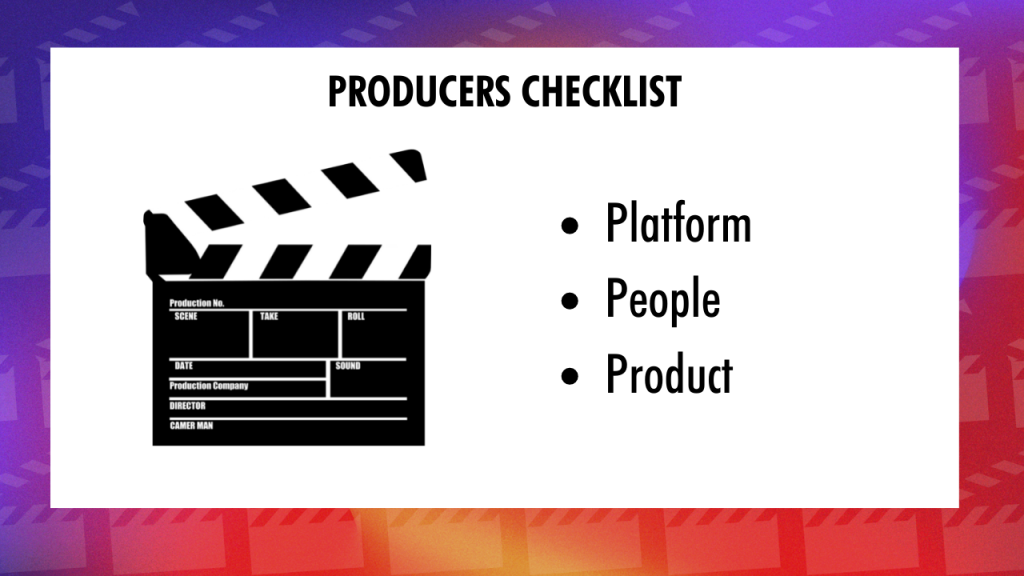 In this post, we're going to discuss
Live selling platforms: how to setup, control, and run an engaging live selling event
The people and players important to the show: how to keep everyone organized and on task
What you're selling: the run of show, how to demo, camera angles, and more
Watch the full episode
On this season of Showrunner, we're jumping into the world of live selling. Blending entertainment with instant checkouts, live commerce offers retailers, brands, and content creators a new channel to reach and engage audiences. Live shopping has opened doors for on-camera talent, influencers, and even remote live video producers. If you're not already offering remote live video production to e-commerce clients, NOW is the time to get started.
In this post, I'm going to share my pro live selling tips and give you my producer checklists. I'm going to break it into three key components that you'll want to pay attention to when you're getting started with live selling:
Platforms – which platform are you going to use?
People – who are the key stakeholders?
Products – what products are you going to sell and how?
Live Selling Platforms
We're going to start with the live selling platforms. There are a lot of different places that you can host a live selling event, including: Amazon Live, Facebook Live, Instagram, TikTok, and YouTube. There are also platforms specifically designed for live selling, including Livescale, Firework, and LyveCom.
When you're thinking about a platform like Amazon Live, you'll want to consider what does the client need to know? Do they meet the requirements do an Amazon Live selling segment or are they leveraging your account? Are you using an influencer's account? Who is setting up the platform?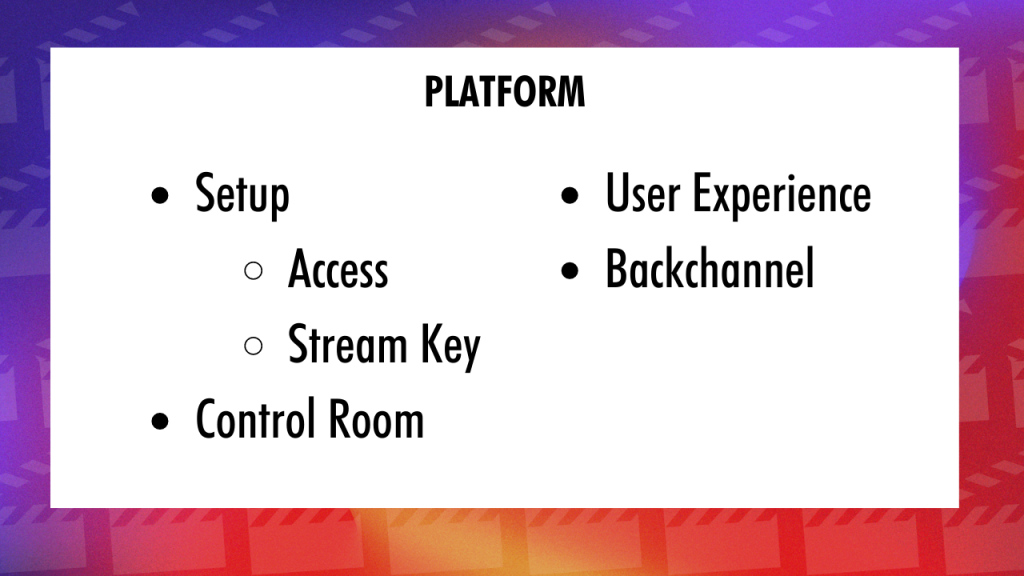 The reason why I say that is because if, for example, I know LiveScale.tv like the back of my hand. If a client needed me to, I could set everything up. This includes: the registration page, thumbnail, copy… all the different things. But they may not need me to. More often than not, the client will already have someone that does that for them.
I think it's helpful for you to know whether or not that's something that you want to offer as part of your services. Or if you're going to be the producer where you just handle the show itself.
The other thing that's helpful to know when you're thinking about these platforms, is how do you connect with them? If I'm thinking about Amazon Live, for example, I know I'm going to connect with Ecamm, but I'll also need the Amazon Live app on my iOS device. That could be my iPhone or iPad. What are those things you may need to connect to help you drive the show? You're going to need to give that some thought.
For Facebook Live, you'll need to have a Facebook Shop created with the correct SKUs uploaded and setup. Who is doing that step? You or the client? If you're doing that step, it'll affect your rate. That is something you'll need to know up front during the planning stage.
Plus, with Facebook Live, you're going live on a desktop via Ecamm and Facebook Live Producer. This way you can manually show products on the screen. For Amazon Live, you need the Amazon app to show products there.
You may, in fact, want to have a second producer help you out.
When I'm working on LiveScale.tv with a particular client, I'm in charge of Ecamm and bringing the host and perhaps a guest into Ecamm and handling that, but someone else on LiveScale.tv (whether it's on the client side or the onboarding specialist) is going to be responsible for moderating the chat. That includes things like putting up announcements, graphics, and products on the live selling platform.
The key thing to remember is that you need to ask the right questions. This will help you make sure you have the right access and know who is doing what. It'll also help you to price things accordingly.
Host a Test Event
One of the best things that you can do to get familiar with a live selling platform is to host a test event. This way you can see how long it takes to connect Ecamm to the platform (can be anywhere between 30 seconds to 2 minutes, depending on the platform!). It'll also let you go through your run of show so you can practice.
On many of the platforms, you'll have the ability to practice in private mode or unlisted. This will ensure you don't have to worry about anyone tuning in while you're getting setup and ready for the big event.
Remember, practice makes perfect. Don't skip the test run.
Live Selling Control Room
I use Ecamm Live to produce all of my shows, but the control room could be the Amazon app on an iOS device. It could be Facebook Live Producer on a separate desktop (or laptop) in order for you to show the products and make sure that they appear and disappear when you want them to. You'll need to know what and where your live selling control room is.
Often, clients are so used to having their Shopify store, or they're used to live streaming and just dropping a link in the comments that takes them out of the live shopping experience. What we're mostly looking is a live selling platform that helps to create an integrated experience where checkout is pretty much seamless. Knowing what that experience looks and feels like as a customer or viewer is going to help you plan out how your live selling event is going to look and feel. The experience matters.
For example, I know that on Amazon Live the products are going to show at the very bottom. It's easy for me as a presenter to say, hey, go ahead and add this to your cart and I can point down knowing that's where they're going to see the products. Most people on this planet have bought something on like Amazon before. But if you're using a different live shopping platform or something that's different from their typical social media channels, you may have to teach your audience, your customers, the process. You'll have to teach them the user experience of purchasing a product.
Why not create an onboarding video for your clients?
In this video you can show them what the experience will look like for their customers. How to add the product to the cart as well as where promo codes code and everything in between. Show them how it looks on mobile vs. desktop.
When I'm sitting down with the client, I usually ask them: what live shopping platform are you using or which social media platform are you using? As a live selling producer, I have to understand how that looks like sounds and feels from a customer onboarding perspective.
Have Backchannels
When it's time to go live, you're going to want to have some way to communicate with all of the people participating in the event in a backchannel. In Ecamm, if I have two people on set, there's an interview chat modal that we have when I'm working with the client. The client may be in what we call the "war room" or they're watching the show, they're paying attention to all the different things, but they're not actually in Ecamm with me.
So we need a backchannel.
A backchannel can be whatever works easiest for the group. You could use a group text on your smartphone, WhatsApp, Slack, Facebook Messenger… whatever is easiest for everyone. Whatever it is, it's communication between you and the main stakeholders.
In the backchannel, you'll get questions like:
The host ran through the run of show too quickly. Are we going to pad this?
Are we going to go longer?
Can you adjust their mic?
How about adding graphics?
Can you leave that promo code up a little longer?
All of these questions and this conversation is incredibly important, but you don't want it getting in the way of the show. The backchannel communications become an orchestrated dance between the producer and the main stakeholders.
You can also add a second back channel. The second back channel is generally between myself, my main stakeholder, and the presenter. And the reason for that is because we want to make sure that the presenter has all of their questions answered. Even though we've already had the tech rehearsal, the onboarding, and all of that stuff, we still want to have a backchannel just in case additional questions arise while the show is live.
Pro tip! If you're going to have your phone by you, please make sure that it's on vibrate and away from any mics. The reason we choose vibrate over silent is that you may not see your phone, but you will hear it if it vibrates.
Lock in the Platform Early
This is where I get into the nitty gritty of all of it. So we talked about setup. I want to know which platform in particular we're using. Are they already locked in or are they still in the deciding phase of it? Because I typically won't go and engage with the client until they actually sign on the dotted line and say, okay, this is the platform that we're going to use.
When you're having these early conversations with your client, ask them if it's a one-time engagement or you're doing multiple shows? That can sometimes affect the pricing for a live shopping platform. They may give you a great deal for fur live shopping segments vs. one. And if it's Facebook Live or YouTube Live, it's not going to matter as much.
The People and Players in Live Shopping Events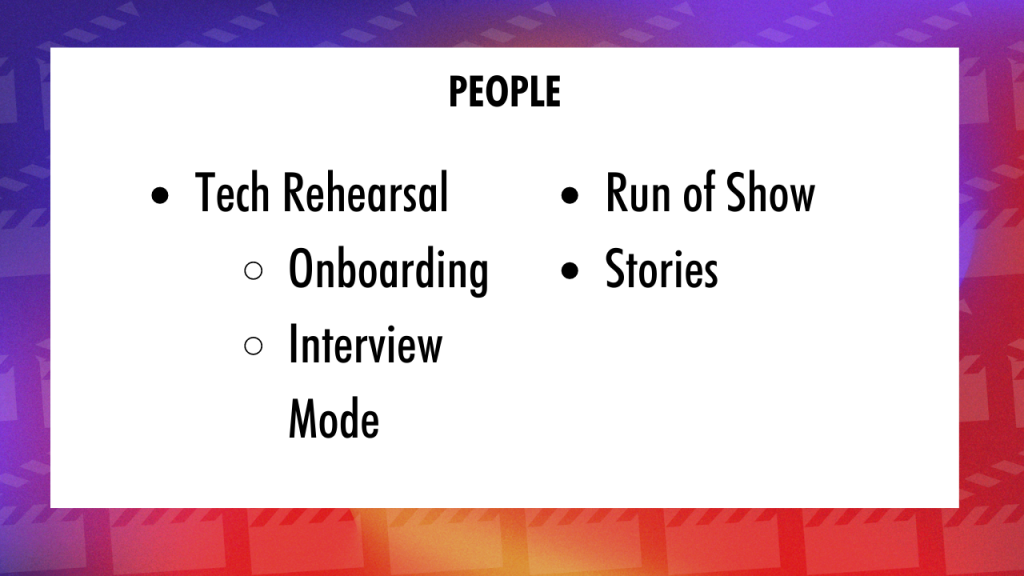 In a live selling event you'll have the client, key stakeholders, the talent, any assistants, the producer (that's you), and the customer watching on the other side. All of these people will need to be taken through the process so that they know what's expected of them and how to be their best on camera or watching on the other side.
Training the Talent
Good talent is hard to find, but also integral to the success of your live shopping event. The reality is that most talent isn't going to know a lot of technology. As live streamers, most of us can have multiple tabs open and can run a stream with all the bells and whistles without being distracted. Can your talent?
Does your talent have the technological skill set to know how to manage the show? If not, you'll have to train them. So when you're billing your time, you have to be mindful of that, too.
How do you make sure that the client gives you control? You have to know who your main stakeholder is, what their decision-making strategy is, and how you're going to reassure them.
At this point, you hopefully know how important onboarding and tech rehearsals are, especially as you're getting your client familiar with all of the tech and the run of show. You may want to consider having a website, PDF, or Google Doc… any of shareable information… ready to be a reference for clients and talent.
Rabbi David Paskin from Tech Torah Guy has a great get ready example on his website.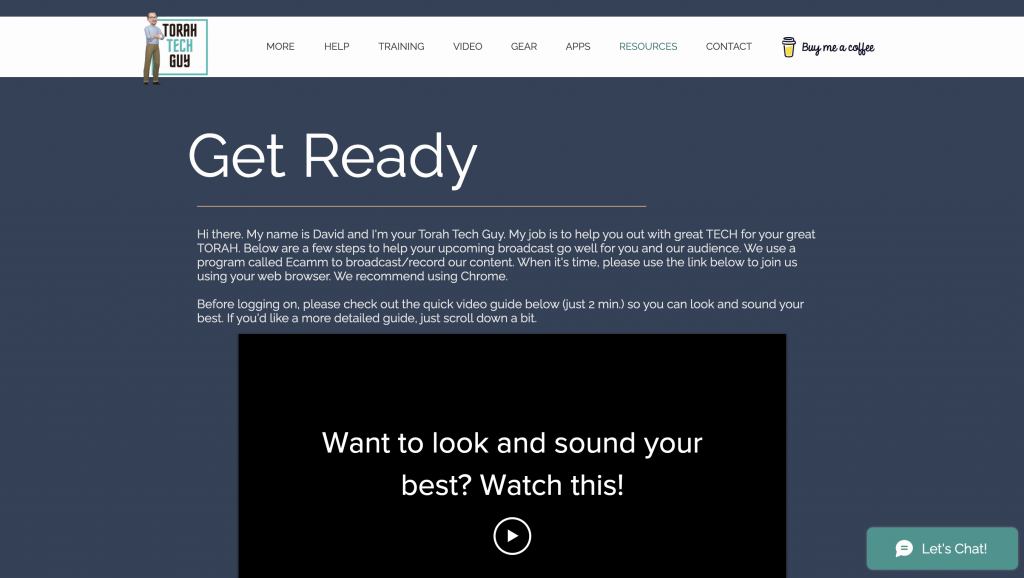 On Rabbi David's website, he has a short video, pro tips, the join this interview button, as well as additional gear… and it's all on one, easy-to-share landing page. He even includes information showing his guests what the Ecamm Live guest interface will look like so that everyone is ready to go.
Use this as a template and create your own information so that your talent knows exactly what to do, how, and where. It's like a pre-study guide on how to best on camera.
It's also a win-win because it's a great place to include affiliate links to recommended gear and tools that you may want your talent (or clients) to buy. As I've said previously, I'm a big fan of Elgato's products because they're plug-and-play. This is a great way to onboard your talent easily.
I think this also helps you be prepared as a live selling producer. So that way, your clients will know that you're a professional and that you're ready to go.
So you have to think to yourself, when do I start onboarding a client? And how does that look like? So you could do this, what David from Tech Torah Guy has put together, or you could do something different. Maybe it's an e-book, maybe it's a Google doc, or maybe a video walkthrough.
And don't forget to remind your talent about the backchannels so they know where and how to reach you if questions pop up or if you need to get ahold of them while they're live.
Remember the Run of Show
You want to come to the table as a problem solver that your clients trust to get the job done seamlessly and professionally. This is why having a run of show and going through that run of show in advance with your clients and the talent is so important.
This is the point where you can visually show your clients and talent how everything is going to look, feel, and sound for the viewers on the other end.
During the tech rehearsals is generally where you may find that the client starts to make little differences in their run of show. Because again, they may not have figured, oh, maybe I want to have an overhead shot.
This is where I have them practicing going in and out, going in and out. And the reason for that is because again, I just want to make sure that they know how to do it. I want to make sure that they know how to mute their mics and unmute their mics. Even in your onboarding, in your tech rehearsal, you're going to do the bare bone basics.
When you also have this tech rehearsal and you're reviewing the run of show, it's nice to review it with the team. Because from there, I'm usually saying, okay, so this is where we're going to show the promo code once more. This is where we're going to do this, or did it.
And so this helps me work with the talent to show them how it's going to look. It's also helpful for me to show them where the product is actually going to show up so they know they're not blocking it during the show. I also want to make sure that they know their transitions because I have been on some very painful segments where the interviewer didn't know how to transition from one segment to the other and it just really killed the momentum, the energy, and the vibe for that particular show.
Remember that as a live selling producer, you are giving your clients, stakeholders, and talent your brain on speed dial. Block off the time you need to be available and present for the team so that you can run a successful selling event.
Let's Talk About Products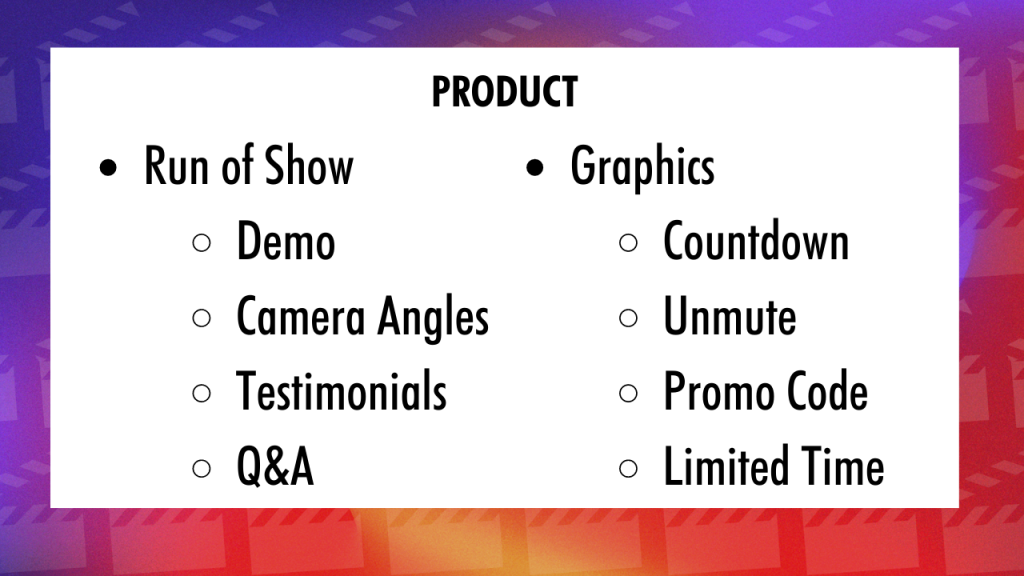 Oftentimes when I'm working with clients, I want to know what specifically are we actually selling on this show? And so when I think about the product, I want them to show it to me.
Plan out the Demo
What kind of demo do you want to do? Are you imagining an unboxing video or is it something that you're doing a taste test for?
The reason for that is because if it's a solo person that is doing a demo, they can simply pick up the product and show it on camera. The trick is that you want to have enough space to move away from the mic so that you don't bang it or make a noise. You'll want that person to practice the demo so that they know how to hold the product and interact with it.
There are a few things to be mindful of when it comes to product demos. The first is how loud is the product? Does it have packaging? The second is how you interact with it. Are you going to put it on? Hold it up? Taste it? How many camera angles? Do you need to zoom in?
All of these things are going to affect how you show a product on screen and how the show is going to flow.
If you are trying to unbox a product, do a demo, and give everyone the directions and instructions, but you're making a ton of background noises, it's going to be really hard for the viewers to engage and follow along. I want to keep the audience engaged as much as possible. This means that I need to know what's involved in the demo up front so I can plan for success.
Success might actually be to roll a video of the product rather than demoing it on screen. And that's fine. You just need to know that beforehand.
One other thing to keep in the back of your mind is that if you're selling tech items, you'll need them to be charged up and ready to go when the cameras turn on. You want it to be authentic.
So when you're thinking about the demo, how long is that demo? Do they need to clear out space when they're doing the demo? Are they standing or are they sitting other things? Are they moving from one station to another? Cause with Ecamm, you could connect multiple cameras if you wanted to. So that's an opportunity there as well.
Live Selling Graphics
Don't forget about the graphics that you'll need when planning out your live selling event.
Are you going to have testimonials playing in the background or do you want to have a graphic for it? Are you going to include a segment for Q&A. All of this will need to go into the live selling run of show.
If you're offering like a bundle, a promo code, like you might want to have a countdown timer to say okay, this flash sale is only going to happen for the next 20 minutes. And then you have the countdown timer running at that point, you could do the product demo. And then it's oh, snap, I need to get this right now.
If you're working again with a live shopping platform that shows you a dashboard of how much product is being moved at that point, you could call out that you only have five left in stock. So if you haven't already checked out already, you might miss out, that's going to be an opportunity for you to.
The other one too, that I love is the unmute. So if you're doing something on Amazon or if you're doing even something on Facebook where they auto mute you at that point, you might want to have a graphic that says, "hey, click to unmute."
Here's one of my designs that I created in Canva and use in Ecamm Live. We've also added a freebie you can use in Ecamm Live if you register for Showrunner updates here.
And so I actually download this as a movie file, use the chroma key, and then add this as an animated layer into Ecamm. So that was like a lot of nerdiness right there for you.
Again, just be strategic with this on how you want to use these different graphics to move your audience.
So even with this, maybe I want to have like confetti falling down or money falling down or all that other stuff. So have the unmutes, have the follows, have the promo code, even just say limited time offer. I even tell clients, you didn't even have to get fancy. You could just have that scrolling ticker that says "limited time offer!"
Stephanie's Live Selling Producer Checklist
Here's what you need to know to be successful as a live selling producer.
Be friends with the live selling platforms and know how they work
Have a good plan, run of show, and lots of tech rehearsals
Build a sharable document or landing page to make information sharing easy for your stakeholders and talent
Set up backchannels so you can communicate easily with the team
Be available for questions and to solve any issues along the way
Plan ahead and create engaging and fun graphics to inspire customers to purchase
Remember that planning makes the production possible. You've got this.