Nowadays, live streaming has become the norm for content creators from all industries. It offers a way to connect, build community, and grow their audiences. No matter the industry or platform, content creators can now monetize their livestreams, and easily earn revenue for their personal brands.
So, want to earn money as a live streamer? Then check out these 6 easy ways to monetize your live stream.
#1 Run Ads
This may seem like an obvious choice, but it's worth noting. Online advertising has been around for years and can be an effective way for you to monetize your content.
"Running ads during livestreams is a common thing that content creators do to make money when streaming," says Carol Michaels, a video blogger at Writinity and Research papers UK.
"Streaming platforms like YouTube, Twitch, and Facebook let you play pre-roll and mid-roll ads during your streams, so that viewers can see them, and you get played for showing them. Just keep in mind that the payouts vary based on viewership and clicks on those ads. Plus, payouts vary across platforms."
#2 Pay-Per-Views
Believe it or not, the pay-per-view method is still alive and well. It has already made its mark on the world of live streaming. The concept is simple. Charge viewers an entry fee to access your streams. Simply put, viewers are paying for a "virtual ticket" to see your content.
This monetization option is popular for performers (musicians, comedians, musicians, and more), fitness instructors, educators and course creators, and more.
Services like Uscreen allow you to put your live video and VOD content behind a paywall. They also offer a lot of great features to help you create a wonderful viewing experience for your customers.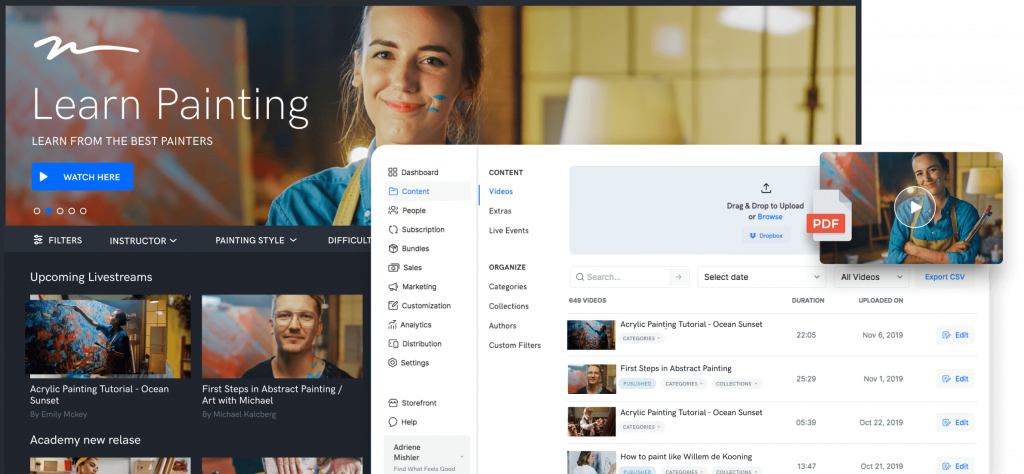 Just keep in mind: The quality of your content must be viable for monetizing with pay-per-views. In other words, look at your content and make sure you're bringing viewers value before diving into the world of pay-per-view.
#3 Memberships and Subscriptions
Subscriptions and memberships are continuing to rise in popularity namely because people love being part of a community. You can monetize your live stream broadcasts by offering a membership through sites like YouTube or Buy Me a Coffee.
If you go this route, you'll need exclusive content and experiences that are only for your members. Examples of these are special live stream interviews or office hours.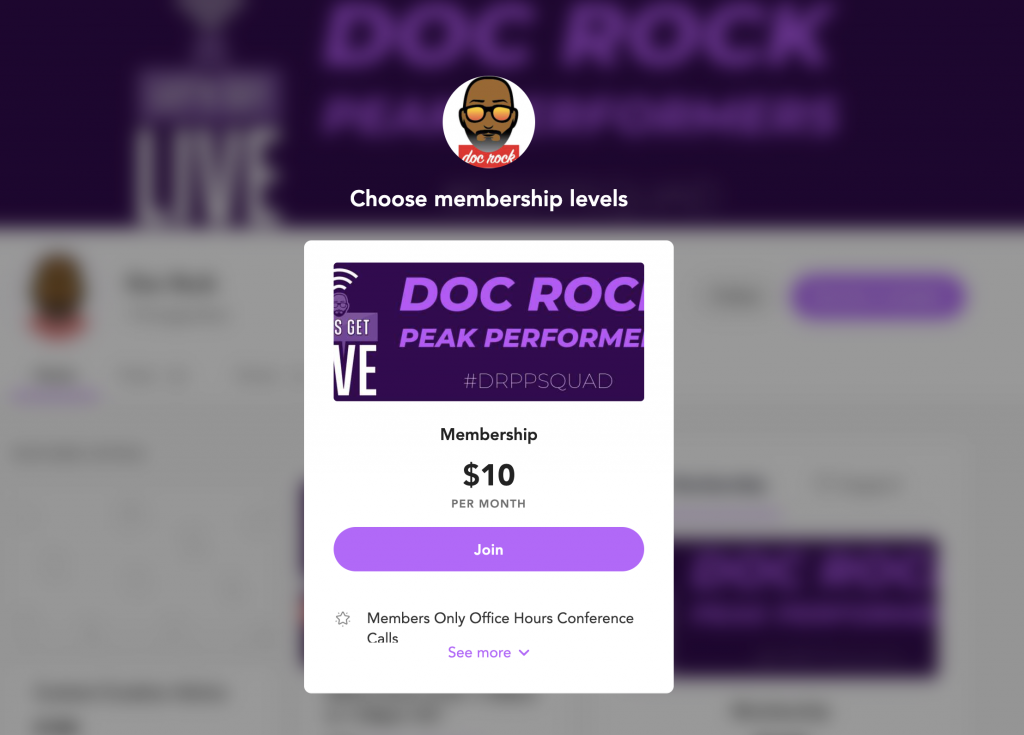 "Streamers can gain subscriptions from their livestreams," says Jonathan Rhodes, a journalist at Draft Beyond and Last minute writing. "Subscription-based models are available, so that you can establish a paywall where you see fit, so that viewers can pay monthly to watch your content. Or, you can set up subscriptions, so that viewers can have benefits like chat privileges, emotes, etc. Just be sure to have a workable subscription model for your streaming."
#4 Superchats, Super Stickers, and Stars
If you've created a unique and engaging live video experience, you can leverage YouTube and Facebook's monetization features. On YouTube, these are called superchats and super stickers. On Facebook, they're called Stars.
These features allow your live viewers to purchase chats, stickers, or stars, which promote their comments or content in the live chat and also in your show. It's a great way for viewers to feel part of the experience and for you to highlight superfans.
Pro tip: you can use Ecamm Live's widget feature to create an automated experience when someone pays for a superchat or sticker. Luria Petrucci of Live Streaming Pros and Go LIVE Now has an animation of her dog Abby that pops up every time someone gives her a superchat or super sticker.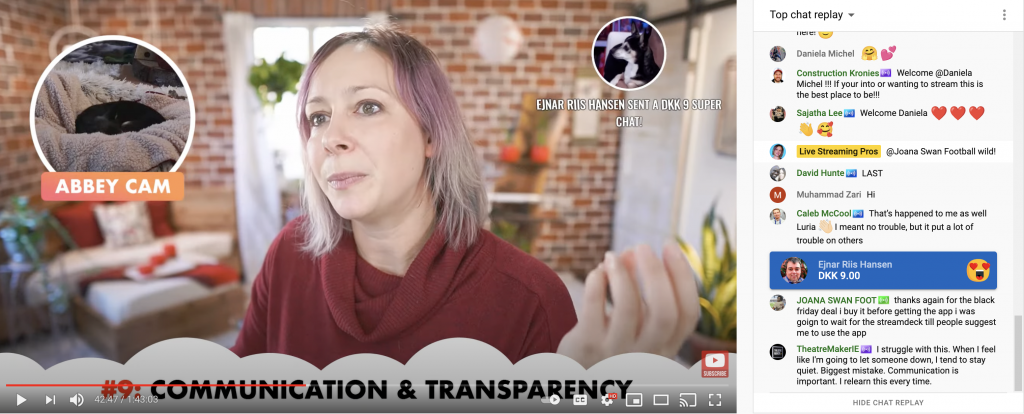 #5 Affiliate Programs
Many brands and businesses have robust affiliate programs that let you earn a commission for every sale you bring in. For many content creators, affiliate programs are an amazing opportunity for passive income.
Like sponsorship (which we'll discuss in a moment), being an affiliate is a great way to partner with companies you love. If you're already talking about products, services, and apps in your live broadcasts, adding affiliate links to those products and services in your video description can help not only the company you're promoting, but also your viewers (who are looking to you for recommendations and advice) and YOU.
Bonus: if you're already an affiliate and you can show that you're driving sales for a brand, it makes a sponsorship discussion a lot easier.
Remember, that you'll need to identify affiliate links as such. Here's some templated affiliate copy from The She Approach you can use in your descriptions:
Disclaimer + example: This post contains affiliate links. This means I may earn a commission should you chose to sign up for a program or make a purchase using my link. It's okay – I love all of these companies anyways, and you will too!
#6 Sponsorship
Finally, you can't go wrong with sponsorships.
Sponsorships allow you to not only be paid regularly for the content you're creating, but they can also help you to grow your reach and engage your viewers and fans with things like giveaways, special promotions, exclusive offers, and helpful information.
Try to find sponsors and partners that you can form a mutually beneficial relationship with so that you can grow your relationship long term rather than a one-off "quick hit." The best sponsors are those whose products and services you already know, love, and use regularly so that it's a more authentic experience.
Pro tip! Before you get started with searching out sponsors, consider creating a media kit that outlines who you are, what your content is, where you live stream, your audience and size of market, and any other information that will help potential sponsors get a better idea of what you can offer.
Monetizing is an important step for any content creator
Monetizing is a crucial step for all content creators. It helps you to not only grow your reach, but invest in new equipment and gear and ultimately improve your content.
In short, the more promoting you do, the more attention you'll get on your streams. The more creative content you make, the more viewers will stick around and, perhaps, contribute monetarily to your streams.
So, to recap, to monetize your livestreams, consider doing the following:
Don't be afraid to run ads.
Create effective paywalls with pay-per-views.
Accept donations from your loyal fans.
Maintain viewership with subscriptions.
Consider becoming an affiliate for brands you love. AND,
Have sponsors for your streams.
By keeping these tips in mind, you'll soon earn money with your livestreams.
Remember: Connect with your audience, so that they keep coming back for more. So, plan your monetization strategy around viewers – what they want to see, how often they want it, etc.
Have fun streaming!
This post was written and contributed by Ashley Halsey.
Ashley Halsey is a writer and editor at Nursing assignments and Gumessays.com. As a professional writer, she has been involved in many projects nationwide. In her spare time, she enjoys reading and travelling with her two children.