Should you buy a new M1 iMac for live streaming? Is the M1 iMac 24″ the perfect live streaming computer? M1 iMac vs M1 Mac Mini? Which should you choose?
In this post, we're breaking down all of the features of the newest iMac and answering your questions with live streaming experts, Luria Petrucci and Rene Ritchie.
Watch the full episode
The Display
The M1 iMac has a really nice 24″ LCD display. Apple does LCD like few others in computing. They've always had some of the best displays in the business.
The display is wide gamut, which means that the reds really pop, the greens are vibrant, and it's four and a half K, which is more than the small iMac was before. Overall, it's a big, bright, accurate display that was color calibrated at the factory level so that you can be really sure that what you see is what you're broadcasting.
What's important to know is that a good display is hard to find, even at the price of the iMac. LG uses the same panel, but their enclosure is really bad. It's rickety. They've had problem after problem. Many people would pay just for this display and basically get an iMac thrown in for free.
Live Streaming Software for Mac
When it comes to software on the Mac, obviously we're not going to cover all of the types that you can use, but since we're talking about live streaming, you can absolutely use Ecamm Live from the new M1 iMac.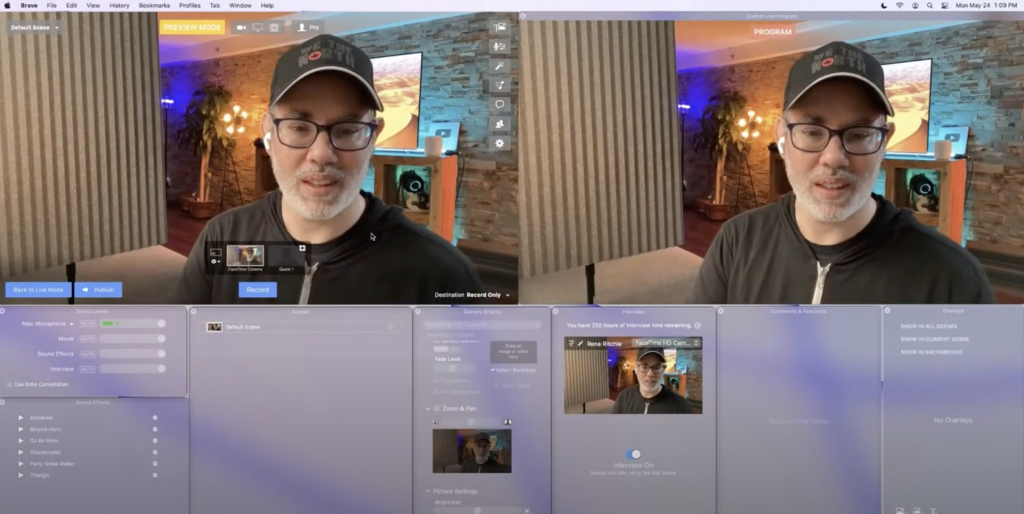 There are a few things that make Ecamm Live really shine on the iMac:
Ecamm Live runs native on the M1 – the first live streaming app to do so!
The display is wider than you'd expect, which means that you can have all of Ecamm's windows open and larger and you still get a great picture
The Microphone
Let's talk about the built-in microphone on the 24″ iMac. It's not as good as one of the more expensive microphones available out there on the market, but it definitely is good enough to get started and is comparable to some of the USB microphones out there like the Blue Yeti mic for example.
The important thing to remember when it comes to audio is that it's the most important thing you need to invest in for live streaming or video production of any kind.
I'd say that if you're a YouTuber who does a reaction channel or gaming… basically anything other than being a tech YouTuber, you could certainly get away with using the built-in microphone on the M1 iMac.
The Camera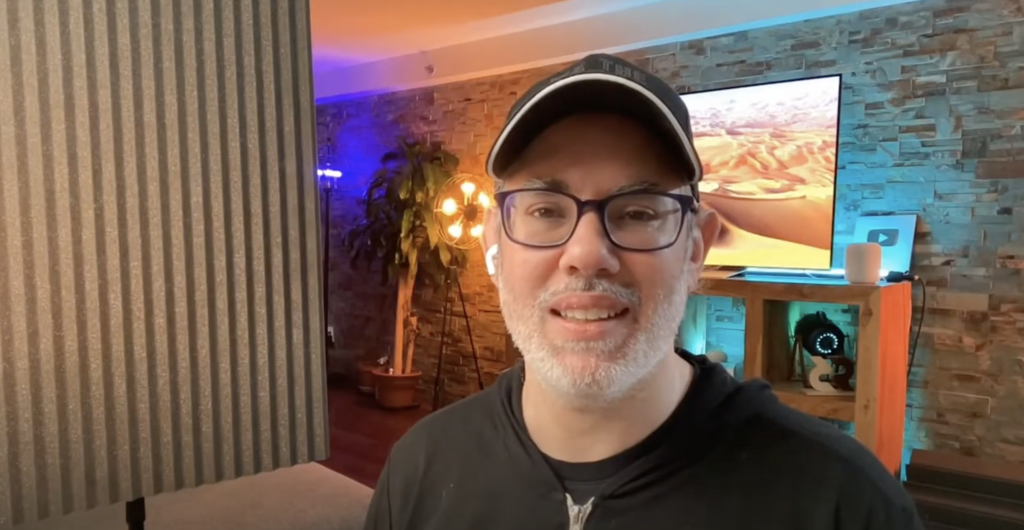 We have to admit that the camera on the new M1 iMac is pretty fantastic. The thing to be aware of with this camera is that Apple's doing two things:
They've moved up to a 1080p camera from 720p, so it's a much bigger sensor.
They upgraded the processing, so now it's the same image signal processor that it's in your iPhone. This means that it's doing what they call smart HDR3 and stacking a bunch of exposures.
So the picture quality is actually exposing for shadow and highlights, which means that you get detail in the darks and detail in the brights at the same time. It's pretty amazing.
The one limitation from a live streaming perspective is that you cannot get the blurred background or bokeh effect from this built-in camera that many live streamers and content creators enjoy. For that, you'd still need a F1.4, 1.8, 2.2 (etc) lens. This is just infinite focus, so it's going to let everything get sharp.
You'll also still need to be thinking about the lighting in your space or studio. Having a good lighting set up always helps to improve the quality of your live streams.
M1 iMac vs. the M1 Mac Mini
So the big question is: is it worth the investment for that bigger display for the full iMac experience?
If you're going with the iMac, it's worth knowing that you're putting all your eggs in that one computer basket. If you have trouble with the display or the computer, then your whole computer is down. Whereas if you have a Mac Mini, you can always switch out the displays or if the display is fine and you have a problem with the Mac Mini, you could switch out the Mac Mini, so you have more options there.
The iMac is gorgeous. It's small, thin, and you can put it almost anywhere. It's also got this wonderful mullet design where it's bright and colorful in the back and sort of a low key pastel upfront, so you can probably sneak it in places that your family wouldn't let you normally put a computer.
With the iMac, you have this big screen to have all of your controls laid out in front of you. So it just depends if you're a NASA person who has to have 18 monitors and a completely separate thing driving them all. Or if you're more like "I have one corner to my house and I'm going to make this work and it's going to look good while I'm doing it."
In short, the iMac is pretty inexpensive for everything that you're getting with it, especially the display and the computing power. And if you want that all-in-one experience that means you're ready to go and have a huge control surfacer in front of you, this is the machine to go with.
Want to learn even more?
Here's Rene Ritchie with even more information on whether you should purchase the M1 or wait?
Learn more about Rene Ritchie and subscribe to his YouTube channel today.
We're here to help!
Wherever you are right now with your business, you're not alone and we're here to help. Go LIVE Now! is a weekly live show on YouTube and Facebook. If you join us live, you can ask your questions at the end of each episode. If there's a subject you want us to cover, let us know in the comments below.
Want to learn more about Ecamm shows? We have lots of amazing shows to choose from so you can take your live streaming to the next level.
Or…
Join the Ecamm Live Community to network with other live streamers like you.
Snag some free Ecamm Live training with Luria.
Get help from the Live Streaming Pros in Creating Your Own Dream Studio.