Creating a professional looking live stream broadcast takes more than just a good camera and something interesting to say. There are many pieces of what we call the "Live Streaming Tech Chain." And if even one of those pieces is weak, it'll affect the quality and professionalism of your live stream broadcast.
In today's episode of Go LIVE Now, we're going to break down all of the pieces of the live streaming tech chain so that you understand what you truly need to have in order to produce a top notch broadcast.
In this post we'll cover
Why doesn't your livestream look like you want it to?
What is the "Live Streaming Tech Chain"?
Watch the full episode
Go LIVE Now! is a weekly live video show hosted by Luria Petrucci of LiveStreamingPros.com. You can catch new episodes each week on Facebook and YouTube.
Want to know what gear Luria is using? Check out the full Go LIVE Now! gear guide.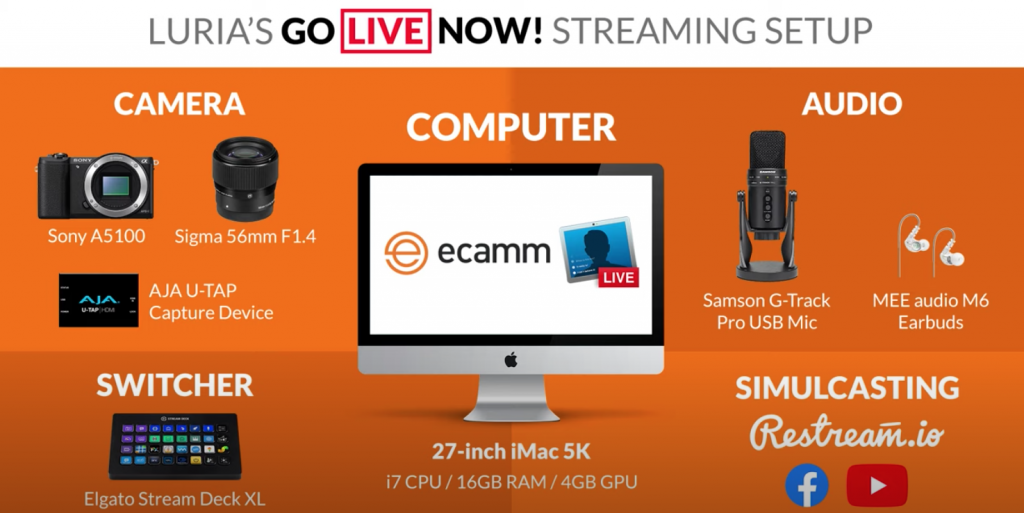 What is a live streaming tech chain?
Live streaming professionally is not necessarily an easy thing to accomplish. This question comes up a lot: I bought the gear that you told me to, but my live streams don't look like yours. How do I look like you? How do I get that professional stream?
It seems to confuse a lot of people. So today, I want to dive into what the live streaming tech chain is. Because when you are looking to create professional live video, you need to be thinking about all of the elements in the professional chain. If one of those pieces of the chain is broken, or not as high quality as it can be, then guess what? It's not going to look like what you want it to.
What are the pieces of the live streaming tech chain?
There are a lot of nuances around live video and a lot of decisions that you need to make along the way. So let's look at this chain. The first thing to pay attention to is your internet speed. If you don't have a solid internet connection, that will break your professional tech chain.
You can get away with lower internet speeds, but for a truly professional live stream, we'd prefer to see you have 10 megabits per second upload speed. We'd also prefer for you to have a hardwire connection via Ethernet. That way you don't have any drops through wifi. If you have enough speed, you can probably get away with wifi, but let's keep that on the down low.
Upload speed is different than download speed. You can always check your internet speed by going to Google and just typing in speed test. There's a blue button that says run speed test.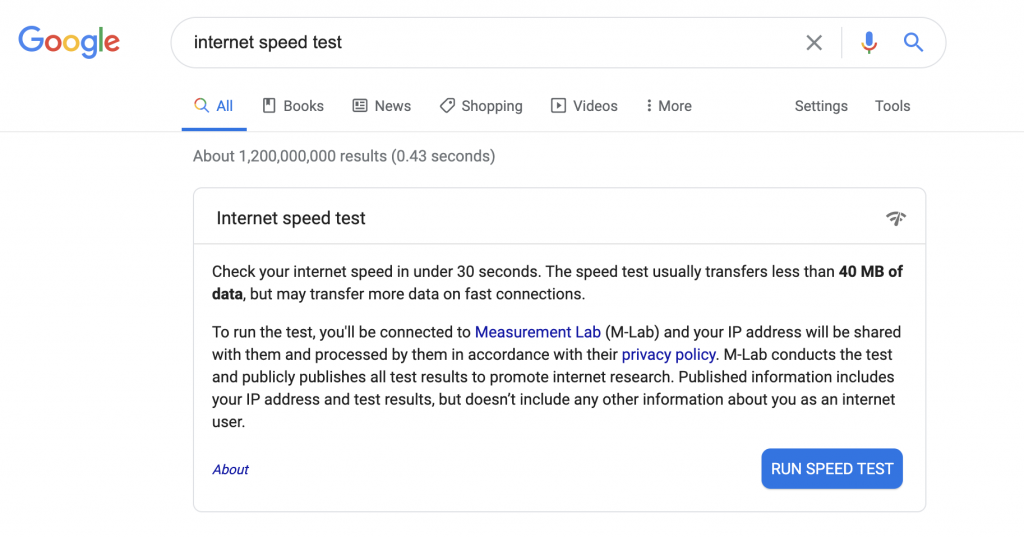 It's a quick and easy way to get your internet speed. Can you get by with less than 10 megabits per second? Yes. However, you might have some quality issues.
The second piece of the live streaming tech chain is your camera. There are many different options when it comes to purchasing a camera. Cameras can also vary greatly in cost.
If you're using the built-in webcam on your laptop, for example, you're not going to get the highest quality. If you want to make a small improvement, you could go up to a Logitech USB webcam. That will give you better quality, but it's not going to be as high quality as a DSLR or mirrorless camera. We recommend the Sony A64 or 6100. It's a great camera with super fast autofocus.
I'm actually using the Sony A5100, which is a bit more of a budget camera, but I'm also using a lens. A camera lens is the next piece in the tech professional chain because a good lens will do a ton of the work making it look professional, especially if you want the blurry background effect.
Here's David from LiveStreamingPros.com talking about how to get a blurry background in your videos.
To accomplish my blurred background, I am using a 56 millimeter lens. It's a Sigma F1.4 lens. Now, we don't recommend that lens for most people. My studio is really specific to my needs. I have a teleprompter, computer, and camera in front of me and a lot of space behind me as well, so that's why I use that lens. The lens we recommend is the Sigma 16 millimeter lens.
The next thing in the professional tech chain is your computer. The computer you use for live streaming is obviously very important. You'll want to have a computer with a ton of processing power. If you want to know the best Mac computer for running Ecamm Live, you can check out our interview with Glen Aspeslagh all about Mac Streaming Specs.
You can't get the highest quality, professional live streams that you're looking for with a six year old computer that doesn't have enough processing power. So just be aware of that as you're building out your live streaming studio. You're not going to have that super highest quality of your stream if your computer can't handle all the things that you're asking it to do.
The next piece in the live streaming tech chain is the software. As I've mentioned in past episodes, there are four levels of live streaming.
Level one is going live from your phone. That is the super simple is super easiest way to go live, of course, but it is of course not going to be the highest quality. You can't do all of the fancy things that you see us do.
Level two is going live from a cloud-based service. This means you just log into a website and then go live from there. That is another piece that I see people struggle with. They'll buy all of the recommended gear, but then they'll go live through a web-based service and they'll be frustrated that the quality isn't there. They're missing a piece of the tech chain.
Level three is using a downloadable software like Ecamm Live. That gives you a lot more control. You can choose your video quality in the app itself.
Level four is adding accessories like a Stream Deck and/or having a separate person running your show.
So if you're looking for a truly professional live stream broadcast, you should be coming in at level three or four so that you have those added settings available to you like choosing your video quality output. You can choose to go 1080p or even do 4K live streaming.
You can also choose to broadcast in 720 if you're struggling with your internet speed.
So those are the pieces of the puzzle or the links in the chain that we're looking at. Again, if one of those pieces is a weak link, that is why you're not getting the professional stream
We're here to help!
Wherever you are right now with your business, you're not alone and we're here to help. Go LIVE Now! is a weekly live show on YouTube and Facebook. If you join us live, you can ask your questions at the end of each episode. If there's a subject you want us to cover, let us know in the comments below.
Want to learn more about Ecamm shows? We have lots of amazing shows to choose from so you can take your live streaming to the next level.
Or…
Join the Ecamm Live Community to network with other live streamers like you.
Snag some free Ecamm Live training with Luria.
Get help from the Live Streaming Pros in Creating Your Own Dream Studio.