Church live streaming has been around for a while and many churches have made the move to incorporate live video into their Marketing to reach more of their congregation, including those who are homebound or who just can't make it to a traditional service for one reason or another.
And the benefits are huge. Churches already have all of the content planned out and ready to go, so live streaming allows this message to be amplified and shared across audiences who may not have thought to walk into a church service. And many also have the equipment needed to create a professional, quality live video.
Now with social distancing and quarantines putting public gatherings on hold, it is becoming crucial for churches of all sizes to move their message online and make it easy for their congregation to connect, learn, and share time together.
Luria sat down with Dave Curlee and Justin Nava from Church Media Guys & Church Training Academy to talk through some of questions that churches have as they look to begin live streaming.
In this post we'll cover:
The difference between live streaming a church service and virtual church
Tech set up options from simple to professional
Music: what you can play and what to avoid
Accepting offerings online
Watch the full episode
Go LIVE Now! is a weekly live video show hosted by Luria Petrucci of LiveStreamingPros.com. You can catch new episodes each week on Facebook and YouTube.
Want to know what gear Luria is using? Check out the full Go LIVE Now! gear guide.
Luria brought Dave and Justin onto the show using Ecamm Live and Skype. Here's how you can do that yourself.
What is the Difference Between Live Streaming a Church Service and Virtual Church?
This is a really important question and something that churches need to think about before they jump right now. There is a difference between live streaming a service and setting up virtual church.
Let's think about this way. Every single week, a church is hosting a full production event. Aside from the content, it's really no different than a conference or any other large event. There are break out sessions, mini concerts, a key note address, meet and greet, and more.
So live streaming a service is really just capturing that event and putting it out there so that people can join in and watch. Anyone tuning into this is coming into the event digitally in the same way they'd come in physically. They're sitting there and watching.
With COVID-19 and quarantines, we've now moved into the need for virtual church. Virtual church goes beyond just the Sunday service. It includes everything that's going on during the week. Things like Bible studies, youth groups, children's programming, prayer groups, and more. All of these need to transition into a live or virtual environment.
We can't get together now, so we're missing that communal aspect. So we have to supplement that and keep people connected. The reality is that one of the church's biggest values is community — coming together and reassuring one another and praying together. Usually that happens in the church itself. It happens on the church grounds and it happens in the homes of our church members. Now we need to bring that online in order to keep our community thriving and to support one another.
It is a big ask, but there are ways to do it.
What does church live streaming look like?
It's going to be different for every church. Every church is uniquely equipped to serve and minister to a unique group of people. Because of that, every church needs unique equipment and unique ways to do church online.
And so the first thing to ask yourself is what are we equipped to do right now?
Make sure that the things you do online reflect your church. For example, if you don't have a strong children's ministry, do not make that the focus of your online presence or live streams. If you have great small groups, think about how you can take those online. Start with what you have and what you can do and move forward from there. Use the technology to highlight your strengths.
The goal should always be to help people. Whether that's in person (which is tricky at the moment) or online, the focus needs to be on creating and showing helpful content that makes a difference to your audience.
Remember… connection over perfection. Get it out there.
Church Tech: What Gear Do You Need to Start Live Streaming?
Here is the Go LIVE Now! recommended gear guide.
Here's a recommended church gear guide.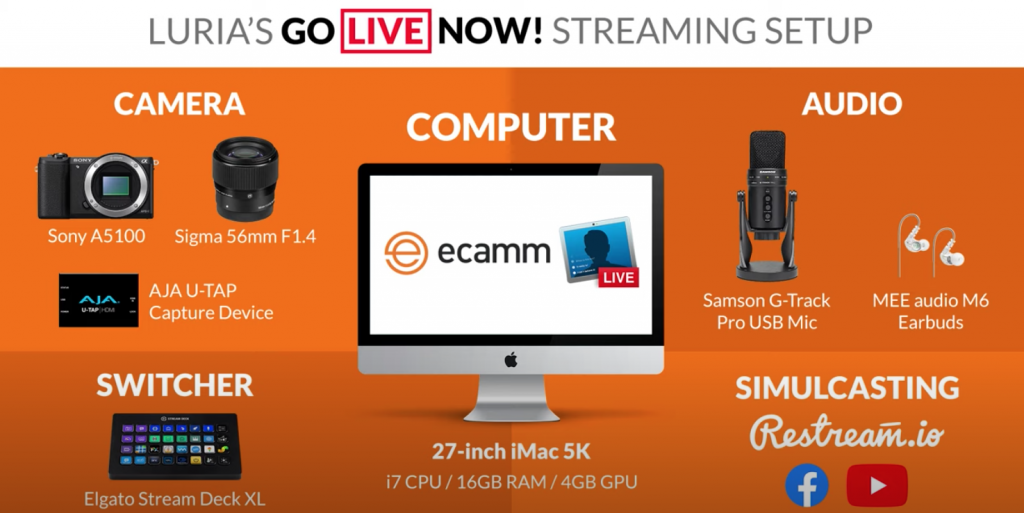 Be careful! There's a lot of price gauging going on right now since more people are moving online, so beware and make sure that you know the list price first before you buy.
For churches, the important thing is taking a look at what you already have and adding on in a way that will help you long term. Follow the old saying: the best camera is the one you already have. If you have a Canon DSLR or mirrorless camera, you can connect it to your Mac with just a USB cable and it'll come directly into Ecamm Live. Other cameras would require a capture card, but there are many different choices there so don't get dismayed if one is sold out at the moment. You'll find something that works best for you.
If you don't have a DSLR or mirrorless camera lying around, don't panic. You can live stream (even with Ecamm Live) using your phone as your camera. You can also make quick and easy improvements to the quality by adding in a tripod or a microphone. These items are less likely to be sold out and will still improve your video quality.
And don't forget that small things like changing to a room with better natural light or more carpets can help improve sound and video quality as well.
Your focus should always be on authenticity and serving your audience. Don't wait until you have $1000 to buy the exact gear you need. Start with what you have now and work from there. The webcam you use now can be added into your full set up once we've back in the building.
Authenticity is Key
Right now churches have a great opportunity to get vulnerable and authentic with their congregation. Now is the time to think outside the box and leverage technology to really connect with people.
Just getting your regular church content (like the weekly sermon) is fantastic, but you could also think about doing a regular Q+A with your pastor or youth pastor (or both!) or have your children's team do a regular craft project that busy parents can do with their children now that everyone is home. Live streaming is about connection and there are many ways that your church team can connect with your members by thinking outside the box, being authentically you, and leveraging live video.
Again, every church and church leader is different. Some may thrive by doing a daily 5 minute live video checking in with their congregation in a personal way, while others need the normalcy of being on stage and having it feel more like church. Focus on serving your members. Always look at the results and double down on what's working best.
Remember! This is an opportunity to reach more people and create normalcy in the middle of chaos.
It's the same as when the printing press was invented. The Bible was able to leave the building, and now our teaching and community can leave the building.

Justin Nava, Church Media Guys
What about Music and Copyright Issues?
Many churches are running into issues when it comes to music and copyright. What can you play? What can't you play? How do you avoid getting your content taken down?
Remember that Facebook owns Facebook and Google owns YouTube. Both are going to look out for their best interests first and neither is under any obligation to do anything other than what they want to do. This means that even if you follow all of the rules and have the right licensing, you may still bump up against issues live streaming music on these social platforms.
That being said, a lot of churches already have a CCLI license. Depending on what your license includes, it basically gives you a mechanical license to create and perform the music itself. It can also give you the right to record and distribute that music and, in some cases, live stream it.
This license is what allows the choir in your church to legally copy the choir music and distribute it to choir members. It can also cover broadcast and streaming of the music as well.
One of the main things in that is that if you are performing the music (someone is doing each part of the music – you have a singer, a guitar player, a keyboardist, etc), you're able to stream that. If you're using background tracks and just singing over it, then you can run afoul of some of this copyright stuff.
The frustrating part is that Facebook and YouTube have automated processes for flagging and removing copyrighted content. So even if you do have the correct license, you may still have to dispute charges of copyright infringement.
If you start to see Facebook or YouTube muting your videos and it's causing issues, remember that you do not need to include worship music in your live videos. Many church members create worship Spotify playlists or something similar and don't necessarily need that aspect of the church experience at home.
For example: Ecamm Live member, Leslie Samuels and his wife, are doing a weekly worship hour on their personal Facebook profile where they take music requests live. Leslie sings while his wife plays the piano. This is a great option for creating a powerful worship experience without it needing to be at the beginning of a church service.
All that being said, Loop Community and MultiTracks.com and have both given permission for churches to use their tracks copyright free for live worship. And Hillsong has set up a special procedure to give churches access to their music library. Likely many others will follow suit.
So keep an eye out for options and think outside the box so that you can still bring the worship experience to your community without breaking the rules. Maybe that means changing how you present worship music or maybe that means being cautious of how you're sharing it and answering back and disputing charges when Facebook or YouTube accuses you of violations.
What Platform(s) Should Churches Stream To?
Pre-Coronavirus, our answer to "where should churches be live streaming?" would have been Facebook. The fact of the matter is that most people are on Facebook and it's likely where your largest audience is.
That being said, COVID-19 is here and there are definitely going to be some members of every congregation who are maybe older and don't have Facebook accounts. They likely only check their email once a week, at most. This is a great time to consider YouTube. You just need a link to share a YouTube video and you can easily embed YouTube Live videos on your website, which makes it more accessible to all of your members.
This just in! You can now watch a Facebook Live video even if you don't have an account.
Virtual Tithing
First and foremost – because we don't have that physical connection right now, churches should be engaging their audience as often as possible. In many ways, this is a make or break time for churches, particularly smaller churches.
Obviously, in the middle of a pandemic, the routine of giving is gone. That means that you need to come up with solutions for collecting virtual offerings or tithes so that your church can continue operating.
Although Paypal or Venmo might seem like an easy option right now, you may want to consider an online offering tool instead. Particularly because Paypal or Venmo are not designed to work well for tax deductible gifts. You can't easily track who is giving to your church. You also will find it hard to allot funds towards certain line items with Paypal or Venmo – ie) maybe you have a Coronavirus support fund and you don't want those funds to end up supporting something else.
Here are the top three platforms Justin Nava recommends:
These are definitely not the only options out there, but these are well respected, popular sites that can connect into your CMS system and help you collect tithes safely and accurately. This will help save time for your team.
We're here to help!
Wherever you are right now with your business, you're not alone and we're here to help. Go LIVE Now! is a weekly live show on YouTube and Facebook. If you join us live, you can ask your questions at the end of each episode. If there's a subject you want us to cover, let us know in the comments below.
Want to learn more about Ecamm shows? We have lots of amazing shows to choose from so you can take your live streaming to the next level.
Or…
Join the Ecamm Live Community to network with other live streamers like you.
Snag some free Ecamm Live training with Luria.
Get help from the Live Streaming Pros in Creating Your Own Dream Studio.
Register for our FREE Leap Into Live Streaming Bootcamp and learn more about live streaming from over 40 experts.