In today's post, we're going to cover one of the most popular questions we get about live streaming — what Mac specs do you need to be able to use Ecamm Live?
Will your existing computer even work for live streaming and what's most important CPU, GPU or Ram? We're going to dive into some big details here and likely get a little geeky along the way.
Are you ready?
In this post we'll cover
Recommended live streaming specs for Mac with Ecamm Live
Will YOUR existing computer work for live streaming?
What's more important: CPU, GPU, or RAM?
Additional resources
Key takeaways
To run Ecamm Live, you need to be on a Mac computer that is newer than 2010
This is because Mac computers that are older than 2010 do not have hardware accelerated video encoding, which means they cannot handle live video
If you're running a simple live stream broadcast, like a single camera, a microphone, some lower third graphics, and rolling some video clips, you will be just fine with an older Mac or one with less power (2010 or newer)
For anyone trying to do things like interviews, sharing your screen, multiple camera/microphone set ups, and more, you'll want to make sure you have a newer, more powerful Mac computer
When your computer is becoming overwhelmed, try turning off cameras or virtual cameras you don't need for your live video
Watch the full episode
Go LIVE Now! is a weekly live video show hosted by Luria Petrucci of LiveStreamingPros.com. You can catch new episodes each week on Facebook and YouTube.
Want to know what gear Luria is using? Check out the full Go LIVE Now! gear guide.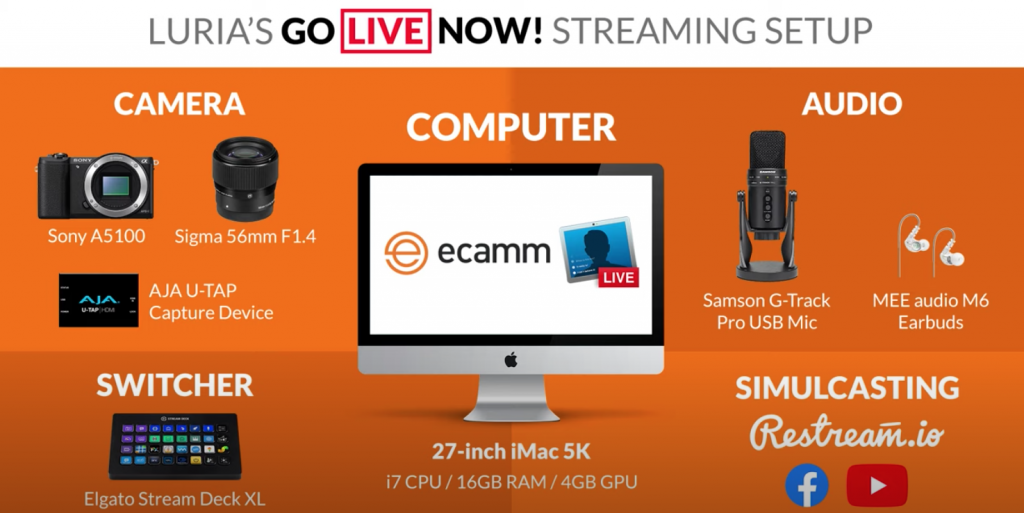 Recommended specs for live streaming with Ecamm Live
The great part about Ecamm Live is that you don't need to have the newest, best, or top-quality Mac computer in order to create professional quality live stream broadcasts.
Here are the base requirements:
A Mac with hardware-accelerated video encoding (most Macs manufactured after 2010)
A microphone (all Macs other than Mac Mini have a built-in microphone)
Any compatible video camera (including built-in webcams)
macOS 10.12 or newer (we do not have an older version available for older Mac OS versions)
An internet connection with an upload speed of at least 1 Mbps. 4 Mbps is required for HD quality
To broadcast to streaming services, you must have an account with that service
This means that you can use your older Mac computer and still be able to do a lot with Ecamm Live like connect a better camera and microphone, add your logo or branding to your broadcast, create lower thirds, and roll video clips. And you can either record videos or broadcast out to Facebook, YouTube, Twitch, or LinkedIn Live at the push of a button. No problem!
Will your existing Mac work for live streaming?
As we said above, you can absolutely do the basics with Ecamm Live and an older, less powerful Mac computer.
Where it gets tricky is when you start adding in additional features like screen sharing, animated lower thirds, running longer video clips, adding in multiple cameras, virtual camera, bringing on guests, and more. In short, if you're going to be creating a large production and using most of Ecamm Live's powerful live streaming features, you'll want to make sure you have a computer that can handle the load.
There are some things you can do to improve the production with an older computer, like making sure to turn off other applications that may be running or turning off virtual cameras you don't need for your broadcast (like SnapCam).
In the end, if you're doing something simple an older or less powerful machine will be fine. If you're looking for a full broadcast production with all of the bells and whistles, you'll need a machine to match that.
Ecamm Live's recommendations
Ecamm co-founder, Glen Aspeslagh, recommends a new 16″ Macbook Pro.
"I would go for these amazing 16 inch MacBook Pros. They're amazing computers that are both beautiful and powerful. The battery lasts forever. They are nice and thin. And Apple has finally, after several years, fixed the keyboard on these things. They're just absolutely wonderful computers. I would not hesitate to get a 16 inch MacBook Pro. If you feel like that is just not in your price range or you are someone who prefers a 13 inch screen, I would recommend Apple's 13 inch line of notebooks. Stay away from MacBook Air unless you're looking to do just the absolute basics."
What's more important: CPU, GPU, or RAM?
You don't need to really worry too much about spec-ing out your Mac and over thinking CPU, GPU (eGPU), and RAM. Simply by purchasing a new Mac computer (a MacBook or an iMac), you're already investing in a solid machine that will work perfectly for live streaming with Ecamm.
That being said, here are some specifics. There's no reason to go higher than 16GB of RAM. You also don't need to go to the most expensive graphics card.
There is an integrated graphics card and a discrete graphics card. The operating system will switch between back and forth between using them depending on what apps you have open.
So when you're spec-ing out a Mac and it's asking what graphics card you want to put into it, it's referring to the discrete graphics card. They'll really let you pay anything you want for these things all the way up to the absolute top of the line graphics card, this is going to add a few thousand dollars to the price of the MacBook Pro.
You do not need a top of the line graphics card for live streaming. Just by virtue of getting the MacBook Pro, you're already getting a discrete graphics card instead of an integrated graphics card, so you're all set to create some amazing professional live stream broadcasts with Ecamm Live.
Should you buy the new 2021 M1 iMac to use for live streaming? We break it all down for you.
We're here to help!
Wherever you are right now with your business, you're not alone and we're here to help. Go LIVE Now! is a weekly live show on YouTube and Facebook. If you join us live, you can ask your questions at the end of each episode. If there's a subject you want us to cover, let us know in the comments below.
Want to learn more about Ecamm shows? We have lots of amazing shows to choose from so you can take your live streaming to the next level.
Or…
Join the Ecamm Live Community to network with other live streamers like you.
Snag some free Ecamm Live training with Luria.
Get help from the Live Streaming Pros in Creating Your Own Dream Studio.