Are you looking to create a more professional live stream? The best place to start is by using a DSLR or mirrorless camera to improve the quality of your video feed. But how do you connect your camera to use for live video?
If you're using Ecamm Live, you can now connect many DSLR and mirrorless cameras to your Mac computer using just a USB cable, but for those cameras where that doesn't work or you want to increase the quality even further, let's talk for a bit about capture cards (or HDMI encoders).
In this post we'll cover
What is a Capture Card or HDMI encoder
When you need to use one
When you do NOT need to use one
Which ones to buy
Watch the full episode
Go LIVE Now! is a weekly live video show hosted by Luria Petrucci of LiveStreamingPros.com. You can catch new episodes each Thursday at 10am PST/1pm EST/5pm GMT on Facebook and YouTube.
Want to know what gear Luria is using? Check out the full Go LIVE Now! gear guide.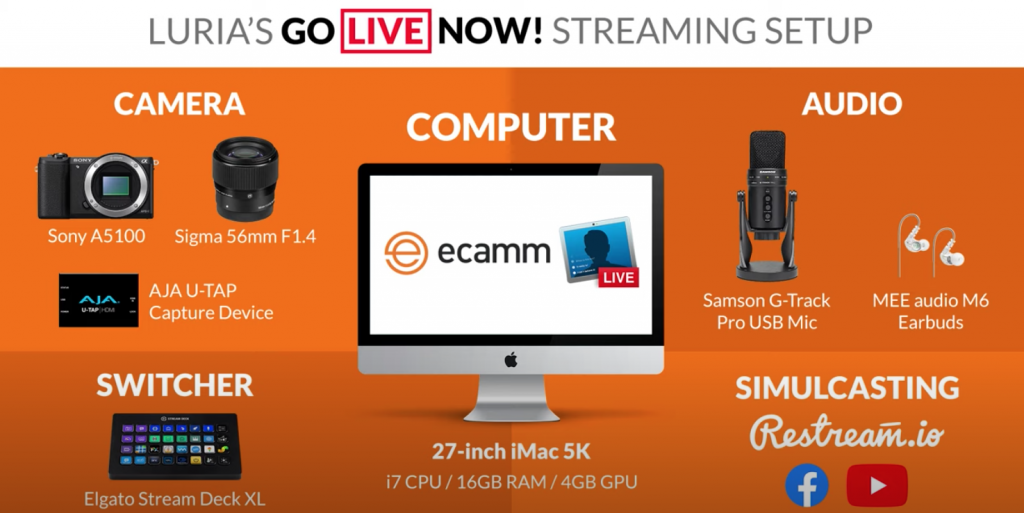 Capture cards. What are they? When do you need one? If you're using a DSLR, or a mirrorless camera to increase the professionalism of your live stream broadcasts, then you're going to need to know this information.
Today you're going to learn what capture card is, when you need to use one (and when you do not need to use one), and then we'll talk about which ones to buy if you do need one.
So what is a capture card, exactly?
A capture card is basically is a communication device between your camera and the software on your computer.
What I mean by that is your DSLR or mirrorless camera doesn't have USB built-in to allow it to speak to the software, but the software needs to see USB in order to connect to the camera. So the capture card sits between the two and passes the feed through (the middle man).
So the capture card services to translate the mirrorless or DSLR camera into a USB camera so that the software can easily see it. And it pulls it in so that when you just plug in your camera, it just pops up.
It's like, Oh, I see a camera now.
So that's what a capture card does. It's it's just a communication device. It translates the input so that you can grab the better video quality from your DSLR or mirrorless camera.
When do you need a capture card?
Well, if you're using any software other than Ecamm Live, you most likely will need a capture card to connect your camera to use for your live stream broadcasts.
So why is Ecamm Live different?
Ecamm Live recently released an exciting new feature. Now you can connect many DSLR and mirrorless cameras directly to your Mac without a capture card. Here's the full list of cameras that work with just a USB. Again, this is a feature specific to Ecamm Live and isn't going to work with other software.
So if you see your camera on the list above, then you can go ahead and use that camera with just a USB cable and no capture card.
One important thing to understand about this is that if you are an Ecamm Live user and you connect your DSLR or mirrorless camera with just a USB cable instead of a capture card, you will have a bit of a loss of quality with that. So you can absolutely always use a capture card if you want to take advantage of the full quality. But since it is very difficult to buy capture cards at the time of this recording (during the crazy new world that we live in), you can certainly start with this option and you'll be just fine.
What are the best capture cards to use?
There are lots of great capture cards/HDMI encoders out there, but the three we recommend are:
AJA U-Tap
Elgato CamLink
Elgato HD60S+ (the +, not the HD60S – they're different!)
This is important. Do not overpay right now at the time of this recording (spring 2020). There's a lot of price gouging going on. So make sure you look up the retail price for the device that you find and make sure that you're not paying double or triple the actual price.
In fact, if you can and you're an Ecamm Live user, just wait a while and use USB connection instead.
Want to set up a home studio?
If you want to understand how to set up your entire studio, we actually offer an entire workshop that takes you step by step through the entire process.
What lights do you need? What camera and capture cards should you buy? How do you set them up what plugs into what we have diagrams for you the whole ordeal so that you can get going and get going quickly and then increase your quality over time in a phased approach.
We've laid it all out for you. We have kits for you that go down to the last cable. You can learn more and sign up at https://livestreamingpros.com/studio
I would highly encourage you to check that out if you're needing some help to increase the quality of your production so that you can do fun stuff like countdown timers and you know the the star alerts when we get a Super Chat – things like that.
We're here to help!
Wherever you are right now with your business, you're not alone and we're here to help. Go LIVE Now! is a weekly show and you can catch it live every Thursday at 10am PT/1pm ET/5pm GMT. If there's a subject you want us to cover, let us know in the comments below.
Or…
Join the Ecamm Live Community to network with other live streamers like you.
Snag some free Ecamm Live training with Luria.
Get help from the Live Streaming Pros in Creating Your Own Dream Studio.