What should your live streaming studio look like? What kind of gear do you need to get started with live streaming? What camera do you recommend? Do you use a green screen? Can I connect a microphone? Where did you get those lights?
We get asked these questions… a lot. So we asked Luria to take us all behind-the-scenes of her live streaming studio and walk you all through what she uses, what she recommends, and why.
So get ready, because today we're talking live streaming studios.
Quick (yet incredibly important) caveat: Luria Petrucci is a live streaming expert and has been building her studio for a while now. She uses a lot of gear and equipment that you do not need to use to be successful. Remember to start with what works for you and grow as it makes sense. You can get started with Ecamm Live with just a Mac computer, a built-in webcam, and a built-in microphone.
Okay, let's dive in.
In this post we'll cover
A behind-the-scenes tour of Luria's studio
A look at the gear and equipment that Luria uses for Go LIVE Now (and other shows she hosts)
Watch the full episode
Go LIVE Now! is a weekly live video show hosted by Luria Petrucci of LiveStreamingPros.com. You can catch new episodes each week on Facebook and YouTube.
Want to know what gear Luria is using? Check out the full Go LIVE Now! gear guide.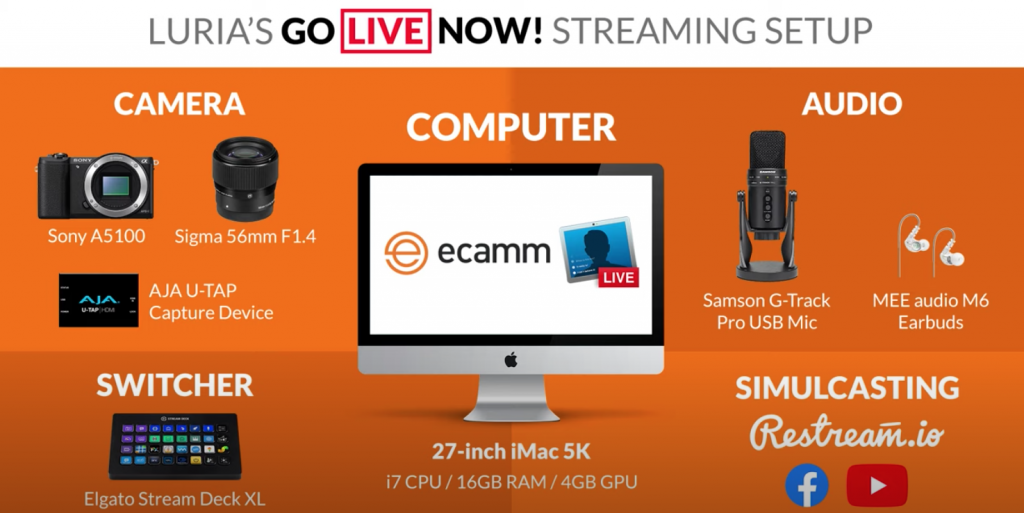 I am so excited to break down the curtain to show you all behind-the-scenes of my live streaming studio.
We are going to go all out and make sure that you see all of the live streaming gear that we use. I use all the things. In fact, I have a pretty atypical studio here. So as we go into the studio tour, I want you to realize that you do not need to set it up your studio exactly like I do.
I use things like a teleprompter and other different things in my studio that may not at all make sense for you. You're best off keeping things simple and going from there, so I'll let you know all of the differences as we go along.
Okay, so we're going to give you a behind-the-scenes tour (an actual walk through) of my studio. I'll go through the live streaming software I use (Ecamm Live), show you the gear I use, what lighting, camera, microphones, and also show you the set behind me. All of these different elements are vital in your own studio.
Now keep in mind that we actually teach all of this stuff at Live Streaming Pros, so you can always sign up for our Studio Workshop to learn even more.
Live Streaming Cameras and Lenses
Okay, let's start with my live streaming camera. I use a Sony A5100, but I'll note that the Sony A6100 is our recommended choice. This is a budget option that I find totally acceptable and it's gi ving me a great look. For my lens, I use a Sigma 56mm F1.4 lens.
However, as you can see, there's a lot of space between me and my camera. Several feet, in fact. So that's why I use the 56mm lens. For everyone else, we recommend the 16mm F1.4 lens from Sigma.
I also use a 12″ LCD teleprompter. To be clear, I don't use this teleprompter when I'm going live (other than occasionally for bulleted notes to keep on track), but I do use it for pre-produced tutorial video content where I have a set script I want to follow. This is a $700 – $800 prompter and it's hard wired, not Bluetooth. So you can see the teleprompter is there with the camera behind it.
You'll also see that I have a Prismatic ring light that is front of the camera and teleprompter. The Prismatic light is our favorite of the ring lights because it changes colors. You can control the settings, including changing colors, temperature settings, and dimming, right from the app.
This is more of a top-of-the-line light. If you're looking for a budget option, I recommend the Neewer ring lights. They're great.
One thing I'll add is that if you wear glasses, you do not want to position your light like this one is here, directly on me. You'll want to put it up and point it down so it doesn't reflect on your glasses.
On the left and right side of me, I have Neewer LED lights. They're little panel lights and they're really beneficial because they add a lot without taking up too much space.
In terms of arms, I am using the Manfrotto arms. Now these are the cheaper version of the arms that we recommend. And then the Super Clamp that's connected takes the arm and connects it to the variables that we're using right there to bring to mount everything top to bottom.
How to use your iPhone as a Live Streaming Camera
Okay, a question that we're getting is how are we using a phone as a camera for this live studio tour. We're using an app called EpocCam, but there are actually four ways you can bring a phone in to use as a camera source in Ecamm Live.
We do also have a Sony RX10 that we usually use as a second camera, but we obviously want something wireless and smaller for this tour because we don't want to trip while we're walking all around the studio, so EpocCam made a ton of sense here.
Live Streaming Monitors and Displays
Okay, let's move into monitors. You'll see that I have three monitors connected. I have the iMac that is running Ecamm Live. And then I also have a second monitor over here, which is what I use to share my screen and anything else I need. Then, I have this third monitor right directly in front of me. This is called a confidence monitor.
Because my monitors are off to the side, I use a confidence monitor that's directly underneath the camera so that I can see the final live video that you're seeing now at a glance without actually looking at the monitor. I'm just using peripheral vision.
So by using the confidence monitor, it gives me the confidence to know that you are getting the actual production that I want you to get. This MacBook that you're seeing here is not running any of the production. I use this computer to chat with my team to make sure I'm not missing nay questions that come through or anything that's happening with the feed that I may not have seen. I also use it to monitor Restream.
Let's move into live streaming capture cards. I'm using the AJA U-Tap to connect my camera to my computer to use for live streaming. Somebody asked me how the monitor is coming in – that's via HDMI as well.
Onto microphones. This is the Samson G-Track Pro. I also have a Blue Yeti that I can swap out if I need to, but I like the G-Track Pro and how it sounds. It sits here in front of me. Ideally I would have it off the desk or at least have a buffer for any noise because if I had a buffer and hit the desk, it's going to absorb some of that sound and not put it into the mic.
I do use an Elgato Stream Deck to control my live stream shows. I have my Stream Deck all set up and connected to Ecamm Live so that I can trigger scenes and throw PiPs and change cameras and more. The reason that I love the stream deck is because it allows me to have a TV quality production and it's push-button simple.
I also like that it's a physical device because then I can feel my way through it without ever having to look down.
I do have an Elgato green screen. I know that I harp on green screens a lot and I don't suggest you use them, but I use this green screen for creating YouTube thumbnails and other pictures. This one is from Elgato and pulls up and goes down really easily so you can store it in your studio without too much trouble.
A lot of people ask me about what's behind me and whether or not I use a green screen. As I said above, I don't use a green screen. I did actually set up my space behind me so that it has some character and interest. I have a book case, a robot, some books, a few trinkets, and more. The whole set up cost about $28. I would highly encourage you to do the same. And if you need help, consider signing up for our Studio Workshop program.
And that's the studio tour! You've now seen all of the gear and gadgets that I use and recommend. If you have any additional questions, you can always jump onto a future episode of Go LIVE Now and ask me live or visit www.livestreamingpros.com/gln for my full list of recommended gear.
We're here to help!
Wherever you are right now with your business, you're not alone and we're here to help. Go LIVE Now! is a weekly live show on YouTube and Facebook. If you join us live, you can ask your questions at the end of each episode. If there's a subject you want us to cover, let us know in the comments below.
Want to learn more about Ecamm shows? We have lots of amazing shows to choose from so you can take your live streaming to the next level.
Or…
Join the Ecamm Live Community to network with other live streamers like you.
Snag some free Ecamm Live training with Luria.
Get help from the Live Streaming Pros in Creating Your Own Dream Studio.