Getting started with live streaming, video podcasting, and video production means that you're going to need to start thinking about your video gear kit. This means thinking past just your computer. For more studio setups (and yes, that includes your home office studio), you'll need to have a microphone, a camera, and a light.
When you're just starting out or keeping it low-key, you can absolutely create video with the built-in camera on your computer, the built-in microphone, and natural light.
However, this setup can be challenging and definitely isn't going to give you professional results. Here are some examples of different kits that we recommend for streaming, recording, & video podcasting. Remember, you can always level up your gear as you go.
Keep in mind: these kit recommendations do not include things like cables, gaffer's tape, stands and arms, docks, computers, monitors, desks and chairs, or additional gear like Stream Decks, green screens, teleprompters, and more. These are the main building blocks necessary for video production and live streaming.
See our full Ecamm Live gear guide and Doc Rock's gear guide.
Kit #1 – Getting Started/Budget-Friendly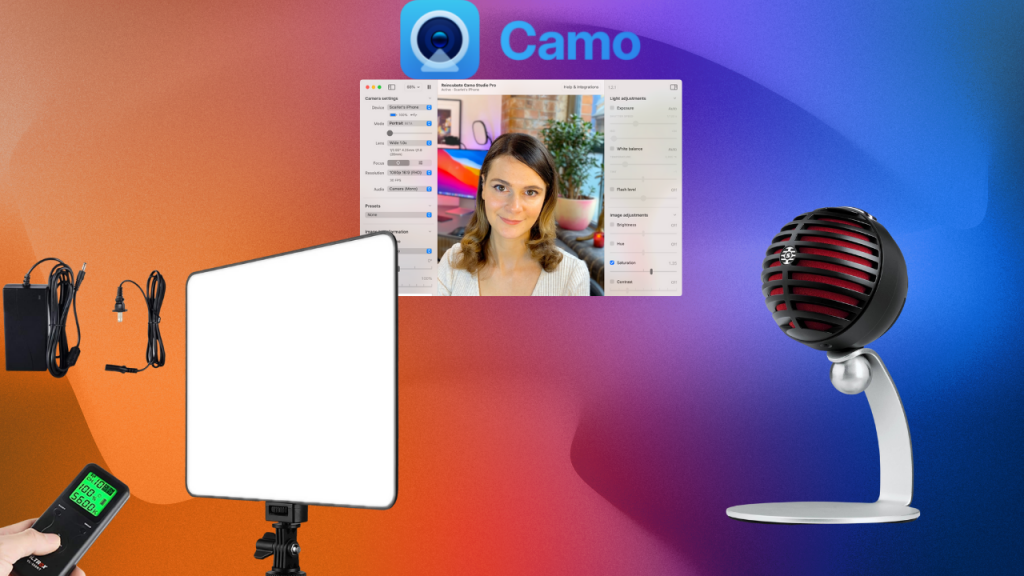 If you're just getting started or trying to keep costs under control, start with this video gear kit that leverages the incredible camera you already have built right into your phone. The microphone in this kit connects with a USB cable to your computer and is a much better option than what's built-in.
Microphone: Shure MV5 – $80
Camera: Your phone + Camo – $80 (lifetime license)
Light: Viltrox VL-200T Portable LED Video Light – $80
Softbox: Kamerar D-Fuse Large LED Light Panel Softbox – $40 (optional, but good to have)
Total cost: $280 USD
Kit #2 – Webcam Simple Setup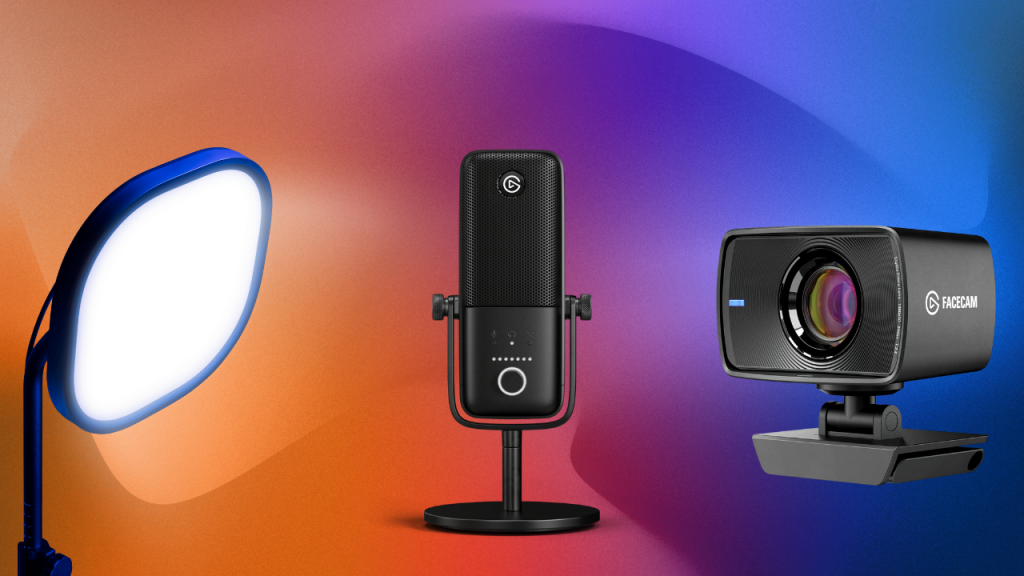 This simple setup is great for those on a budget or for those who are just starting out. Plus, this is a great kit to recommend to interview guests. Elgato makes great products and even has an app that you can use to control settings for each of these items, making it easy to get the quality you're looking for.
Microphone: Elgato Wave:3 – $150
Camera: Elgato FaceCam – $170
Light: Elgato Key Light – $200
Total cost: $520 USD
Kit #3 – Mid-Level with Room to Grow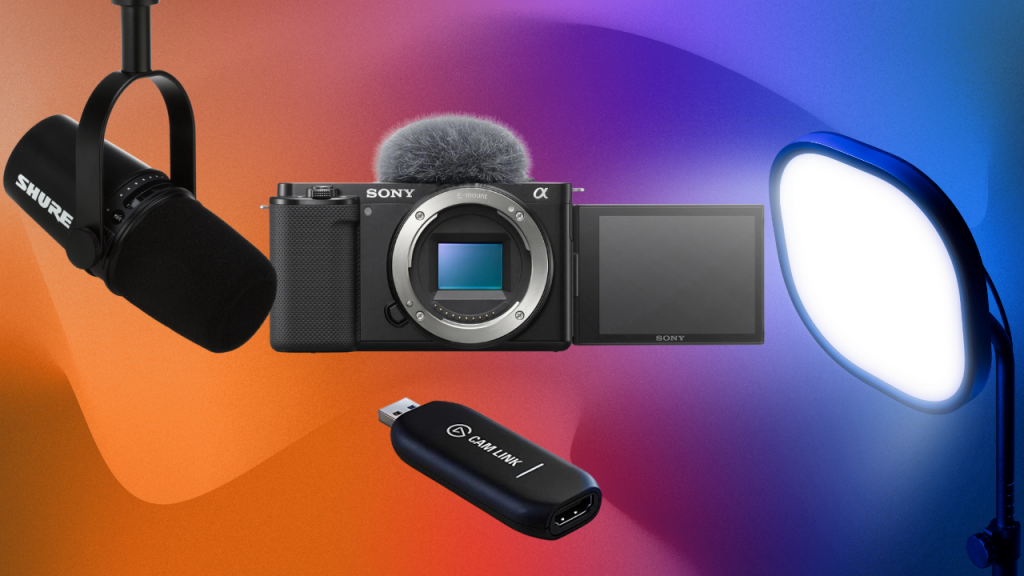 Moving from a webcam to a mirrorless camera like the Sony ZVE10 offers you a lot higher quality video and gives you more control. The Sony ZVE10 lets you leverage different lenses to get the look you want. With a mirrorless camera, you'll also need an encoder and an HDMI cable to connect to your computer. The Shure MV7 microphone is a great mid-level option for creators because it offers both USB and XLR. If you choose to use it as an XLR microphone, you'll also need a mixer and XLR cable.
Microphone: Shure MV7 – $250
Camera: Sony ZVE10 – $700
Encoder: CamLink 4K – $130
Light: Elgato Key Light – $200
Total cost: $1,280 USD
Kit #4 – Professional Level Gear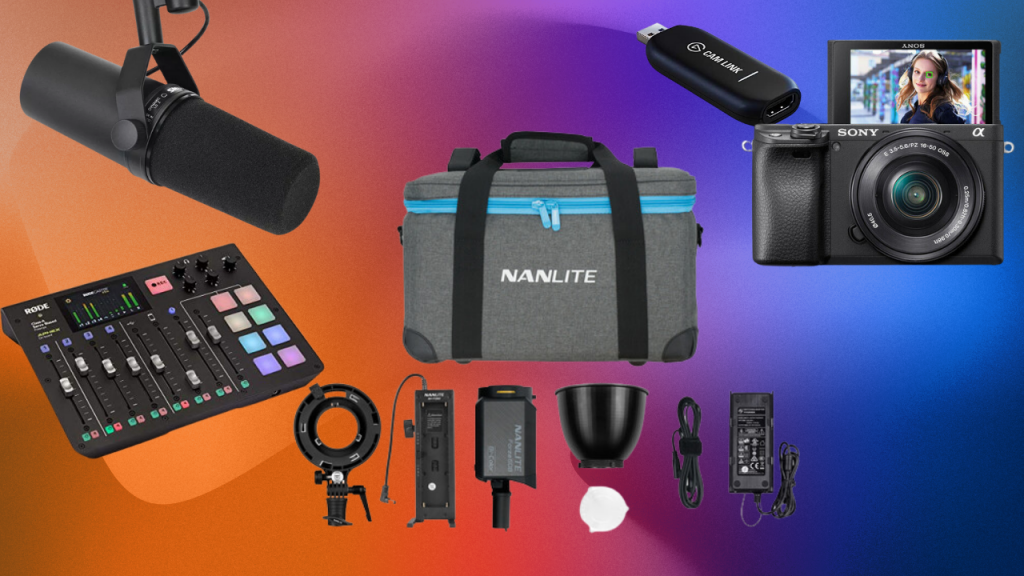 Ready to really step up your production? This video kit includes an XLR microphone, a mixer, a mirrorless camera with power zoom lens, and a lighting kit with softbox. With this professional-level kit, you'll be ready to create some incredible video and live streams.
Microphone: Shure SM7B – $400
Mixer: Rodecaster Pro – $600
Camera: Sony A6400 with 16-50mm lens – $1000
Encoder: CamLink 4K – $130
Light: NanLite Forza 60B Bicolor LED – $270
Softbox: Nanlite Para 120 Softbox with Bowens Mount – $170
Total cost: $2,570 USD
Start Where You Can and Grow From There
At Ecamm, our advice is always to buy the best gear that you can afford and grow from there. There are tons of video and streamer gear guides and recommendations out there. Try to keep in mind your specific needs as well as your unique space. In most cases, what matters most is your content and your confidence. The rest can be updated and upgraded as you grow.
Want to practice with us? Come hang out in the Ecamm Live Community to learn new techniques, share your wins, and network with other creators like you.