It should come as no surprise that one of the most important things you'll need to get started with podcasting is a good microphone. Proper audio can make or break your podcast. In this post, we talk about popular podcast microphones, how to get the best audio, and why just getting started is actually the most important part of podcasting.
We're lucky enough to be friends with Laura Clapp Davidson from Shure. You can be, too. Be sure to check out Laura's podcast, Song 43, wherever you listen to podcasts. It's pretty fantastic.
Watch the video podcast episode
Catch The Flow by Ecamm live every Tuesday at 12pm Eastern on YouTube. Audio-only episodes drop on Tuesdays on your favorite podcast platform.
Shownotes and episodes available at flow.ecamm.com
Meet Laura Clapp Davidson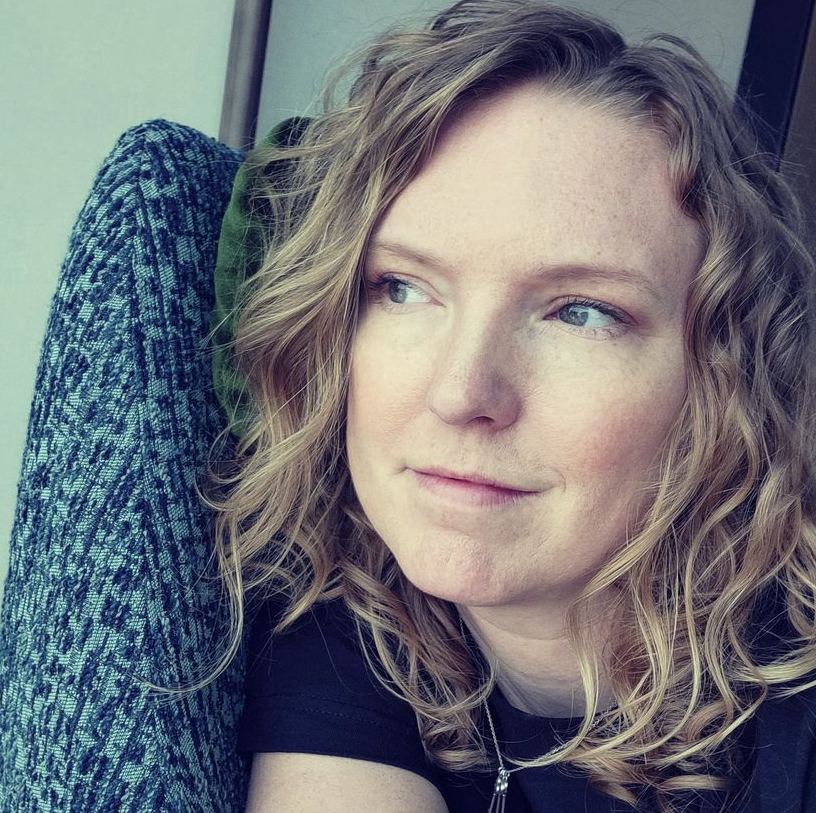 Laura loves long walks on the beach, lives in Connecticut, and works for Shure Incorporated. If you don't know Shure, they make incredible microphones and have since the 1920s. Laura started in the industry about 16 years ago as a singer songwriter in Nashville. She was asked to demo a piece of gear at a trade show called NAMM and really fell in love with demonstrating. She hasn't looked back. She's worked for Shure for about 5 years now on their market development team.
Oh and she knows audio. Like really knows audio.
What microphone do you recommend for traveling?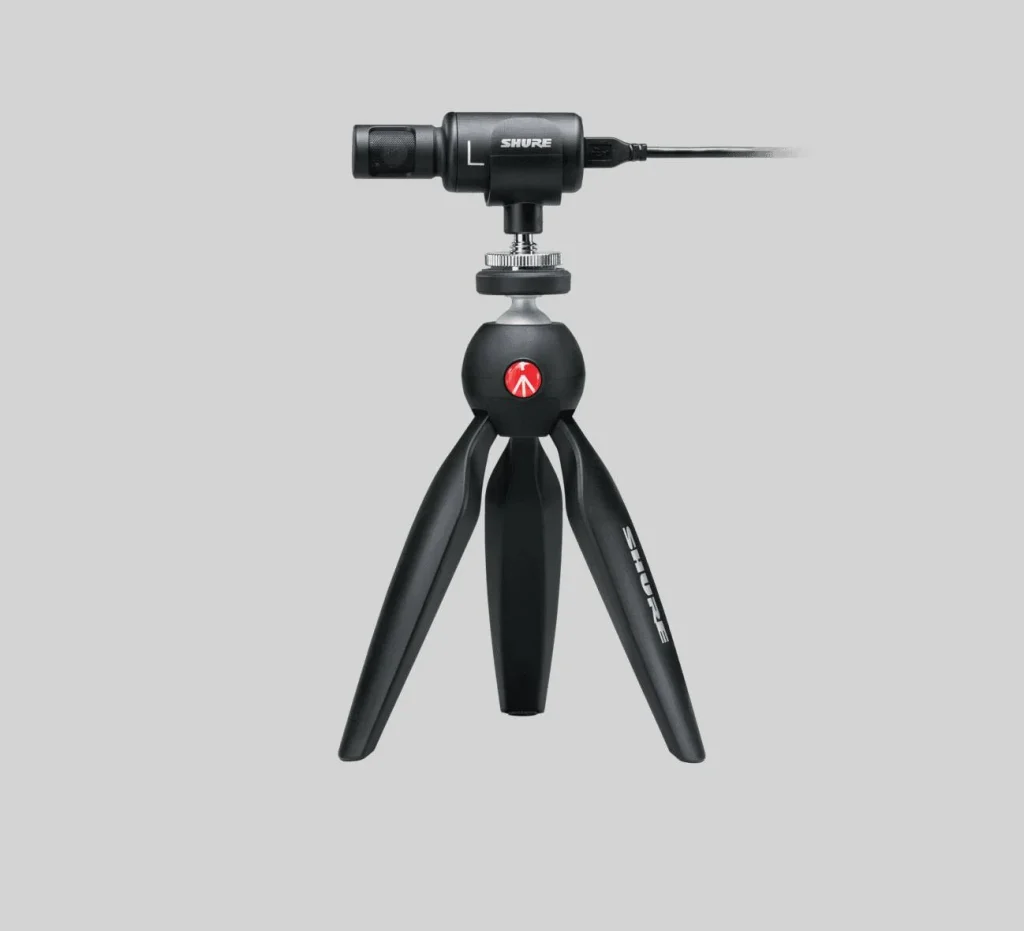 When Laura is on-the-go, she brings the Shure MV88+ along with her. This stereo condenser microphone fits in very small spaces and is great for traveling. One of the cool things about it is that you can control the polar pattern of this microphone. You can also go mono bidirectional, which means that you can put it on a table in between yourself and a guest and it'll perfectly capture the audio from both people. It's great for on-the-go interviews.
Stop Overthinking It
Laura has a podcast called Song 43 where she shares about her life as audiophile, singer songwriter, Shure employee, and mom. She actually started her podcast on an airplane and sometimes records while on the road.
One of the things that she tells people who are getting into podcasting is to stop overthinking it and just start. If that means recording your podcast from your hotel room, car, airplane… whatever… just do it. You can do a lot with a little. You don't need to bring all of the tech with you or have the best gear to be successful.
Podcasting Microphones
If you're podcasting by yourself from a studio space or from a home office, Laura recommends the Shure MV7. This podcasting microphone can be connected via USB directly into your computer. It captures great audio. You can use the Shure Motiv app to make easy adjustments.
Bringing on podcast guests in the same space you're in? You can still use the Shure MV7 microphone, but you'll want to connect it through a mixer using XLR cables. When you do this, you'll be adjusting and monitoring audio on the mixer itself and not digitally with the Shure app.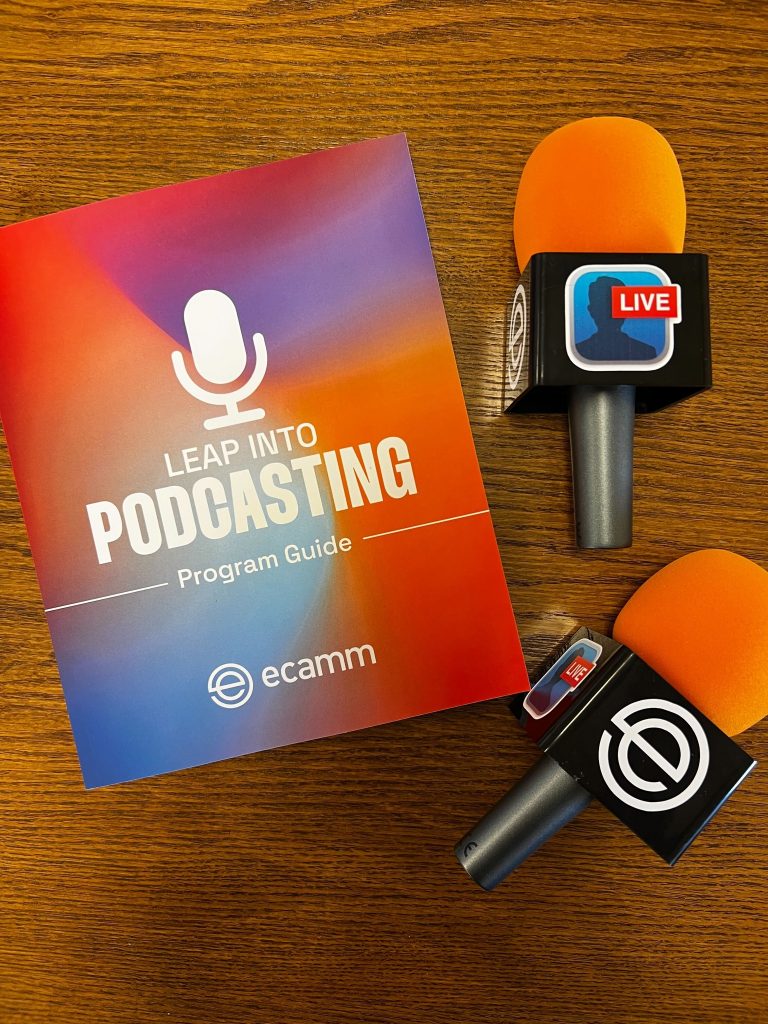 If you're not into the Shure MV7, the Beta 58s are a great option, too. They're lightweight, powerful, and really pretty durable. They're wired, but provide great audio. You can even purchase a branded mic flag to give it a unique look and feel. At Ecamm, we use these for conferences and events because they're so eye catching and they also reduce the background noise from the event itself.
What is the best podcast microphone?
There are three questions Laura tells people to ask before they start their podcast:
Who are you going to be recording?
Is it just you or you want guests? If it's just you, you can get a USB microphone plugged directly into your computer and be ready to go, or your phone even. There's nothing else that you need. Shure MV7. MV7 all the way. If you have multiple guests, you need an interface. A two channel interface if you wanna have two guests. And then you would need an XLR mic. The Shure MV7X happens to be a great option, SM7B if you're looking to just go all out, it's a great option there. So that's the first question.
Where will you be recording your podcast?
Are you going to be in a space that's reverberant? If so, you definitely have to go with a dynamic microphone.
There are three types of microphones: dynamic, condenser, and ribbon. Okay? Forget about ribbon for now for these purposes. Dynamic is the most popular. Condensers are better in the studio. They're a lot more sensitive. They pick up nuances. If your mic is picking up all your HVAC noise, that's because it's a condenser.
A dynamic microphone is going to be the choice for you if you're in an imperfect space like a home office, a bedroom… even some studio spaces.
How will you be recording?
Are you going into a phone? Into a Zoom recorder? Using a DAW – a digital audio workstation or a computer?
That's when you can figure out which outputs or inputs you have and what you're gonna be using.
For Laura, it's just her. Great, USB microphone. She's in her home studio, which has angles, hardwood flooring, and painted walls. Great, dynamic microphone. And she's using Garage Band, so she can just plug her USB mic right into her computer.
Done. How about you?
What's your advice for someone who wants to start podcasting, but hasn't yet?
Laura says: "Just go live. That was my advice that I heard a million times, but it took four years for it to finally just kick in. I literally launched my podcast from an airplane going to the NAMM show. NAMM is a show for manufacturers like us – the National Association of Music Merchants. And so anyway, I was in the air recording my podcast. I listened back to it, edited it, and was like I'm going to put this out.
And that was the most liberating feeling ever because then it was like, well, it's out there. And friends started listening to it and they were like 'what's a DAW?' You know? Cause I would just like say a term and I was like, oh yeah, I gotta remember to say what these things are that I'm talking about. So just so do it. Just put it out there."
Get Into The Flow with Ecamm
Want to catch The Flow live? Join us every Tuesday at 12pm Eastern on YouTube or listen wherever you get your podcasts.
If you have any questions for us, please send them to flow@ecamm.com or join us live.