It may be easier to end your broadcast and continue on with your day, but, if you do, you're missing out on a massive opportunity to reach a larger audience. That's why repurposing your live stream or podcast into new pieces of content is so important. So we're here to cover all of the repurposing techniques you'll need to know to be successful.
In this post, we'll cover
Different repurposing techniques
Tools to help you repurpose your content
New content ideas
Watch the full episode
Want to learn even more?
ECAMM LIVE (Free Trial) https://iag.me/ecammlive
IAN'S GEAR GUIDE https://iag.me/gearguide
LIVE VIDEO CONFIDENCE GUIDE (opens with FB Messenger) https://confident.live/subscribe
CONFIDENT LIVE MARKETING SHOW https://iag.me/podcast
Today's post is all about the different techniques to repurpose your live shows and the various tools you can use.

Launching a podcast from your live show is probably the ultimate type of repurposing you can do. I've talked about that in every single episode, but in today's show, I'm sharing killer repurposing techniques for your live shows.

The first part of having a killer repurposing plan for your live shows is production.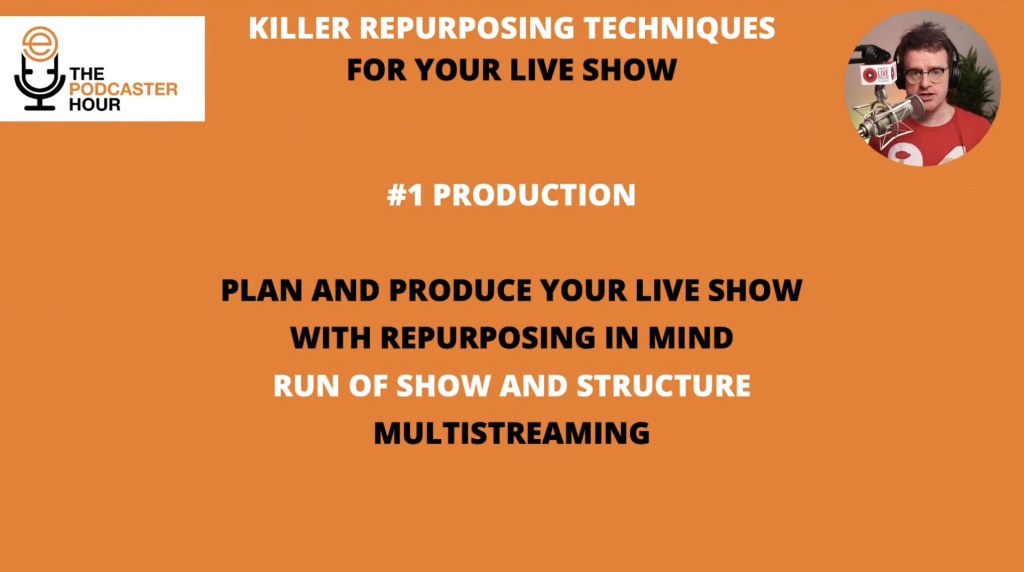 Before you can begin repurposing your content, you need to think about how you're going to structure your live show, making it easier to repurpose in the future. It's one of the most important steps.

My friend, Amy Woods, wrote an excellent article called "How to Repurpose Your Live Videos into an Arsenal of New Content" on my blog. I'll be covering a lot of the information in today's episode, but you can also read the article.

So to begin, let's talk about how you can structure your show.

If you watch these episodes live, you know that I have a live segment at the beginning, then there is a hook before I play my intro music, and then I begin the show. This order is deliberate because I want that intro to focus on my live audience and replay audience.

When I repurpose it into a podcast, it doesn't make sense to have an informal chat at the beginning. So, I structure my show to make better use of the replay part and from that point of view.

I always plan my shows with repurposing in mind. You may have little segments in your live show that you want to edit out because they don't make sense for a podcast or other forms of content. Within the production side is the run of show, which is essential for repurposing. I went into more detail in another episode, but your run of show is how you structure your live show.

While this isn't strictly about repurposing, I also want to note that you can multi-stream your live shows with a tool like Restream, which works perfectly with Ecamm. Using Restream allows you to broadcast to LinkedIn, Facebook, YouTube, Mixcloud, and a plethora of different destinations simultaneously. You can even trim the beginning of the videos off so that the replay audience can jump straight into the content.

Multi-streaming is totally optional, but it makes it easier for you to broadcast to other channels. If you don't have Restream or just want to keep it simple, you can broadcast to Facebook, record the video in Ecamm, upload and edit, and then upload to YouTube or LinkedIn. The power of multi-streaming is a great way to reach a larger audience.

A great question I got here is how I breakdown content for different platforms (blogs, YouTube, Facebook, Twitter, Instagram, etc.) I always structure my shows in a way that I take the main section and create a podcast and a video out of it.

I try to plan my shows out in different sections to share each longer section as a whole. If I have a guest on, I can also just take a little snippet from the video. For example, if they share a golden nugget of information, I will edit that bit out and share it as an audio or video snippet.

Sometimes I share the same content to different platforms, but I also repurpose content for different lengths and to reach different audiences (IGTV vs. Twitter.) We'll talk more about this a little later on.

Next up is audio repurposing.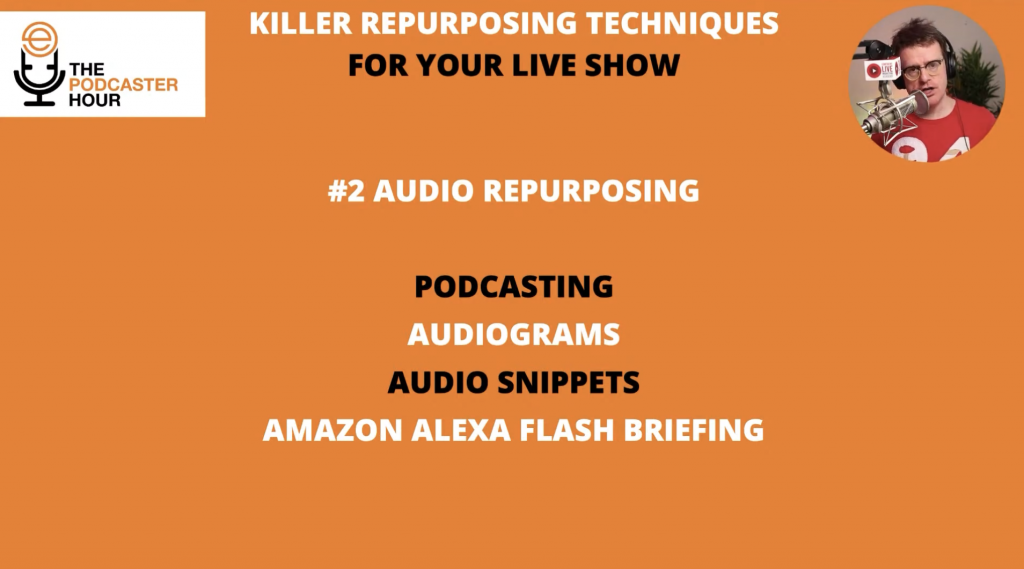 Here is where you can turn your live show into a podcast. You can focus on audiograms, audio snippets, and even Amazon Alexa flash briefings if you're feeling fancy.

On this show, I've talked all about podcasting and different ways to do that. Always make sure to record all of your live shows in Ecamm, which records it as an MP4 for the audio side of things. If you have the pro version of Ecamm, you can also save the different tracks, such as your guest tracks, as separate files.

Once your podcast is over, you can create audiograms. One tool I like to use for that is Headliner.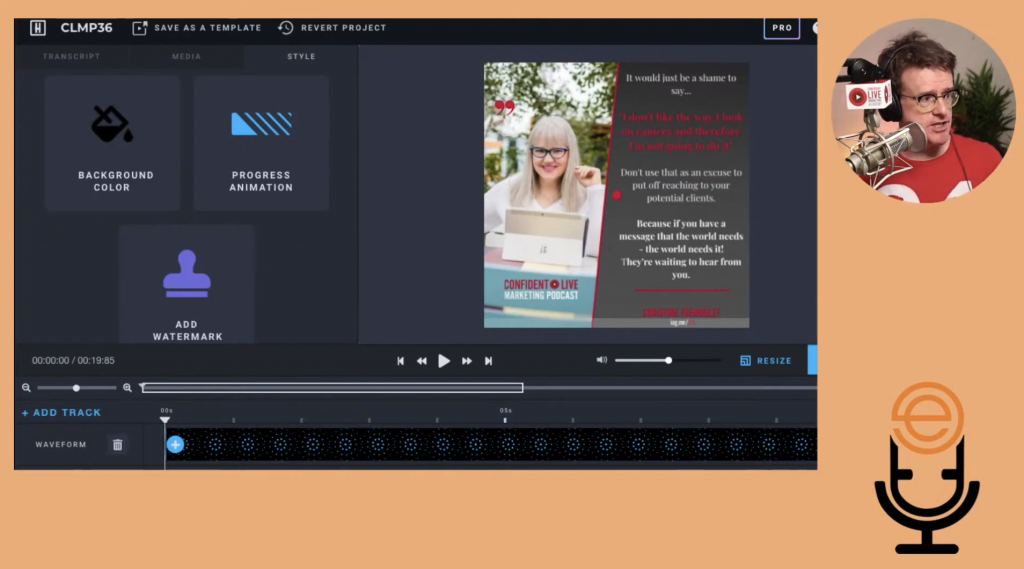 In the image, you can see I've taken a little snippet of my podcast from a live show with Christine Tremoulet, who actually came up with the name WordPress for the platform. After the episode, I uploaded a clip of audio onto an image with a progress animation at the bottom. The animation works well, especially on Instagram, because people can see how long the video is.

Another cool feature is adding visualization for the audiogram. For this one, I used a pulse wave style. Creating something like this really makes the audio pop. While you can add a video here instead, using an image with an audiogram is a great way to publicize your podcast.

There are many different audio visualizations you can play around with. You can also add a transcript of what is being said at the bottom of the clip. I love Headliner, and I use it all the time. Another fantastic tool is Descript, which I've mentioned before. Descript allows you to edit audio and video and get little audio snippets out there.

I haven't tried the next one, which is creating Amazon Alexa flash briefings. Amazon has a great document on their site with steps on how to create one. If you have an Amazon Alexa, you can create a short daily podcast. First, you need to register as an Amazon developer and create a flash briefing skill. From there, you upload your mini-podcast (about a minute long) onto Amazon.

Another way to repurpose your live shows is with video repurposing.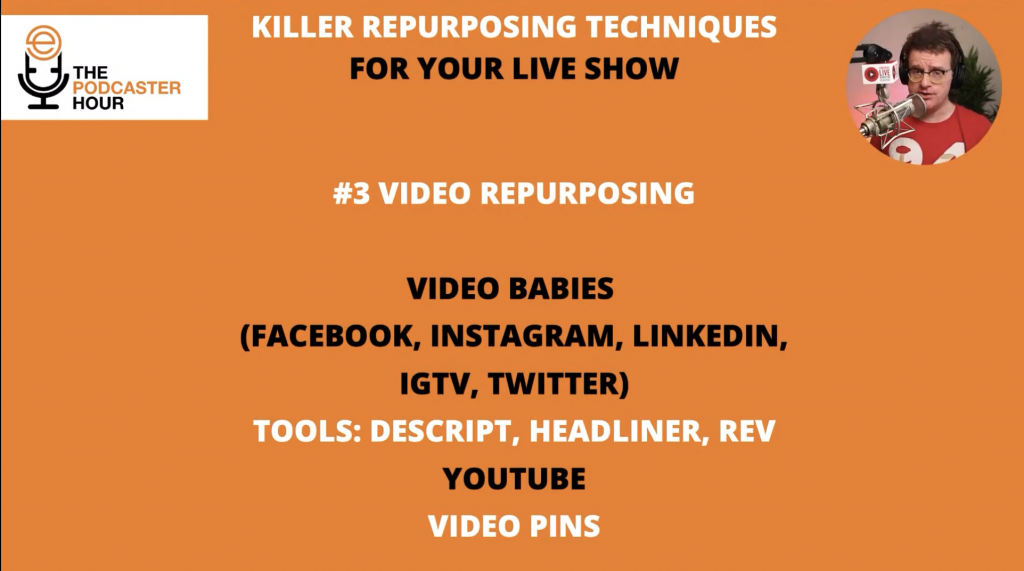 Many creators make the mistake of going live and forgetting about the stream, which is a shame. You put so much effort into your live show, so why not turn it into a podcast? Why not create different videos to post on Facebook, Instagram, LinkedIn, IGTV, Twitter, and other social platforms? Also, don't forget about YouTube and Pinterest. Pinterest is great for posting little snippets of videos.

There are loads of tools to help you, such as Descript and Headliner, which I mentioned earlier. Another transcription tool is Rev. You can use ScreenFlow for Mac, or even Adobe Premiere Pro or Audition if you're feeling a bit geekier. And of course, there are tools like GarageBand and iMovie.

Similar to how I created an audiogram with Headliner, you can also create short videos.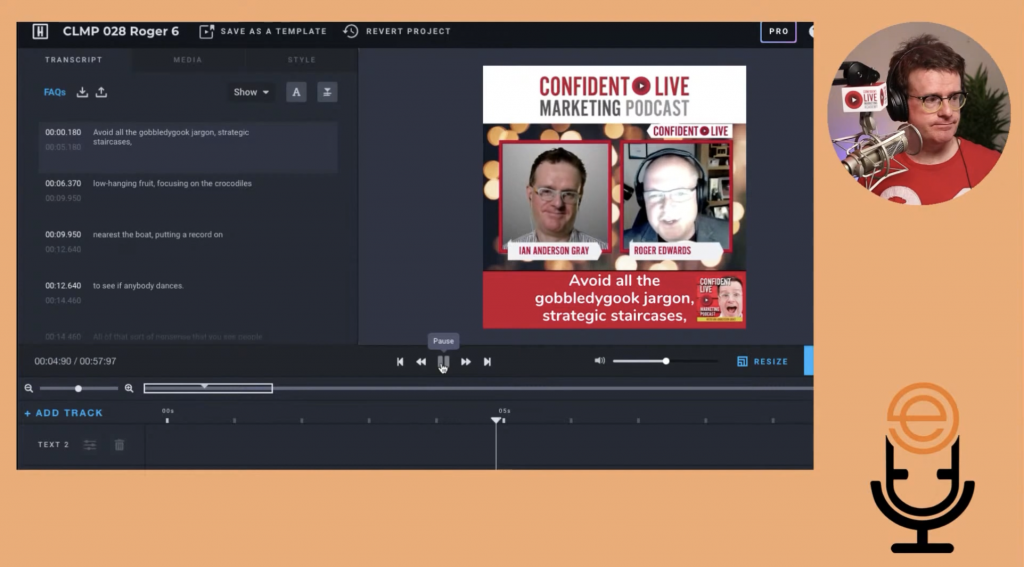 Here you can see I added a video clip from one of my podcasts with a guest, Roger Edwards. The video is overlaid on an image with the podcast name, border, and a little picture of me in the corner. At the bottom, I've added the captions. You can adjust the transcript with different features, fonts, and styles.

The size is in a square because it works well for Facebook, Twitter, LinkedIn, and Instagram. You can also resize to have correct size formats for IGTV, Instagram stories, etc.

Other Headliner features include:
Audiogram wizard (turning audio clips into short videos)
Full episodes (turning up to two hours of audio into videos)
Video transcripts (turns video into captions)
Podcast auto videos (transforms each episode of any podcast into shareable videos)
A great question here is if you need to upload an audiogram snippet, or if you can upload the full episode, then select a short segment from the Headliner dashboard. And the answer is, you can do it either way. You don't have to use the whole thing. It may be easier to create the snippet first because it may take more time if you upload the entire episode.

Another technique is image repurposing.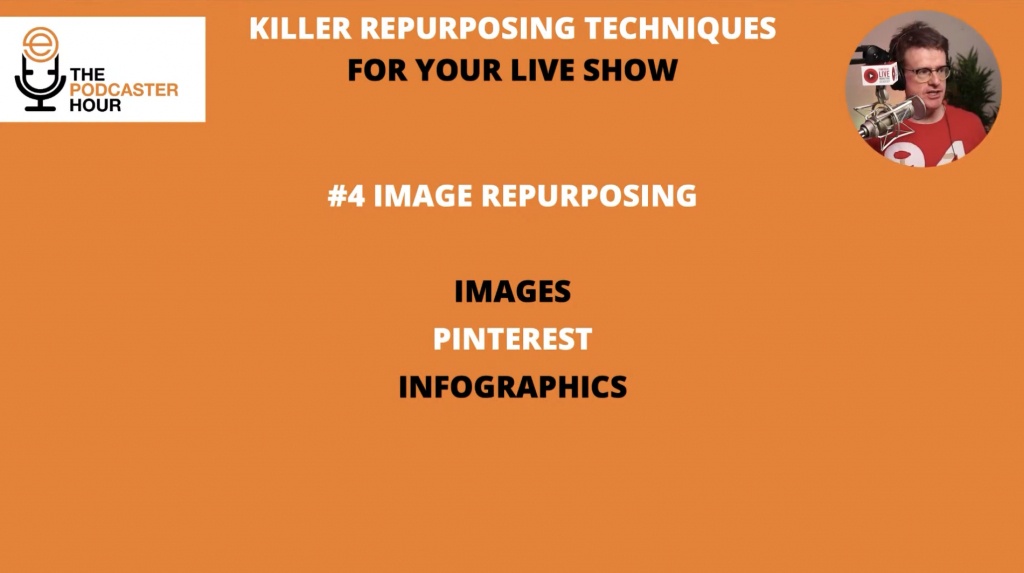 I use Easil to create my images. It's very easy to create an image, then repurpose and resize it into different graphics based on what platform I want to share the image on. Another option is Canva. Either tool works great. Just create a template first, and then you can quickly edit for images, Pinterest graphics, and infographics for each episode.

Finally, we have text repurposing.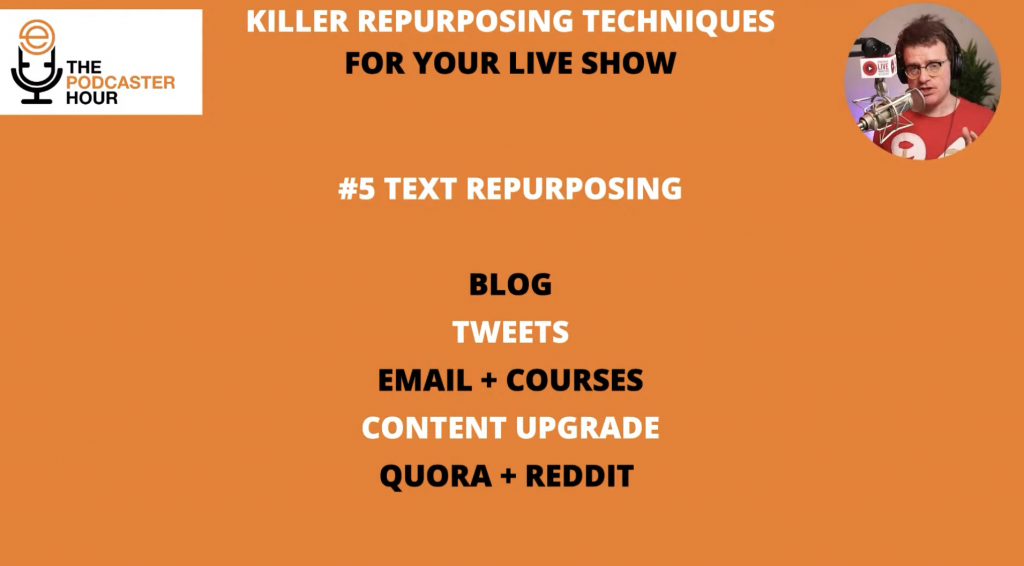 With text repurposing, you can turn your podcasts and live shows into blog posts, Tweets, emails and courses, content upgrades, or even add to platforms like Quora or Reddit.

I like to add the video to Descript or Rev to transcribe the file automatically. Then I can quickly turn it into a blog, which you can see examples of on the Podcast page of my website. If you click on each episode, there is a podcast player and the transcription in blog format for you to read.

To wrap it up, I also want to share three potential problems you need to be aware of.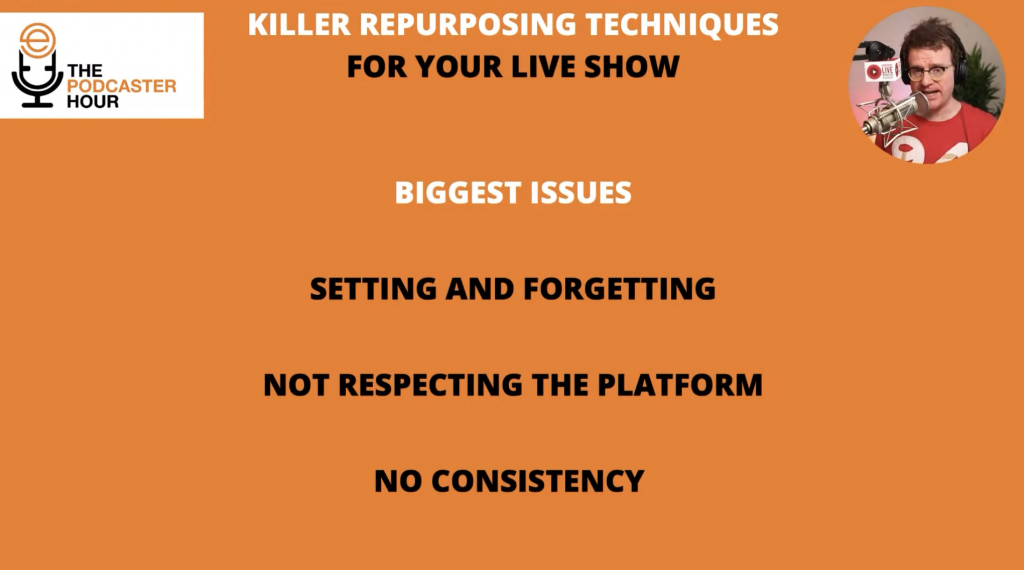 First, it's easy to just "set and forget" when you go live. You may press the "end broadcast" button or "finished" button in Ecamm and then continue with your day. That is a huge waste because you can do so many other things: turning your video into a podcast, blog post, or social media posts. Put some effort into your repurposing techniques.

The next problem is not respecting the platform. Remember that different channels are different. My LinkedIn audience is not the same as my Facebook audience. I always treat my different audiences with respect and try not to add all of my content everywhere. I work to build my communities on different channels.

Finally: consistency. If you aren't consistent, that's going to be a bad thing. Make sure that for every episode you record, whether it is a weekly or monthly live show, you turn each one into a podcast or social post.
We're here to help!
Wherever you are right now, you're not alone, and we're here to help. You can watch all episodes of The Podcaster Hour on YouTube and leave us any questions that you have in the comments.
Or…
Join the Ecamm Live Community to network with other live streamers like you, grab Ian's live streaming and podcasting gear guide, and try out his live video confidence guide.
And if you need another podcast to listen to, may we humbly recommend the Confident Live Marketing Show.