Here at Ecamm, we host a weekly live interview video series called Meet the Pros, where we get the opportunity to speak with some of our Ecamm Live users and find out how they are using the tool.

As with any livestream broadcast, it doesn't always go smoothly and we've learned a ton along the way. Here are some of our insights and tips to help you prepare for hosting live video interviews of your own.

1 – Always have a plan.
This sounds super obvious, but it's also incredibly important. When we started Meet the Pros, we had a goal for the live interview series and a list of questions to ask. We knew we'd learn a ton along the way, but we also had a good idea of who was doing what and how we wanted the live broadcast to go. This foundation made it easy for us to grow and make sure we didn't miss anything important.

2 – Communicate clearly with your guests.
In addition to reaching out and finding the best guests to interview and coordinating schedules, we also need to communicate our expectations with our Meet the Pro guests. This includes things like how long the interview will go, the kinds of things we'll ask, and how they can help us spread the word.

With Ecamm Live, we bring our guests on via Skype and so it is really important for us to communicate to guests in advance that they'll need to have a Skype account in order to be on Meet the Pros. We also need to get their Skype ID. After a few weeks of back and forth emails, we ended up developing a guest info sheet, which helped to streamline these efforts.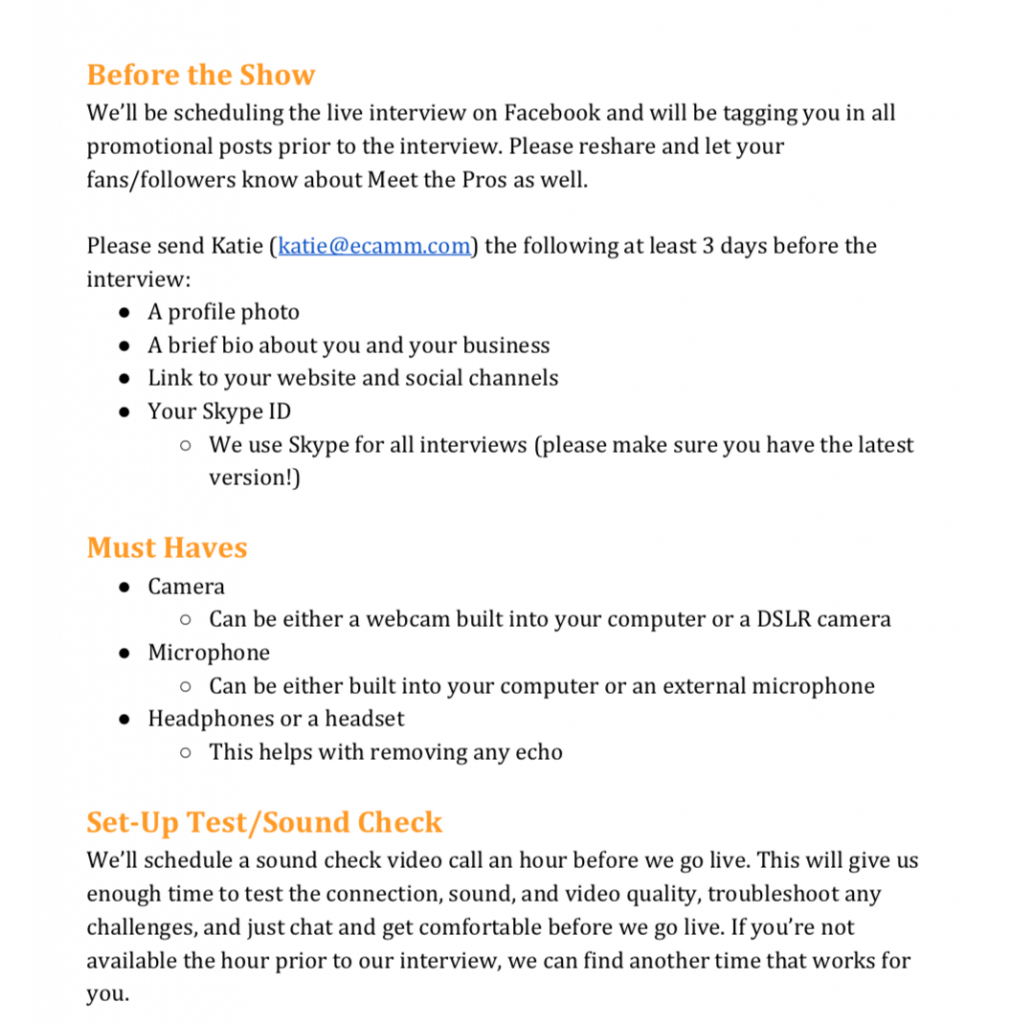 3 – Make scheduling easy.
Everyone is incredibly busy and getting someone to spend even 30 minutes of their time with you is a big ask. Make scheduling your live interview as easy as possible by using a tool like Calendly to create a calendar tool so that guests can lock in a day/time that works for them. Calendly also sends reminders so you don't forget.

4 – Always do a sound and video test.
Prepare yourself for success by spending a few minutes doing a quick sound and video check before going live. This could be a day early or an hour or so before the live video is scheduled. This is also a great opportunity to chat casually with your guest so that you both feel comfortable and friendly before hitting that "go live" button.

We use this time to make sure that we're able to reach our guest by Skype, that the sound and video are coming through clearly, that our scenes are set up and look good, that our green screen is set up and working smoothly, and that we're not seeing any weird glitches or issues.

Pro Tip: to avoid microphone feedback, we always use headphones and ask that our guests do the same.

5 – Promote at least a week out.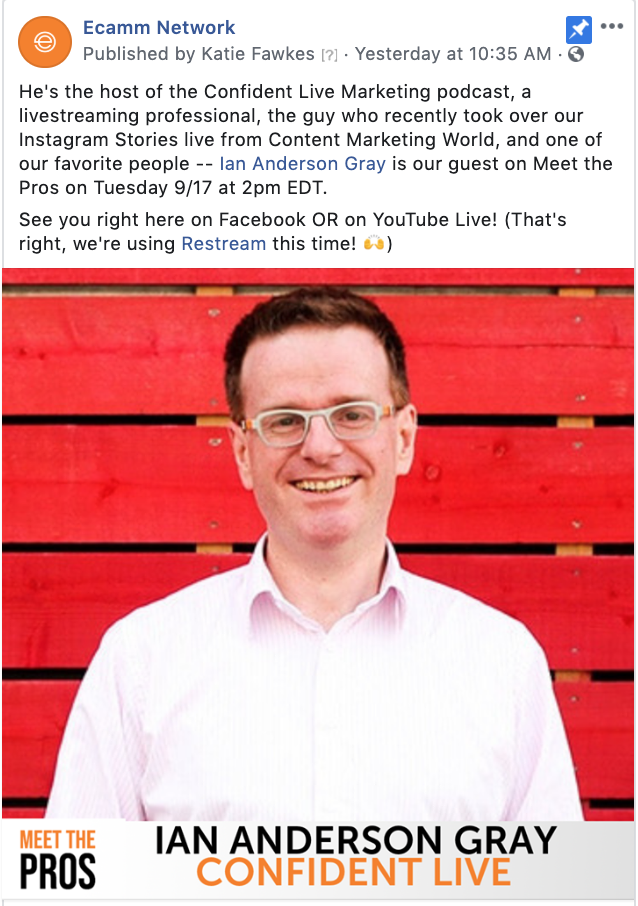 What marketing channels do you have? Do you have an email list? Social accounts? Let your followers, fans, and customers know about your livestream by sharing the day and time with them at least a week out. Use Ecamm Live's scheduling tool to share your live video in advance so that interested people can get a reminder and leave comments.

6 – Consistency is important.
You don't have to go live daily or weekly in order to be successful with live video — you just need to be consistent. Choose a cadence that works for you and your goals and stick with it. Meet the Pros is always on Tuesdays, typically at 2pm EDT. If we need to cancel or change the time, we always let our followers know.

Always remember that part of what people love about live video is the authenticity of it. It's OK to make mistakes here and there. Be real. Be you. You'll learn something new each time you go live and you'll be better equipped to nail it next time.

Do you have an interviewing pro tip? We'd love to hear it. Share it with us in the comments section.

Catch Meet the Pros every Tuesday at 2pm EDT on Facebook.com/EcammNetwork. See you there!