Live videos are engaging, authentic, and effective at not only growing your business, but also in building a community.
As such, it should come as no surprise that live videos have risen in popularity over the past few years. They have become one of the top ways to consume video. Did you know that live videos retain the attention of users 10-20 times longer than those that are pre-recorded?
But, if you're new to live streaming, you may be asking yourself: how do I get viewers? When you're just getting just started, it can take time to grow your viewership, but hang in there. It's worth the effort in the long run. In fact, the live broadcasting industry is expected to be valued at $ 184.27 billion by 2027. It makes sense for you to be consistent and spend the time to become an expert in live streaming now.
And don't worry. We've got some great tips for you to get started with gaining more viewers for your live videos.
Tip #1 – Always Promote Your Live Videos
This shouldn't come as a big surprise, but it's worth saying anyway. If you want to have as many viewers as possible, you need to promote your live videos.
There are a lot of great ways (and fantastic tools) to build out promotion workflows, but the best place to start is by scheduling your live broadcasts. You can do this quickly and easily right in Ecamm Live. Scheduling your live videos creates a post on the social platform that you're broadcasting to. It allows your potential viewers to set a reminder. Like this.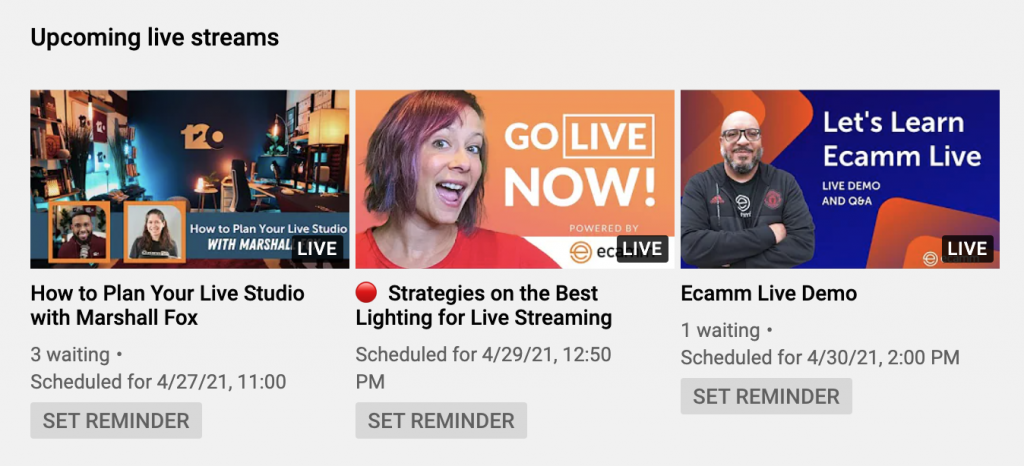 If you increase the interest of your audience before you start broadcasting, then the likelihood that you will receive a large number of viewers increases as well. Bonus! You can use additional posts on those platforms to ask viewers questions before you go live. This way you'll know the kinds of things that your viewers will want to see in your live video. Bonus: the more comments and engagement on the scheduled broadcast also helps your video become more discoverable.
Tip #2 – Pay Attention to Titles, Descriptions, and Video Thumbnails
We simply cannot stress this tip enough. Your titles matter. So do your descriptions and thumbnails. Your descriptions matter. A lot.
These days, everyone is incredibly busy and there is lots of fantastic content out there. So you want to make sure that your live videos pop. You should always have short, punchy titles that quickly identify what your video is going to be about, long descriptions that include everything a viewer needs to know (including links out to any additional resources you may be sharing), and the thumbnail should be eye-catching and follow the rule of thirds. 
You can use online tools to find the best keywords for your title and description. If you're live streaming to YouTube, TubeBuddy is an excellent tool for ensuring success.
A keywords-rich description will also be useful for SEO or search engine optimization. YouTube is the second largest search engine online, so why not improve rankings and catch some more users from organic search?
Do not forget that search engines cannot analyze videos, but they can do it with text. Therefore, make a title that will attract attention. The headline should be short, intriguing, relevant to the content, reflect the topic, and match the audience's request.
Use the same principles when crafting your description. Do not forget about relevant keywords, links back to your website or additional resources, social links, and any other content that would be helpful not only for viewers, but for anyone searching for your video.
Tip #3 – Create Teaser Videos
Another great way to grow your audience is to create teaser videos that you can promote ahead of time.
Trailers and teasers grab the audience's attention and make users want to RSVP to show up for your live video. And bonus! You can create teaser videos right in Ecamm Live as you're preparing for your live stream. Simply select "record only" from the destination menu and then create a short video letting viewers and potential viewers know what they can expect if they tune in live.
You'll want to make sure you have the same background and graphics in your teaser video as you'll have when you're live (for consistency's sake). And don't forget to create an enticing video thumbnail for your preview.
Pro tip! Stephanie Liu from Showrunner: Secrets from the Set always spends 5-10 minutes in Ecamm Live smiling, pointing at the top and bottom of the screen, acting shocked, and more. She then grabs screen shots from this mini video session and uses them to create engaging thumbnails for her videos.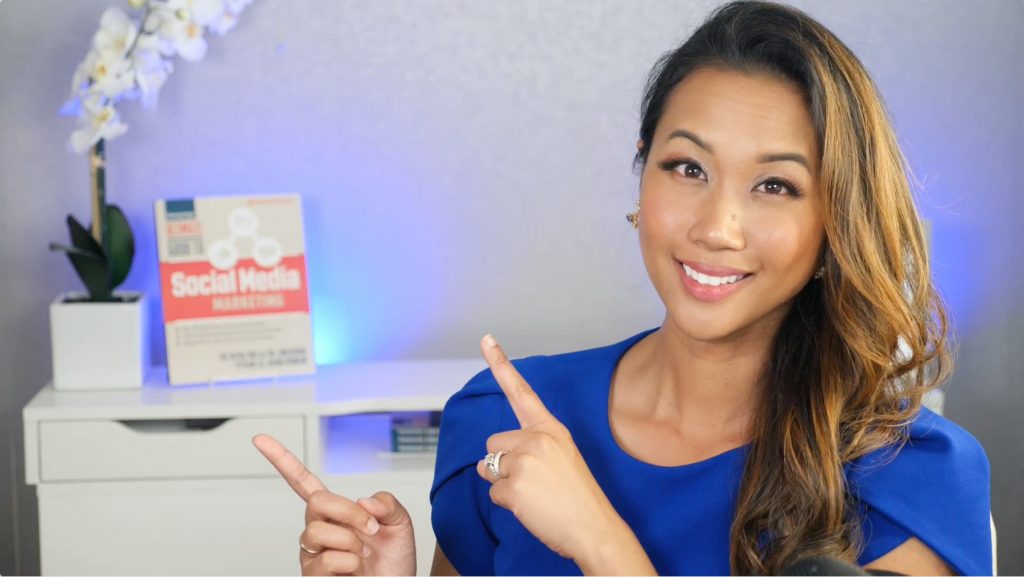 Since the users' attention span is no more than the first 5-10 seconds, you should do your best to be direct and let them know exactly what they'll get if they tune in live.
Consider using your teaser video as a social ad. Then you can target a specific audience and increase your viewer count.
Just remember to add a description to your video. It is necessary to include the broadcast date, time and provide a link to the platform where the users should register and see your live video.
Tip #4 – Reward Your Viewers
Make sure to always greet your live viewers at the beginning of your broadcast and leave time to answer questions at the end. This helps to reward viewers for showing up live.
Other rewards can include downloads just for those who show up live or exclusive giveaways for those who engage with a live video. Do your best to make the live experience special so that you encourage viewers to make time to show up when you hit that go live button.
Determine what type of reward you can provide to your audience, but don't forget that your main goal is to provide great content.
Tip #5 – Always Entice Viewers to Comment
One of the best parts of live streaming is the ability to engage with live viewers through comments. With tools like Ecamm Live, you can actually see the comments coming in live and can highlight them on screen, making your live viewers feel extra special.
Remember that live streaming is an experience and your viewers show up live because they want the opportunity to be part of the experience with you. Say hello, ask where they're watching from, ask who's new to your show… find ways to connect with your live audience.
Pro tip! If you plan to repurpose your live videos, you may want to have specific audience interaction times (like at the beginning and end of your broadcast) so that you can trim those parts off when you're done and make the video available for replay viewers. Replay viewers aren't going to want to see the live engagement that they missed, so this is a great way to engage your live viewers and also build a connection with replay views as well.
The Bottom Line
When it comes to growing your live show viewership, always remember to focus on the value that you're providing to your viewers. If you plan ahead, promote accordingly, and show up with valuable, helpful content, you'll always grow your audience.
This post was written and contributed by Marie Barnes.
Marie Barnes is a journalist, freelance writer, and editor at Studyscroll. She has worked for many major publications, but she also ambitiously pursues challenging freelance projects. Her love for traveling motivates her to explore the world. Marie wants to inspire people to follow their dreams by sharing her experiences online.