Live streaming for business has quickly become one of the most popular ways to promote your brand, products, or services. Even the largest television broadcasters are now live streaming both breaking events and regular shows. The way people consume content has changed drastically.
Professional live streaming has also become popular among businesses and brands. Live streaming is popular because it can increase a business' reach and bring all kinds of content to audiences around the world.
Live streaming is a great option if you are serious about putting your business on the map.
In this post, we'll
Introduce the concept of live streaming for businesses
Discuss what makes it effective
Run through the process of setting up a professional live stream
Share how to get started with Ecamm Live
The psychology behind live streaming
Human behavior is driven by a wide variety of factors. There is a psychological element to live streaming that makes it so appealing to audiences.
The key psychological attraction that draws in today's internet users is what marketers call FOMO, or "the fear of missing out." 
Source: Bizzabo
Businesses have been using FOMO to attract viewers for some time now. For example, Apple has built a reputation for live streaming its product and software launch events to millions of viewers all over the globe. All kinds of people, from investors to tech geeks, want to see what's happening at the headquarters in Cupertino. What's more, they want to see it in real time.
We all want to be the first to know something new. This is why platforms like Facebook and YouTube have had live video as an offering for years. It's also why new players like Amazon have recently jumped into the live streaming space.
The relationship between live streaming and branding
There are many different ways that you can live stream and many different use cases. You can host panel discussions, conduct interviews, stream gaming, podcasts, webinars, summits, Q+As, live shopping, and more.
Regardless of the content, more and more businesses and brands are jumping into the live streaming space so that they can better connect with clients and customers, offer valuable and insightful information, and build trust.
A Nielsen study on American internet usage behavior in 2018 found that 42% of the country's population have live streamed online content – a rise of 25% from just a year earlier. A 2018 report from PR Newswire estimated that by the end of 2021, global live streaming would grow to become a $70 billion industry, more than double the $30 billion it was worth in 2016.
The most important stat, however, is one discovered by Forrester which found that users watch live streams 10 to 20 times longer than on-demand content. Video is the most immersive form of content available on the internet today. Users are tuning in to consume real-time messages from their favorite brands.
If you can produce high-quality, real-time video around a central brand message and live stream it through the right channels, it can propel your brand marketing efforts.
How to professionally live stream: A four-step process
When you think of live streaming, you might be imagining a technically difficult and financially draining process. In truth, creating professional live videos doesn't have to be difficult or expensive. 
Think about the content you're already creating: annual company events, town hall meetings, product release, webinars, meet-and-greets, and even quarterly reports can all be shared via live stream.
By using this simple four-step process, you can get stunning live videos out there for the world to see. Remember, the quality of your footage says a lot about your brand. Het the best footage possible.
1. Survey your space
Your space (or studio) is hugely important and key to the quality of any footage taken there. This is why you need to survey the venue in plenty of time. Some crucial things to look out for include artificial lighting quality, natural light sources, and the overall aesthetics.
If you're planning on hosting an event that you'll be live streaming, how does an audience fit in? Do you have enough space? Will the video look cramped? Is there going to be a crowd that might diminish the space? Will the absence of a crowd make the space look empty? 
Given today's environment, you may need to set up a studio in a home office space. Think through the space you have and the content that you want to put out. If you're in a smaller space, you can always play with lighting or try green screen backgrounds to give it a more professional look and feel.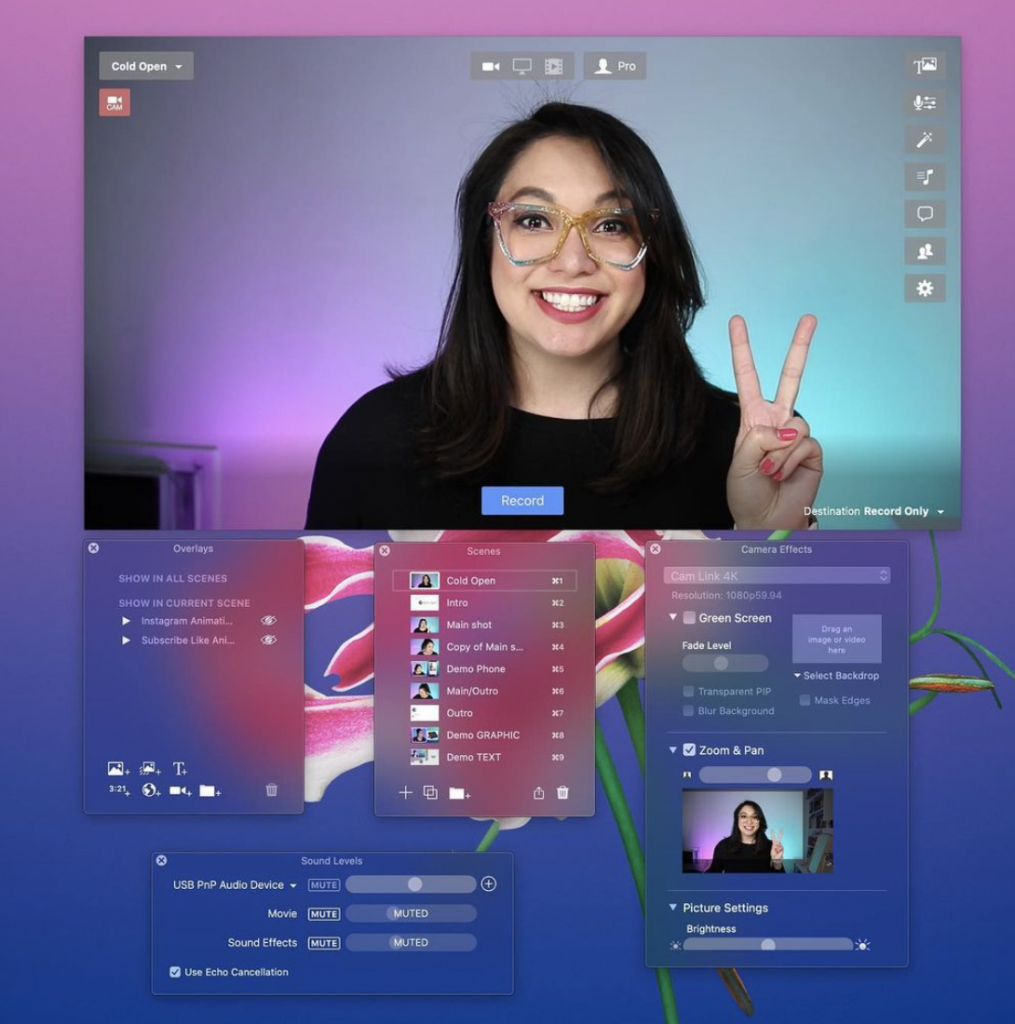 2. Set up the audio and video
The quality of your stream is crucial to retaining your audience. A spotty stream can severely hamper your ability to keep people tuned in to your content. According to Techradar, internet users have a very low tolerance for spotty or glitchy live streams. Most users will leave by the 90-second mark if the stream is low quality.
We always advise businesses and brands not to skimp on equipment, especially when it comes to brand communications. For video, be sure you have a high-grade camera (like a Nikon or Sony). Or better yet, more than one camera. Multiple shots and angles make the live stream more exciting to watch. 
You can connect webcams, DSLRs, mirrorless cameras, or even your iPhone to Ecamm Live. Most connect with just a USB cable. You can also invest in a capture card like a CamLink 4K to take the quality up a notch.
Audio is actually more important than video. After all, viewers may put up with lagging video if they can still hear what you have to say. If they can't hear anything, they're certainly not going to stay … even if the video quality is excellent.
For audio, your built-in microphone won't cut it for a professional quality result. We suggest using a USB or XLR microphone. Depending on your space and or needs, you may also want to consider a USB audio interface like the Focusrite Scarlett 2i2, which is a device for connecting any non-USB microphones, such as a handheld mic or lavalier. Simply plug it into the Mac, and connect your microphone.
Your audio and video equipment must be set up and tested before you go live. You can always test out how everything looks by going live to a closed Facebook group or just hitting the "record" button in Ecamm Live to create a recorded video as a test. You can also use scheduling software to organize your team on the day.
Remember, if you're running a fully virtual event or you're planning a town hall or panel discussion that has people coming into your live broadcast remotely, you'll need to double check that everyone coming into your broadcast via Ecamm's Interview Mode has a solid internet connection, good camera quality, and great sound. Always do a video and sound check with guests in advance so you can troubleshoot any issues that crop up before the big day.
3. Configure and test your stream settings
With live streaming, you always have to assume that anything that can go wrong will go wrong. This is why you cannot put off configuring and testing your equipment until the last few minutes.
First, you have to validate the speed and quality of your internet connection, whether it's wired or wireless. If you're able to use a wired connection, definitely do. Either way, a quick speed test on the computer you'll be using to live stream is always important. Ideally, you should aim for at least 25mbps upload speed for a smooth feed.
You also need to figure out the best video quality settings. Most live streaming platforms (like Facebook, for example) don't support resolutions past the full HD (1980×1020) mark. Full HD is more than enough to deliver a crisp, high-quality image on the viewer's side, but if you're really looking to go up to 4K, make sure you're going out to YouTube or another platform that supports this output quality. Test the video settings for at least 30 minutes and look for buffers in between. If you spot any instances of lag, either check your internet bandwidth speeds or scale down your video resolution to HD (1280×720).
You can change your video quality settings in Ecamm Live in the output menu.
When it comes to the audio stream settings, most live stream tools allow for the highest audio bitrates on even the slowest of connections. So don't be afraid to select the highest audio quality possible.
4. Monitor the Stream
Whatever live streaming platform you decide to go with, you should consider having someone moderating the stream for comments and questions that come through and potentially also an AV (audio visual) expert on hand in case any issues crop up.
Most live streaming tools, including Ecamm Live, allow you to monitor the stream on the dedicated control laptop. Things like a pair of high-quality monitor headphones are essential to ensure that the audio quality can be monitored and kept at a constantly high quality.
If you're running the live stream by yourself, you can certainly also monitor the output in a confidence monitor and watch your sound levels in the software and make any adjustments as you go.
Getting Started with Ecamm Live
After you acquire the hardware and network connectivity you need for your live stream, you need the right software to create a fantastic live video experience.
With Ecamm Live, you have full control over your entire broadcast. You can connect multiple cameras and microphones, go out to any of the major streaming platforms, add in any graphics, video, or presentations you need, bring on remote guests with just a link, and so much more.
You can check out Ecamm Live's 14-day free trial without even needing to give a credit card to see if it's the right tool for you.
Wrapping up
Live streaming is an avenue for audience engagement that shouldn't be ignored. As a business, you can leverage live video to build a community around your brand and repurpose ycoour live videos to create promo videos, audiograms, podcasts, blog posts, and more.
It doesn't cost much to host a corporate live stream nowadays. It's also simpler than you might think. All you need is a great idea, a camera, a microphone, lighting, and software.
Good luck!
This article was written & contributed by Owen Jones.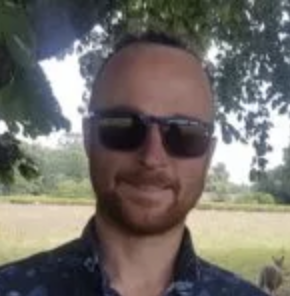 Owen Jones is the Senior Content Marketer at Zoomshift, an online schedule maker app. He is an experienced SaaS marketer, specializing in content marketing, CRO, and FB advertising.