Simulcasting (or multistreaming) is the ability to live stream to multiple destinations simultaneously. This means you could go live to your Facebook page, a Facebook group, your YouTube channel, and Twitch all at once with the same broadcast.
Many experts say that simulcasting can help you increase your reach and grow your audience. Others will tell you to focus on the platforms where your audience already is and not split your audience up.
So what are the best practices? And if you decide to simulcast, how do you go about doing it? Can you simulcast in Ecamm Live?
In today's episode of Go LIVE Now! with Luria Petrucci, we'll cover all aspects of simulcasting and give you everything you need to be successful.
In this post we'll cover:
Pros & Cons to Simulcasting
How To Simulcast in Ecamm on a Mac
Mistakes to avoid
Watch the full episode
Go LIVE Now! is a weekly live video show hosted by Luria Petrucci of LiveStreamingPros.com. You can catch new episodes each week on Facebook and YouTube.
Want to know what gear Luria is using? Check out the full Go LIVE Now! gear guide.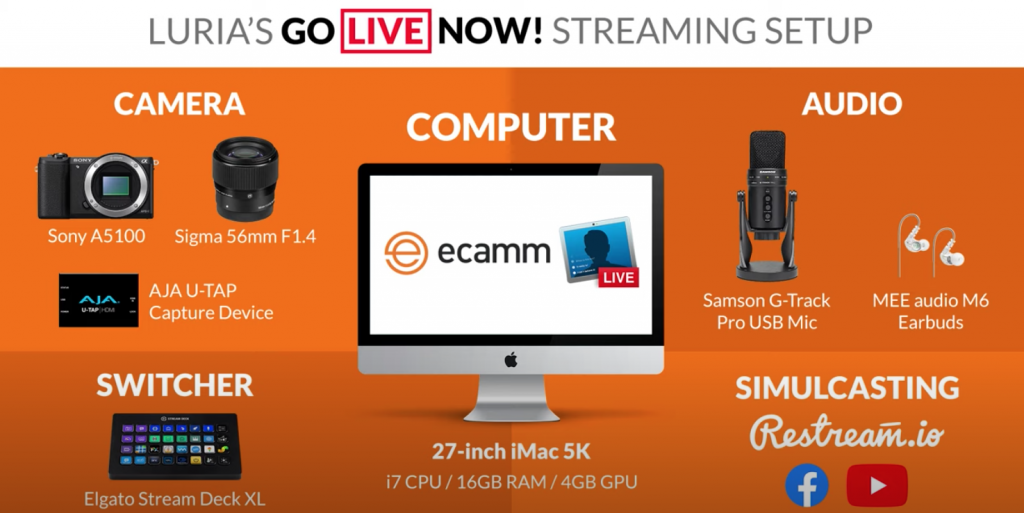 Simulcasting is not a magic bullet. Just because you've clicked to go live to everywhere at once, does not mean your reach is going to grow exponentially.
Simulcasting Best Practices
You should focus on your content and audience first. Once you've mastered live streaming to one place, then consider adding in simulcasting. Remember: simulcasting involves a ton of multitasking and isn't for new live streamers. You're going to want to master live streaming first and really understand your gear, set up, content, audience, and the platforms before expanding into something new.
While we're mentioning the platforms, it's important to only simulcast to platforms with a similar culture. Yes, that's right — every platform has a different culture and a different audience. They were all created for a unique reason. While Facebook and YouTube have similar cultures, Twitch and Mixer are vastly different. If you stream the same content to all of these four at once, you're going to cause confusion and not get the response you're looking for.
Please do not get lazy.
We get it. Everyone of us wants to produce one piece of content that goes everywhere and just works. It's so much better to produce the right content for the right platform.
Can I simulcast to Instagram too?
Instagram has a closed API. Yes, there are services like Loola and Yellow Duck that do help you broadcast to Instagram, but we believe that these services are, at best, a hack. And, at worst, in violation of Instagram's terms of services and can result in your account being shut down or removed.
It's not worth it.
Click here to see a full breakdown of why you shouldn't live stream to Instagram.
Ecamm Live and Restream
Ecamm Live does not have native simulcasting (yet! It's in development), which means that you need another service like Restream (or Switchboard Live) to allow you to go out to all of the destinations simultaneously. Ecamm Live has a full integration with both of these services so you won't have to worry about stream keys or added difficulties. All you'll need is an account to the app of your choice.
Once you've signed up for a Restream account and have logged into Restream, you can choose what accounts (or channels) to connect and broadcast to. This is what it'll look like in Restream.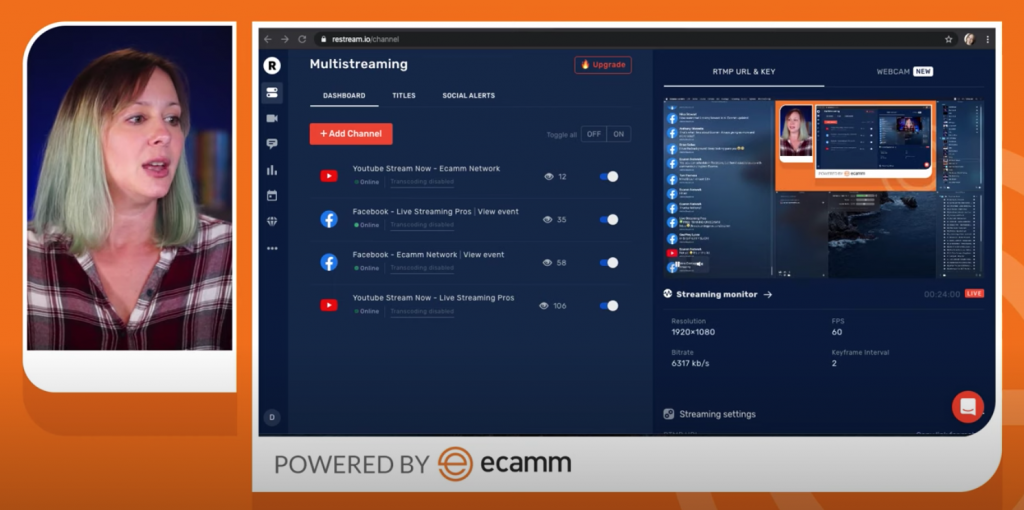 Once you've gotten everything set up in Restream, you can close out of the browser window and go back into Ecamm Live to create your show and go live.
In the destination menu at the bottom right hand corner of your main window, you'll select Restream and then go live.
Restream and Switchboard Live both connect out to over 30 unique destinations, including LinkedIn Live.
Scheduling a Simulcast in Restream
Unfortunately, if you schedule a simulcast in Restream, you will not be able to see and share comments in Ecamm Live.
There's also a totally different process when you want to schedule a broadcast. The first step is scheduling on the platform itself. Example: go to Facebook and use their Live Video Producer to schedule a live video.
It'll look like this.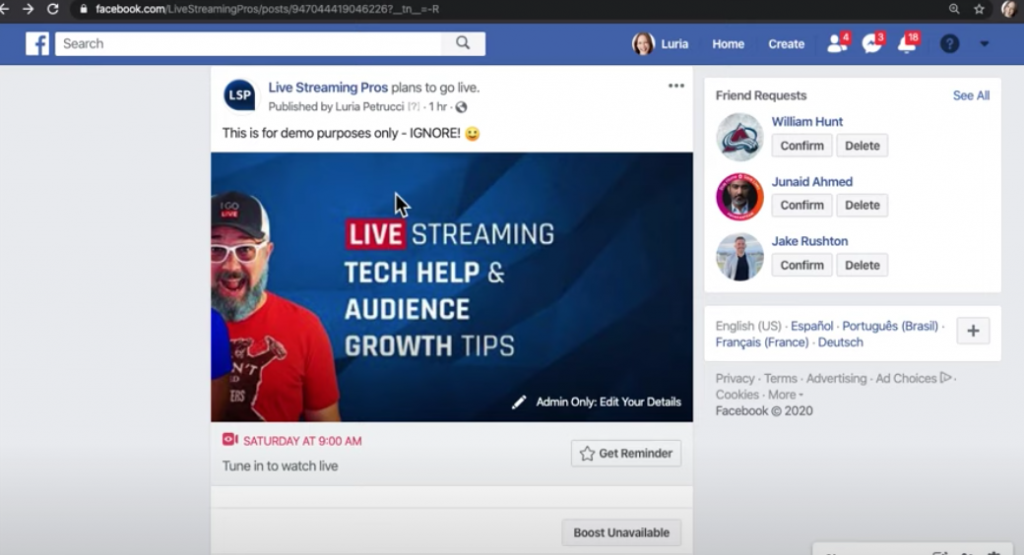 In Facebook, click the "Admin Only: Edit Your Details" button.
This will give you access to a Stream Key and Stream URL that you will need to provide to Restream in order to sync things up with your scheduled broadcast.
Scroll down in Facebook until you see your Stream Key and Stream URL. Leave that tab open and login to your Restream account at Restream.io.
In your Restream account, select "Add a New Channel". From here, you'll select "Custom RTMP".
Copy and paste in your Stream Key and Stream URL and submit.
You'll see your Custom RTMP channel come up in Restream and you can turn it on and go out to your scheduled stream.
However! This is the big mistake that most people make. When you do this, you will NOT be able to get comments into Ecamm Live to show up so you can share them in your stream. Do not schedule your streams when simulcasting if you want to use comments.
Let's talk about Facebook Groups
Facebook is very protective of privacy within groups and has a very specific set of rules for third parties wanting to live stream into groups. Be sure to follow these steps to make sure you're all set up correctly to live stream into a Facebook group.
You'll need to send a message to your group members so that they can leave comments with their name and profile image showing up. Ecamm Live automates this process when you're going live into a Facebook Group, but if you're not seeing comments come into your simulcasted live broadcast, it may be due to Facebook Group restrictions or because you scheduled your simulcast.
Pro Tips!
If you click COMMAND-F, you'll see all of the views come up in your browser window so you can double check that everything is running smoothly.
Click here to see all Ecamm Live hot keys.
If you want the direct links to your live broadcasts so you can promote, you can access the links in Ecamm Live under the "Edit" menu at the top.
These links are not going to populate until you're live, but if you're using a countdown timer you can use the countdown time to grab those links and blast them out so everyone knows where you're live.
Simulcasting vs. Facebook Crossposting
Simulcasting and Facebook Crossposting are different things. Simulcasting is taking your broadcast and sending it out to multiple places at once. You also have the ability to pull in comments from all of the places you're live streaming to. Ecamm Live does not currently do this natively, but rather has full integrations with Restream.io and Switchboard.live.
Facebook Crossposting, on the other hand, is when you have one live stream video that you're posting to your main Facebook post and you want to share that live video on another page (say a business parter or another page you manage) in real time. Facebook takes your original live video and creates an "echo" of that video on the other page, effectively linking the page together. People can comment on the video on the second page, but those comments will not come through in Ecamm Live.
Automatic Facebook Crossposting is a feature in the Ecamm Live Pro level.
We're here to help!
Wherever you are right now with your business, you're not alone and we're here to help. Go LIVE Now! is a weekly live show on YouTube and Facebook. If you join us live, you can ask your questions at the end of each episode. If there's a subject you want us to cover, let us know in the comments below.
Want to learn more about Ecamm shows? We have lots of amazing shows to choose from so you can take your live streaming to the next level.
Or…
Join the Ecamm Live Community to network with other live streamers like you.
Snag some free Ecamm Live training with Luria.
Get help from the Live Streaming Pros in Creating Your Own Dream Studio.
Register for our FREE Leap Into Live Streaming Bootcamp and learn more about live streaming from over 40 experts.