For educators worldwide, the pandemic has brought many unexpected challenges. Students are not engaged. They don't have an interest in learning. What's more is that millions of them are thinking about dropping out of school altogether if the pandemic persists. 
All these hurdles create many obstacles for educators to keep students engaged. One way to overcome the challenge of low engagement is to create educational content that gets students excited about learning.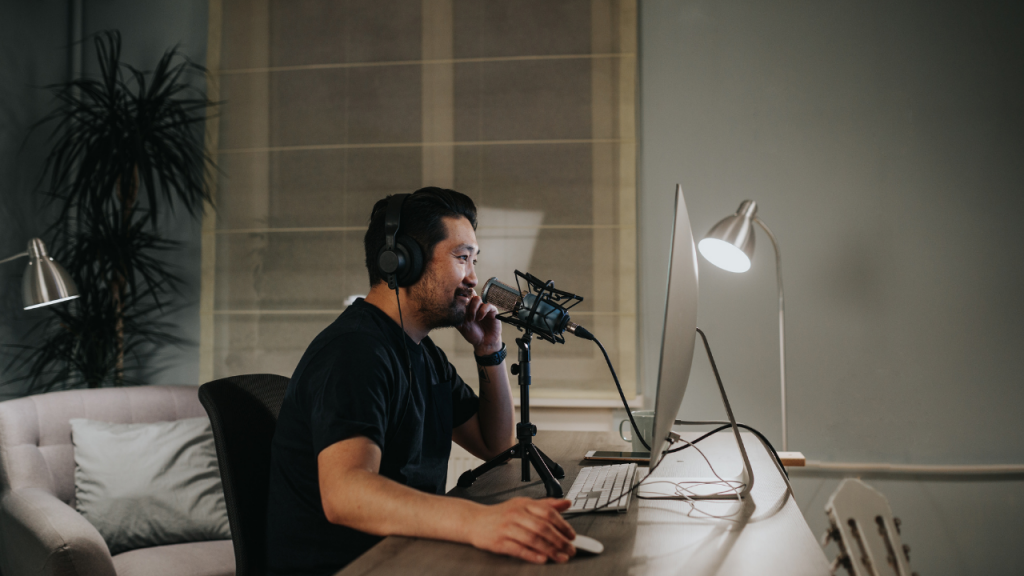 Let's look at how creating an education video podcast can help.
Why Choose a Video Format for Your Educational Podcast?
You might be thinking – a video podcast is unnecessary. The majority of podcasts are audio only. Moreover, video requires a lot of work, with all the filming and editing involved.
It's true that audio is popular, but video is more widely consumed. Studies have shown that the majority of people (65%) are visual learners and process information better through visual reinforcements, including videos. 
When it comes to teaching, video should be part of your visual learning strategy. Video helps students develop high-order thinking skills, analytical abilities, and critical evaluation skills. Video podcasts target both visual and auditory sensors, helping students perceive information better and easily follow the flow of the narration.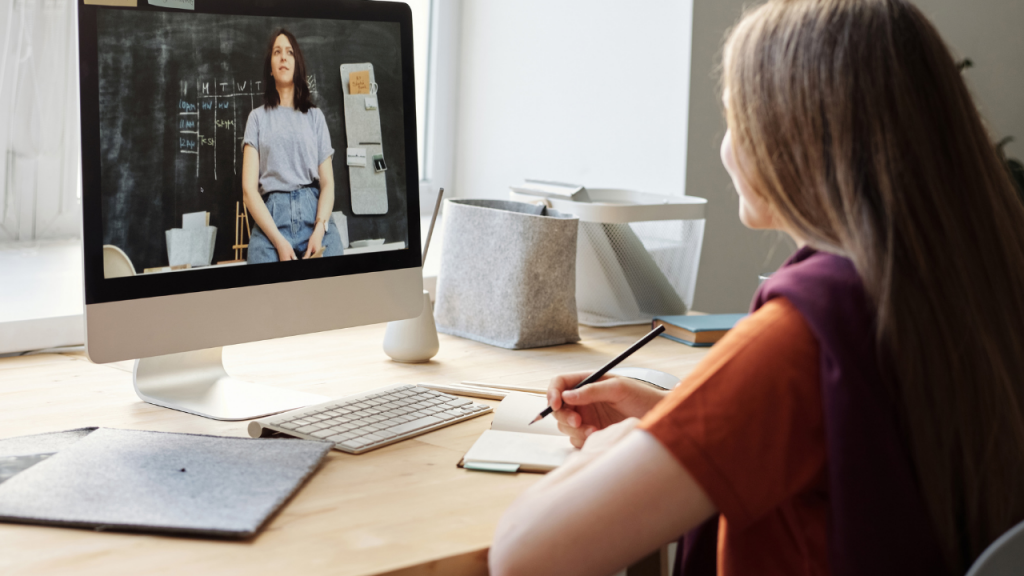 Lastly, your facial expressions matter too! The emotions you express during your video show will help the students form certain associations with the topic you're speaking about. Besides, showing your face on the camera humanizes the whole podcast experience.
Now, let's take a closer look at what it takes to launch an educational video podcast.
1. Figure out Your Target Audience and Content
First and foremost, your video podcast should address the interests and needs of your target audience. And, to figure out these needs and interests, you should get to know your audience first.
Here are a few steps to help you define the target audience for your video podcast:
Consider the demographics of your viewers. What's your ideal viewers's age, gender, location, and language? Answering these questions will help you narrow down your audience.
Think about the psychographics of your listeners. Psychographic information includes the details about your target audience's hobbies, challenges, and interests. Is your audience interested in 3D printing innovation, or maybe it is more into AI? Studying this information can come in handy when developing a content strategy for your educational podcast.
Focus on your niche. What are you teaching? Math? English? Biology? Or maybe government studies? Choose your niche to define the interests of your audience and tailor your podcast's content accordingly.
Where can you find all the data on your target audience?
First of all, you can survey your potential viewers. When planning your video podcast, ask your target audience questions. This strategy will help you learn their demographics, interests, and topic ideas.
Also, you can take advantage of social data. Social data is the information shared by your followers via a given social media platform. 
For instance, if you plan to live stream your video podcast to Facebook, you can check out audience analytics in the Insights tab.
The more detailed your knowledge of your target audience, the better content choices you'll make. Better content means a more engaged audience. But keep in mind – you can't target everyone with your show. Your audience should be as narrowed-down as possible if you want your video podcast to last. 
2. Choose the Format of Your Educational Video Podcast
There are a variety of ways that you can organize your video podcast episodes.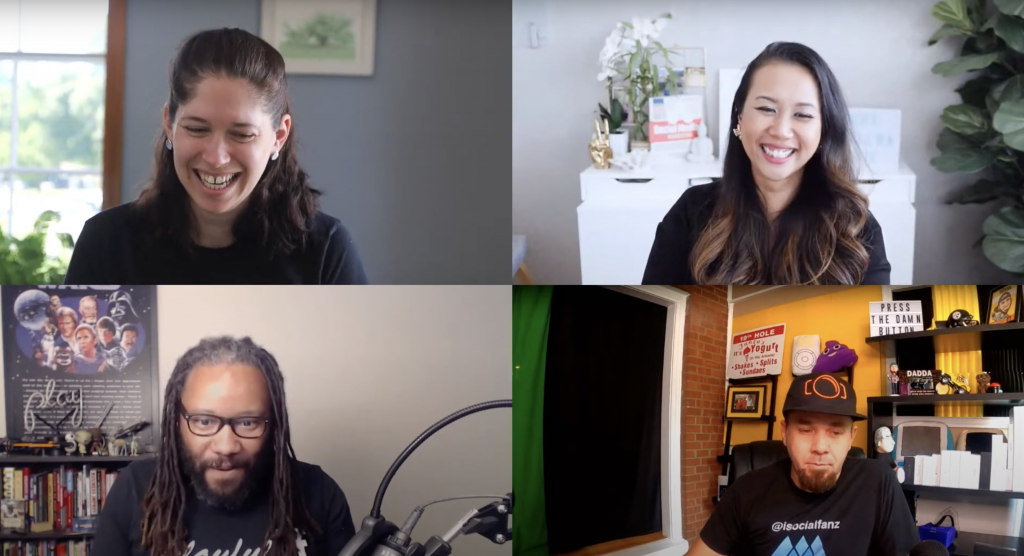 Here are four basic formats you can choose for your educational video podcast:
A solo-cast. Also known as a monologue podcast. This is just one person speaking on a given topic. The biggest perk of solo-cast podcasts is that it helps you build a closer relationship with your audience. It also helps establish your authority as a knowledgeable speaker. 
An interview. This format is great if you need an expert opinion on something. For instance, if you are a science teacher and have a podcast episode coming about artificial intelligence, you can invite a data scientist to speak on the future of AI. (Ecamm Live's Interview Mode makes it easy to bring on guests with the click of a link!)
A co–hosted show. This format implies that you have a regular co-host who helps you organize the show. It could be awesome to get another educator from your niche to cover topics with you. It's important to have great chemistry and share the same passions with this person. 
A panel-cast. It resembles an interview format, but there are more people involved. For instance, invite some of your students to talk on the topic or involve several experts in the conversation. Panel-casts often follow a question-answer format. 
The good news is that you don't have to confine yourself to one podcast format. You can mix and match depending on the topic of each episode. Besides, you can also survey your audience and ask which formats they find the most engaging and want to see more of.
3. Build Your Video Studio
In order to be professional, you'll need more than just your laptop for a video podcast show.
A basic video podcast setup consists of several essentials:
A dedicated studio space, preferably one that is quiet and lets you add some personality.
A microphone. A simple USB microphone will do.
A webcam, DSLR, or mirrorless camera to capture the video in high quality. (You may need a capture card to connect your camera to use for live streaming/video production).
A tripod and/or lighting stands.
Remember, you can start smaller and level up as you go. You don't need to spend thousands of dollars up front.
In addition to the above, you'll also want to think through how to add branding and personality to your studio space. Consider having a bookcase behind you with some pieces that represent you and your new show.
4. Write a Script
You may not have good lighting or a high-quality microphone for your video podcast just yet, but what you absolutely need to have right from the start is a detailed script. We call this a run of show.
Podcast scripts serve as blueprints for each of your episodes. Annette Fischer, a content marketer and writer at Get Good Grade, points out that a podcast script doesn't require specific knowledge or profound writing experience, but she recommends using the following tips when drafting it:
Conversational tone. Try to use everyday language in your script and keep it natural and casual.
Delivery notes. These notes are emphasis elements in your script, which can especially come in handy if you're a beginner. Put delivery notes to highlight the pauses, certain phrases in your script and to maintain the pace of the podcast.
Tone-switch notes. These are the same as delivery notes, but they indicate when it would make sense to change your tone. Tone-switch notes are necessary if you want to highlight the importance of certain information to help the listeners memorize it better.
When writing your podcast script, also keep in mind the duration of the episode. You can divide your script using timestamps and break down the total duration dedicating a certain timespan to each question you want to cover. This way, it will be easier for you to keep up with the pace without hasting from one point to another.
Once you have your script ready, you can use Ecamm Live's Scenes to lay out your script visually before you start recording your video or live streaming. This will allow you to keep focused, not miss any important notes, and not need to do a lot of post-production editing.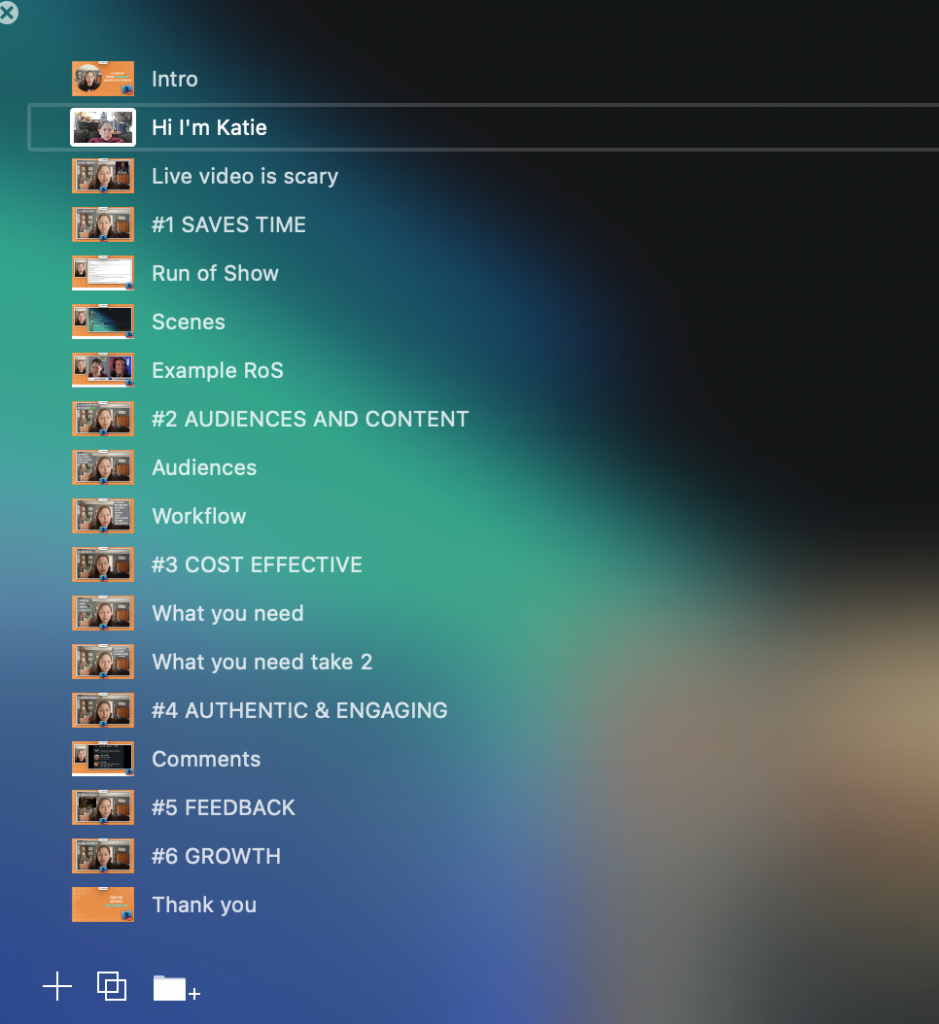 Focus on the Plan, Nail the Process, Rinse and Repeat
Like anything else, having a great plan makes all the difference. Spend the time to really think through your audience, your content, and your studio space. If you can nail that and know the helpful content you need to create to engage your audience, the process and the implementation will come easily.
Whether you decide to create a recorded video podcast, a live video show, or a live video show with a separate audio podcast, you can use a tool like Ecamm Live to lay out your episode, add graphics and video clips, and create the content ONCE without needing to do a lot of editing on the other side.
Bonus: you can use Ecamm Live's ISO recording feature to grab the separate audio tracks to upload to a podcast. Two birds. One stone.
Regardless of whether you have everything for your video podcast or not, focus on delivering value right from the beginning. You want your audience to remember your episodes as being helpful and containing useful information, which is doable without fancy microphones and cameras.
This article was written & contributed by Dorian Martin.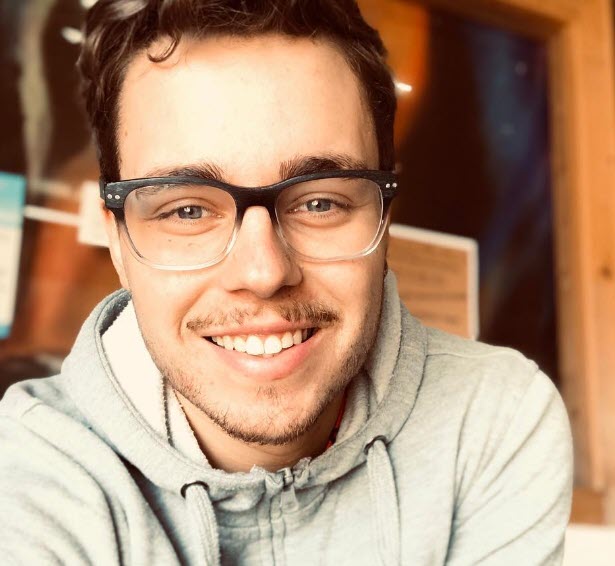 Dorian Martin is an editor and content writer working for thesis writing and editing services review site. He also has his own blog, where he teaches entrepreneurs how to successfully adopt different marketing strategies.