Live streaming is an incredible way to build a community and reach your audience. And going live can be easy and fun, but you should always set yourself up for a successful stream. That's why we're big fans of having a checklist. You can print this one out, memorize it, or make your own, but don't go without one. Here's what to check before you hit that "go live" button. Get ready for the Ecamm Live Streaming Checklist!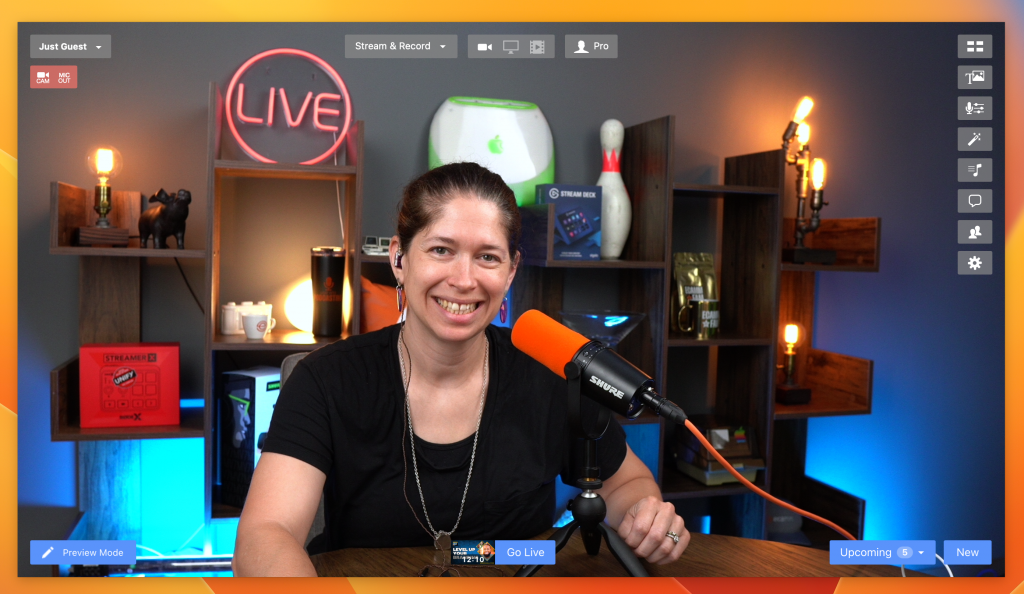 Double (OK – Maybe Triple) Check Your Cables
Is everything plugged in? This may seem really obvious, but can cause big issues if forgotten. The last thing you need during a live stream is for your computer to run out of battery or a camera to die. Make sure everything is plugged into power and/or charged up and ready to go. If possible, have a backup plan. Keeping extra cables at arm's length is always a great idea.
Line Up Your Shot
Get into position and take a look at your shot. How is your lighting? Are you centered in the shot? How does the background look? This is the time to make any adjustments to your shot.
This is also a great time to pick up anything that's lying around in your space that could be seen by your viewers. Take a close look and make sure you don't have anything showing up on camera that you don't want seen.
Time for Tech Check!
Never ever stream without doing a tech check first. During this time, you'll want to make sure your picture quality looks good, audio is working as it should (check your sound levels and monitor for any feedback), and that your internet connection is strong. You need at least 5mbps upload speeds in order to stream.
If you plan on bringing on any guests during your show, make sure you do a tech check with them as well to ensure everything looks and sounds good and to make your guest feel more comfortable and prepared for the show.
Tech Check Pro Tip! With Ecamm, you can simply switch over to record and record a quick video to double check everything. Another great way to tech check is to live stream to an unlisted YouTube or into a private Facebook group.
Run Through Your Run of Show
A "run of show" is the program for your show or live event. If you've built your show in Ecamm, use this time to quickly run through your scenes to make sure that all of the overlays look the way that you want them to, everyone's names are spelled correctly, and the flow works. Record a quick video to make sure that sound effects and videos have the same volume level as your microphone(s).
Do Not Disturb
You're almost ready to go live. Make sure that your phone/tablet/device is set to do not disturb and that you've let everyone in the office or home with you know that you're about to stream. Check your pets. Are they going to walk into your shot? Can you distract them with something else while you're streaming?
H2O Break
Finally, make sure that you have a glass or bottle of water nearby. You never know when you may need a sip to stop a cough or dry throat.
Did We Miss Anything?
What's on your live streaming checklist? Did we miss anything that we should add to ours? We'd love to know. Leave us a comment below or post your pro tips into our Community or Discord.