There has been an incredible evolution of live streaming and live video. Did you know the live video streaming industry increased by 99% in 2020? If you take away any stat from this post, that's it.
According to a roundup of data from Twitch, YouTube, Facebook, Mixer, and Daily Esports, there has been a 99% year-over-year growth in hours of live stream video watched between April 2019 and April 2020.
Given that this data was compiled just a month after nationwide school and workplace closings went into effect, it's pretty safe to assume that this growth has steadily increased throughout 2020. And that's precisely what we're going to talk about in this episode of Showrunner.
In this post, we'll cover
The evolution of live streaming
The rise of live video production
Different skills and industries you can tap into for live streaming
Watch the full episode
Showrunner: Secrets from the Set is a mini-series hosted by Stephanie Liu and is all about live video production. Have you been wanting to produce videos? Thinking about being behind the camera and running the show? This show is for you. We'll tackle all of the big topics and help you go from live streamer to live producer. 
Want to learn even more?
ECAMM LIVE (Free Trial) https://lightscamera.live/ecamm​
STEPHANIE'S GEAR GUIDE https://lightscamera.live/gear​
SUBSCRIBE TO LIGHTS, CAMERA, LIVE https://lightscamera.live/subscribe​
SOCIAL MEDIA STRATEGIST https://lightscamera.live/group
Today's post is all about the evolution of live streaming.
If you've ever wondered how you can leverage everything that you know about Ecamm Live and live streaming, then this is the episode for you. We're talking about the evolution of live streaming and the rise of remote live video production.
In this post, I'm excited to share with you the evolution of live streaming, the rise of remote live production, and what that means for you. We'll also talk about how you can take your love for live streaming and Ecamm and take it to the next level. Ecamm Live has many amazing content creators that are always putting out helpful guides, tips, resources, and behind-the-scenes tutorials to help you level up your live streaming game.

If you could package up all of your live streaming knowledge and offer it as a service, how would that impact your life personally and professionally?
I know you've been thinking about it. If you've been building your show, launching new products and services, you might be wondering how you can take it to the next level.
We're going to talk about different industries that you can tap into. I'm going to share with you a couple of clients, a couple of projects that I've been working on, and hopefully, that's going to inspire you to level up your live streaming.

According to Grand View Research, the global video streaming industry will be worth 184 BILLION by 2027. That's six years from now. When do you want to plant your stake in the ground and say, "I'm here to stay."? Think about everything that you can do and everything that's possible.
They said that the live video segment is expected to portray the maximum and fastest growth over the forecast period. Given the applications of live streaming in this new decade, that number isn't unrealistic. Teachers, students, event organizers and attendees, and even businesses, and their engaged social media followers, are streaming and consuming live video content now more than ever.
So, if you wonder if it's even possible to begin a live streaming career, I'm telling you YES. Yes you can. If you're pitching your services, this is what you want to say to your prospects and your potential clients about what it is that you do, and what's changing in the live streaming industry.
All of these changes that are happening in the live streaming industry has increased the:
Supply of live stream video content
Audience size
Users multi-streaming on different platforms
Investment opportunities from advertisers and sponsors
In terms of advertising, display advertising no longer works for content creators who show up live. Research shows that live streaming drives more conversions than a display ad. Increased interest in live streaming is disrupting the industry. I don't know about you, but I'm ready to disrupt. I'm ready to switch up the game and do something different.
If we haven't met yet, I'm Stephanie Liu, and I'm the executive producer for two live shows: Lights, Camera, Live, and Digital Confetti.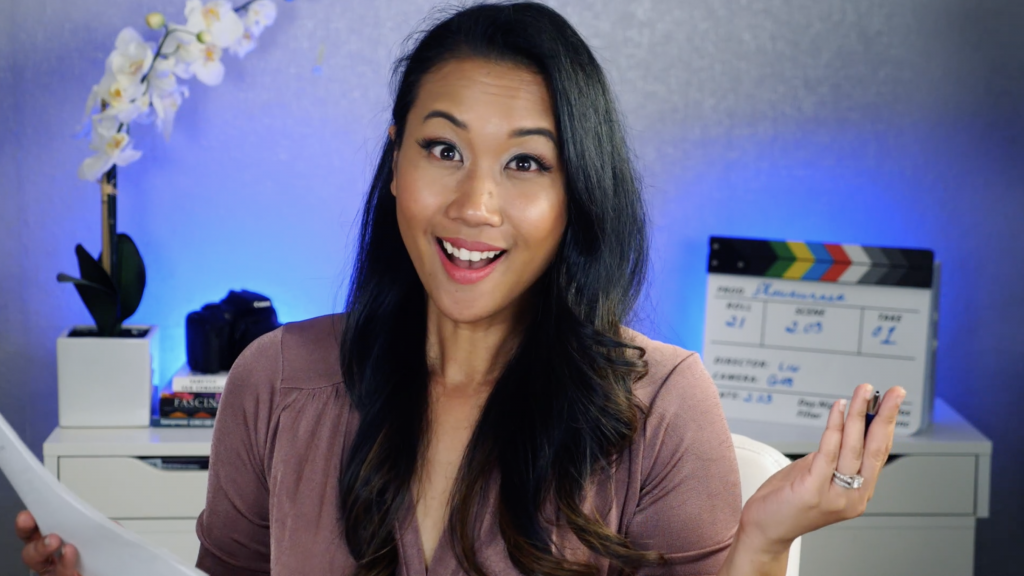 Lights, Camera, Live is all about shining a spotlight on how brands can go from unknown to unforgettable by leveraging live video. Digital Confetti is all about how to repurpose your live streams and sprinkle the content all across the internet. That way, people find out how amazing you are so that you can build your brand and your bottom line.
My background is in marketing. I'm an ad agency veteran and I spent the last decade and a half deep in the trenches of agency life. It wasn't until 2015, when I had my daughter, that I embraced the idea of live streaming. I knew that if I were going to leave the ad agency world and wanted to start my own consulting firm, I had to stand out from the sea of sameness.
While everyone else was calling themselves a digital marketing strategist, I wanted to show prospects what I could do, and that's where Ecamm came in.
How many of you absolutely love Ecamm and all of the amazing production value you can do for yourself or your clients? It's a huge game-changer. With Ecamm, I launched a branded show with logos, titles, lower thirds, graphics, share my screen, drop in video, bring on guests, use a green screen, and so much more. Ecamm does it all.
Since launching Lights, Camera, Live, it became the go-to marketing strategy for making our agency top of mind and tip of tongue. Suddenly after every live broadcast, we would get a new lead. This eventually led to new clients, new speaking engagements, trainings, workshops, and my favorite: live video production.
Everything that I'm talking about and you're learning about: Ecamm, running a live stream, etc., is all something you can offer this year for your business.

One of the first live video productions I did was for my good friend, chef Claudia Sandoval.

If you don't know who she is, she won Master Chef with chef Gordon Ramsey. The first time she did a live video, she reached out because she had seen my past live streams. T-Mobile had reached out to Claudia to see if she could do a live stream featuring her famous Tres Leches Cake.

Back then, all we had was an iPhone and some cue cards from The Dollar Store. But we made it work. It was a three-hour broadcast, and we made it work because we had a strategy behind it. I say this because when people talk about live streaming, they tend to focus on the gear.

Gear is cool, but you also have to figure out how to get the gears working in your mind. The first thing you need to figure out is how to get people to show up. That's exactly what Claudia and I did. I mean, check out these results:
1.5 million people went into the T-Mobile Tuesdays app
178,543 downloads of Claudia's book (with an initial goal of 100,000)
When people think about Facebook live video, they think they need to have an entire production crew. But, as long as you know what your message should be, what your goals and desired outcomes are, and have a solid promotional strategy behind it, you'll see massive results.

After Claudia's live stream, T-Mobile came back with this message. It blew everyone away with how well we did on this campaign.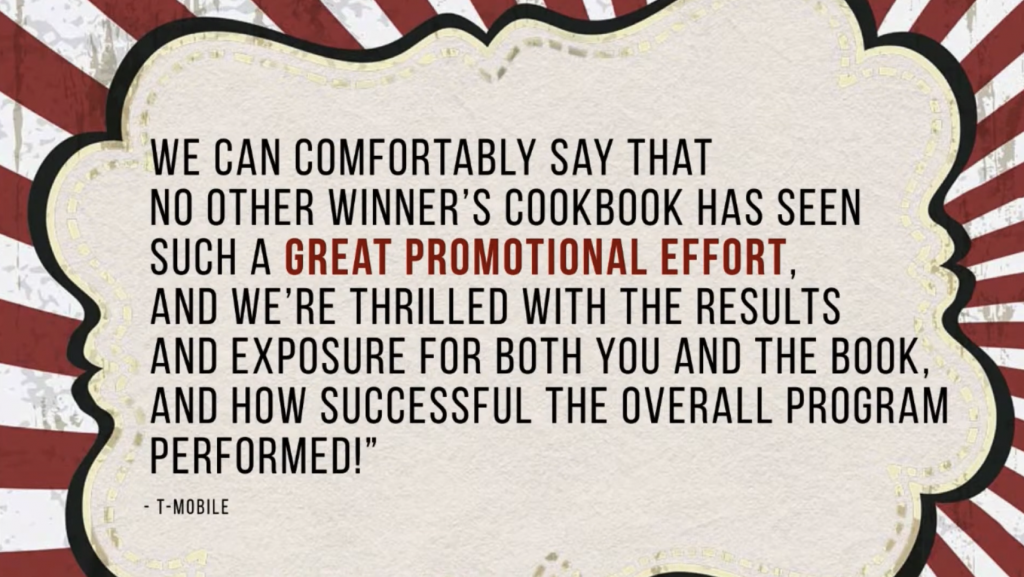 Since working with Claudia, I've worked on projects with NASA, the Midwest Digital Marketing Conference, The University of California-San Diego, and so much more.

My point is: the future of live streaming is bright. And that's why Ecamm Live and I launched Showrunner. Here's a quick peek at the lineup that we have coming your way.

What percentage of consumers prefer live video from a brand versus a blog post? I don't know about you, but I don't go to a site very often for a blog post unless there's a problem that I'm trying to solve.

The answer is 80% of consumers prefer live video from a brand versus a blog post.

When you're pitching your services and talking about how powerful live streaming is, you always have to tell your clients what makes live video so engaging.

It's the fact that as human beings, we crave a sense of belongingness. When we see a community, we build it. We want to be a part of it. As someone who usually speaks at conferences, I love the little hangouts. I love the networking sessions because I want to know that I have a sense of belongingness.

And so when I think about live streaming, it taps into all of our happy brain chemicals: dopamine, oxytocin, serotonin, and endorphins. Streaming gives your audience a happy dose of brain chemicals because when they feel like they belong, that's when you're able to build rapport. When you're starting to create an environment and a community, it becomes a habit. People remember when you stream, and they are excited to hang out with you at that time.

The interesting thing that's also helpful to note is that seven out of 10 event organizers moved their in-person event online in 2020. What do you think is going to happen in 2021? That number is going to go up.

There are things you can do in Ecamm or with your setup that will raise the bar. This is your opportunity to start building relationships because I'm a firm believer that there are resources in relationships. And I am so thankful that Ecamm provides so many different communities where you can ask your questions and have a safety net to prepare for your events.

Here's something else that you should know. I haven't talked about this yet on any Ecamm channels, but I've been dabbling with live shopping.

An example is Amazon Live. There's so much more that you can do, but I want to leave you with this fact: shoppable videos have higher engagement rates than display advertising, and that's going to be the trend in 2021: shoppable videos. Users arriving on an Ecommerce site via user-generated content are 184% more likely to purchase. Think about that. This is an amazing opportunity.

Here's what else we know that is happening in the industry. E-learning grew by 36% in 2020, and it's expected to continue to grow in 2021. When I first started Microsoft teams for my five-year-old kindergartener, I wanted to message the teacher to ask if I could produce kindergarten and show them what Ecamm can do.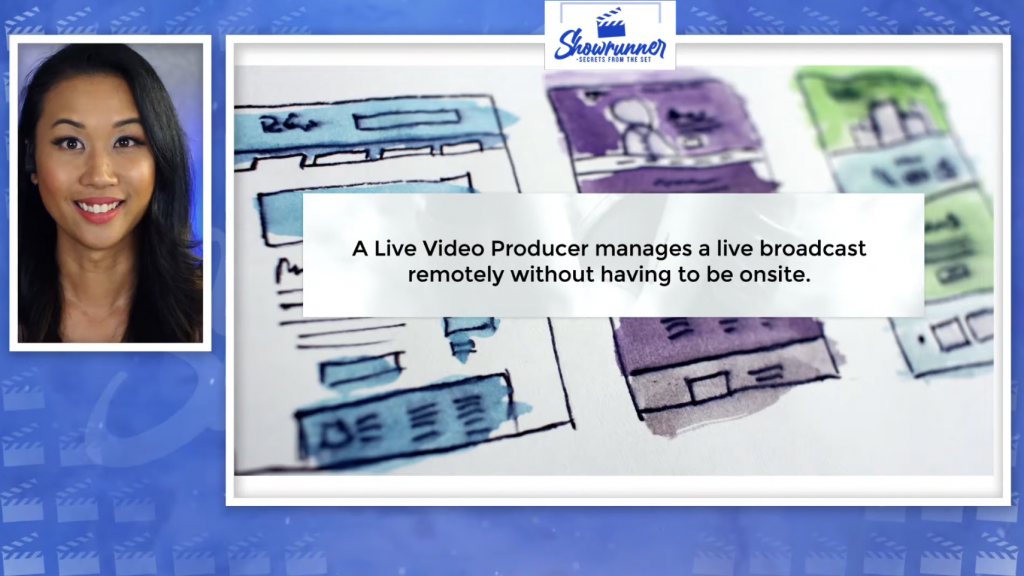 A live video producer manages a live broadcast remotely without having to be onsite. I've only been doing this for two years, and I can honestly say that it makes up about 40% of the revenue that I have across all of my companies. So this is an important opportunity for all of you.

Think about this in terms of virtual events and seminars. It could be a one-day event or a three-day event. Then you're done (and can enjoy that vacation.)

I've always said that early adopters of live streaming would capitalize on their expertise by offering their skillset as a service. Brands will embrace live streaming services that include strategy, production, video optimization, and paid media support.

Now, start thinking about this in terms of your sales page. Brands are going to reach out to you to learn what makes you different. What do you do? Are you only there to help them with the run of show and the actual production? Or, can you help them out with a pre-promotion side as well?

If you think about all of the content creators in the Ecamm network, we all have our own superpowers. Mine is marketing: knowing how to get people to show up, knowing how to repurpose your content, and leverage that for paid advertising. That's the difference that Lights, Camera, Live has to offer.

Figure out what makes you different. What can you deliver to your audience and clients? That's going to be the difference that makes the difference.

For nearly every client or marketer I've spoken with, the journey begins with one live video. When they see the engagement opportunities, they start to wonder, "What else can I do with this?"
From there, they create a live show. When you have a live show, what typically happens is that you start thinking about the run of show, graphics, who's doing your graphics, affiliates, sponsors, etc. There's so much that happens when you are launching your live show. The beauty behind it is that you can roll up your sleeves and make all the decisions.

I went through the process of learning how to crawl before I ran. That's going to be a fantastic thing for you because once you've mastered your live show, people will start to reach out to you. They'll want YOU to produce a show for THEM.

Many entrepreneurs, brands, and marketing teams don't have in-house talent for a live video producer. Keep it simple. Create a quick 10-second clip to insert into a video you produce that says, "PS: Hire me if you like this video," and watch the leads come through.

Now we're going to get into the ideas of all the different things you can do with remote live video production.

Let's talk about different industries you can tap into.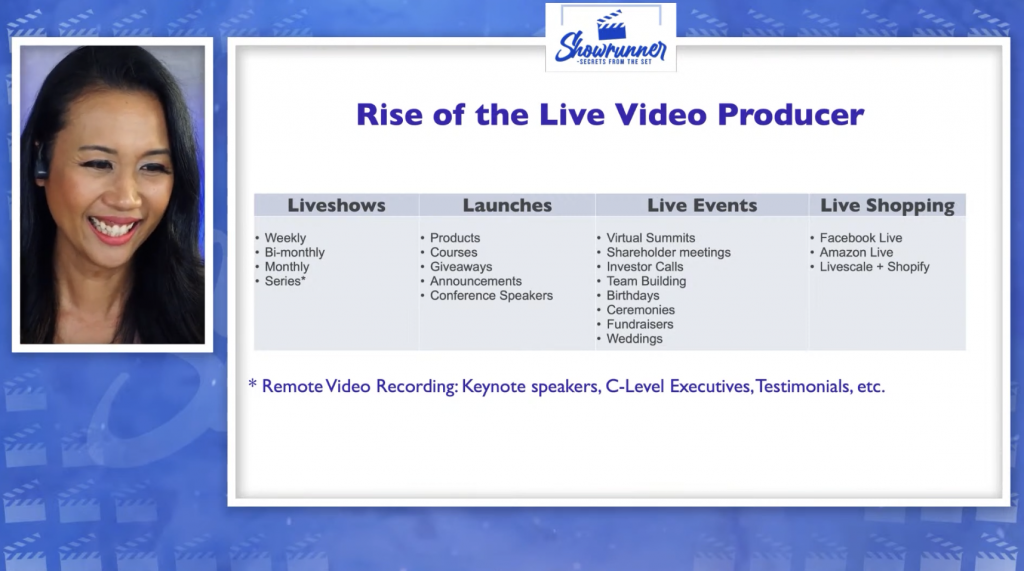 This is where I have actually rolled up my sleeves and done it myself. First, we have live shows. You can work on these for entrepreneurs, agencies, nonprofits. If they're thinking about starting a live show, this is your opportunity when you have them on the phone.

Is this a weekly show? Or a bi-monthly show? Is it monthly? Or is it quarterly? Think about it that way. Position their show as a series instead of a one-time thing. Make it a long-term engagement to see real results. Keep in mind if you are going to do a series, you need to have a very strong content strategy background and build each show upon each other.

Next, let's talk about launches: products, courses, giveaways, announcements, conference speakers, etc.

What can you do with a product launch? This is something that I've done many times for my brand in and of itself. For Lights, Camera, Live, we would do a product launch for when the next mastermind would happen. During your run of show, this is your opportunity to tell your client, "Hey, not only are you going to have a product launch but let's also do a demo. Let's do a product unboxing, let's drop in a testimonial. Let's do all the things to make this engaging."

Start figuring out examples for what you can do to get your audience or your client's audience excited, and start offering those services. I would even say these live streams don't have to be streamed to Facebook or YouTube. I've done live shows in Zoom for clients because they only want it for the company.

Next is live events, such as virtual summits, shareholder meetings, investor calls, tramp building, birthdays, ceremonies, fundraisers, or even weddings.

Where are people hosting their virtual summit? Zoom? Hop In? Start learning everything you need to know about the platforms so you can provide new services to them. Talk about Ecamm's virtual camera or Run the World.

Another live event I do is shareholder meetings for tech companies. Their investors don't want another boring PowerPoint presentation or a boring Zoom meeting. So, bring Ecamm Live into Zoom and take the meeting to the next level.

If you knock it out of the park the first time, think about how many other shareholder meetings there are. Quarterly? Monthly? Annually? Do what you need to do so that the key decision-makers call you the next time they need a meeting (or show) produced. If you can help those C-level executives look and sound good, and be amazing on camera, that's a huge opportunity for you.

The same can be said for investor calls, agency pitches, or even team-building exercises. Many companies have dollars set aside for team-building exercises. Just recently, the 360 Marketing Squad and I did a virtual escape room via Zoom. It was so fun that I ended up booking another one for my family on New Year's Day to get everyone together. So for companies that want to do team-building exercises, you can show them the curriculum for what you'd normally do in person and then make it virtual.

Think about birthday parties and how they changed in 2020. How can you make birthday parties memorable? What can you do differently? You can go live with remote live video production. These are all opportunities for you. Again, I'm just throwing out money-making ideas for you to level up your live streaming.

Another interesting project I did last year was for a CEO who was leaving a company and wanted to welcome the new CEO. It was kind of like passing the baton. Normally they would do this in the office, but because of what's happening, they wanted to do it virtually. So think about ceremonies, traditions, and other things you can do online and start building for that.

Fundraisers are a game-changer as well. Think about the various nonprofit organizations and galas that used to have black-tie events. Now, they need to bring that atmosphere online. I worked with a client and brought in the Ecamm Live virtual camera and software called Remo.

You can even turn a wedding into a live stream production. My brother-in-law recently got married, and we set up a remote live stream for the entire family to safely "attend." We also reached out to the wedding guests and asked them to submit a video to congratulate the couple and share some love. I also created a private Facebook group for another client, and we broadcasted a wedding into that.

Different live shopping platforms include Facebook Live, Amazon Live, and Livescale + Shopify.

If you haven't heard already, you can create a Facebook event, and broadcast live into the event. It can be a free or paid event. This is great for nonprofit organizations or entrepreneurs on the come up who are trying to find a solution that is pretty much turnkey.

Because, what do we know about Facebook? There's a LOT of people on the platform. If you're able to create a Facebook event and put paid media behind it to get people to register and be a part of it and get paid, then you're broadcasting into the event.

If you or your client has a Facebook shop, you can connect it. For example, when I'm streaming and ask my audience if they want my video script maker, it shows up right on their screen as a product overlay for both desktop and mobile. Anytime anyone shares the video, the featured item will broadcast on the page. I also have a step-by-step tutorial on how to set this up. Start learning everything there is to know about the Facebook Live shopping ecosystem, events, and ads, and offer those services to potential clients.

There's also Amazon Live. In my opinion, if you have kit.co, if you're an Amazon affiliate or influencer, tapping into Amazon Live is an amazing opportunity for you.

Think about it. If people took more time to leverage the Google keyword planner or Google trends to see what people are searching for throughout the entire year, they could create an entire show about that on Amazon Live. As an entrepreneur, take a look at Google trends and start planning an Amazon Live show.

Here's another example. If you know someone who is writing a book or getting ready for a book launch, you can have an Amazon Live show that only features authors. You could say, "I produce a show that highlights up-and-coming authors, and this is what we can do."

Often when authors are writing a book, the publishers expect to sell a certain number of books within an expected period. What you can do is head to Amazon and look at what is on pre-order right now. Who do you need to reach out to? Heck, you can even reach out to a publishing firm and say, "For all of your authors, I would love to give them an opportunity to hop on my show, and we could promote their book on Amazon Live."

Think about authors and all of the books you love to read. Who can you reach out to and say, "I would love to introduce you to my show. This is how my show works, and people can buy directly from the live stream because you are there."

You can take the same strategy and reach out to products and companies. Offer to do a live product demo to answer questions users might have. This is especially helpful if the current reviews are a little so-so.

Another option is Livescale, which is an amazing platform that ties into a Shopify store.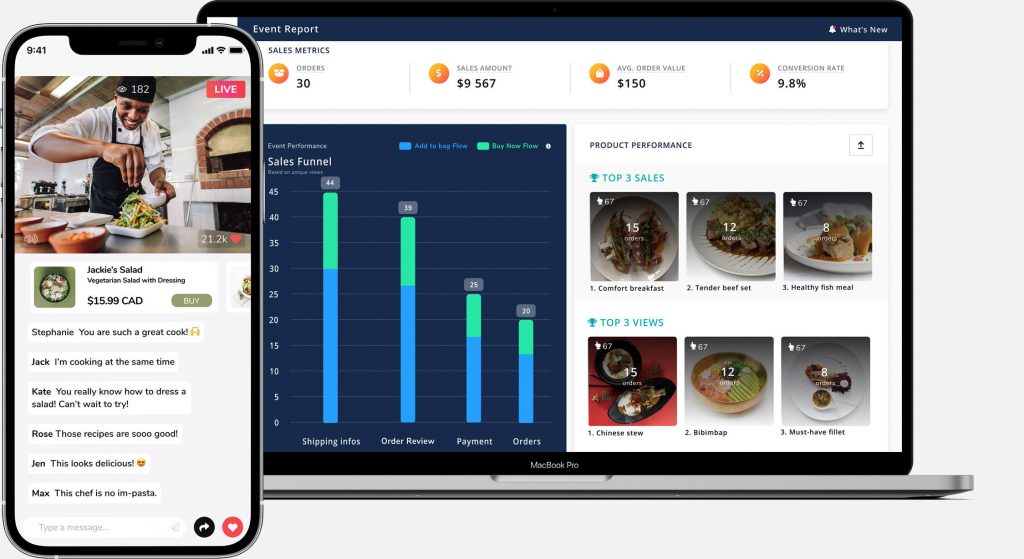 Think of it as your home shopping network but linked to Shopify. What's cool about it is that you can feature a new product in the user interface, and as soon as you show it on the screen in their dashboard, it shows you how many sales are happening. Then, you can do polls and other cool features.

Brands such as Kiehl's, Lancôme Paris, Jenny Bird, and Louis Vuitton use Livescale for live shopping opportunities, especially because most consumers cannot go to the mall right now. Online shopping is huge, and it's a great opportunity for you to get some of that marketing and advertising budget.

Finally, you don't even need to go live. Instead, you can help with remote video recording. While I'm a live streamer and often on stages, I realized other people didn't know what to do, especially with more events turning virtual last year. Now, you can help others get on board online. Think media training for speakers who help with their gear or knowing how to communicate. You can help them record their presentations. It's not just about talking to the camera. What are some other elements they could do to draw an audience in?

These are all opportunities for you to think about how you can expand your services, expand your ideas, and remote live video production. Think about keynote speakers, regular speakers, C-level executives, or CEOs. They want to try something different. Instead of sending out an email to their employees about what's happening, help them record a video that talks about the company's future and inspire them to stay on.

You can even help capture testimonials remotely. In ECamm Live, I give guests a link to the guest interview feature, add graphics, and hit record. Keep in mind you may have to coach the client on what to say and help them with their audio or video. But again, that's an opportunity.

Another service to think about is client onboarding. We'll talk about this more in-depth in another episode—everything that goes into pre-production, production, and post-production. When you're thinking about the whole process, you need to factor in these three stages.

In pre-production, you'll have tech rehearsals where you'll talk about run of show, graphics, etc. Then comes production, where you produce the show. Are you going to be the solo producer, or are you going to have a second live producer who will help you out?

In post-production, this is where I feel like most people are leaving money on the table. Once the actual broadcast has ended, what if you were able to provide a report that shows how many viewers tuned in or how many people ordered something? You can create case studies for that.

So, today's episode was all about the evolution of live streaming. Next week, our topic is client onboarding for live video producers. Then, we're going to talk about structure and storyboards. After that, planning and production. We'll start April with how to price your services.

I hope this episode helped spark some ideas for your live shows. I'm excited to keep sharing these secrets with you and answering your questions in future episodes.
We're here to help!
Wherever you are right now, you're not alone and we're here to help. Showrunner: Secrets from the Set is a mini-series streamed live on Wednesdays. If there's a subject that you want Stephanie to cover, please let us know in the comments below.
Or…
Join the Ecamm Live Community to network with other live streamers like you, grab Stephanie's live streaming gear guide, and subscribe to Lights, Camera, Live.